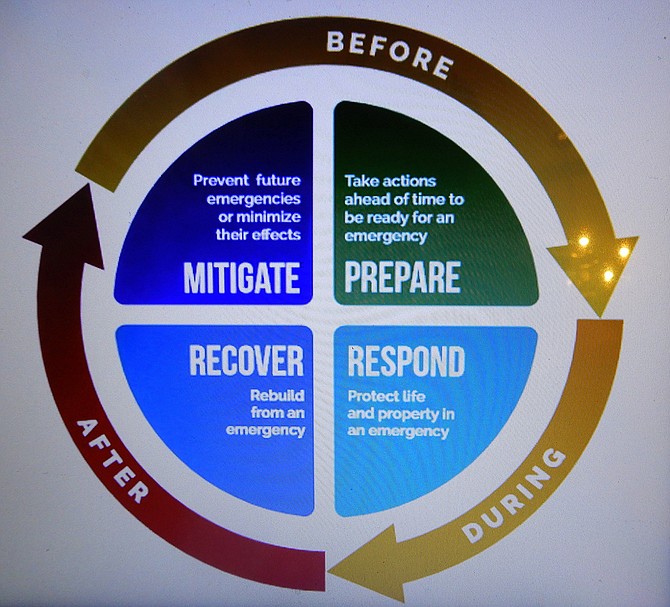 Fairfax County's Office of Emergency Management isn't something most residents think about. But when they need it, it's ready to spring into action and render aid.
Courtney Arroyo, that entity's community-engagement officer, addressed a recent, virtual meeting of the Sully District Police Station's Citizens Advisory Committee. With the office for four years, she explained what it does and why it's so critically important.
"We're here to protect the residents' lives, environment and property from emergencies and disasters," she said. "We do that by leading and coordinating the county's emergency preparedness, mitigation, response and recovery efforts."
Arroyo said they help people "prepare for and deal with events – such as severe storms – before, during and after them. We manage emergencies from the Emergency Operations Center, and I love being there. Nothing is the same – it changes every day."
She then discussed the Community Emergency Response Guide (CERG) and the advice it gives people to be able to help their neighbors in an emergency. "Identify your area and neighbors, scout your neighborhood for hazards, build your team before disaster strikes and plan your approach," said Arroyo. "Have a communications plan and meeting site." The CERG is available online at http://bit.ly/FFXCERG in several languages.
* Arroyo said personal preparedness is crucial so people will be ready in advance to handle an emergency. She advised residents to make an emergency plan; practice it; assemble emergency kits containing, for example, money and medications; and stay informed as the emergency situation progresses.
She then referred to the devastating, May 2018 fire at the Forest Glen Senior Apartments in Centreville that ravaged 75 units, displaced 125 residents and caused more than $10 million damage. "The residents weren't initially alerted to the flames because of the location of the fire on the roof," said Arroyo. "And they weren't required to have renters' insurance, so most of the people lost everything – including cash and valuables in their apartments."
The damaged apartments have since been rebuilt, and Arroyo said, "We'll make sure the new residents have an emergency plan." That fateful day, however, "People were transported to the Cub Run Rec Center – but we hadn't planned to do that, in advance," she said. 
"Some 33 people were there for three nights before we could move them to hotels," continued Arroyo. "They only left with the clothes on their backs – and some, without shoes, purses or medications. They didn't have emergency plans to take care of themselves first, and that would have helped."
* Next, she discussed ways people should respond during an emergency. In some instances, sheltering in place – "away from windows and things that could fall on you," is best, she said. It's also important to do that, said Arroyo, when a lockdown is ordered, such as in the case of an active shooter or civil disturbance. "And text 911, if you have to," she added.
Sometimes, for example in a weather emergency, people must prepare to evacuate and should remember to bring their emergency kits with them to a designated shelter. Arroyo said they should also "make sure they have options of where they want to go. And try to help your community – check on elderly neighbors and see that they're taken care of."
* Recovery after an emergency is something people also need to consider. It can involve disaster cleanup, damage reporting, filing insurance claims, seeking disaster relief and financial assistance, and applying to FEMA for help. "Insurance is so important to have, in the event of a disaster," said Arroyo. "Renter's insurance costs about $10 a month and will really save you.
"On July 9, 2019, we had flooding in Fairfax County after heavy rains, and people were able to get low-interest loans to fix the damage [their homes sustained]. But flood insurance was also important to have. For every dollar you put into mitigation, you eventually save $4 after a disaster such as a fire or flood."
* As for mitigation before and after an emergency, she said it helps prevent or lessen the impacts of future disasters. Measures may include making an inventory of personal items for insurance claims, sealing basement walls against flooding, testing smoke alarms and having backup power, if possible.
Arroyo said her office won an award for its Community Emergency Response Guide in early 2020. "We encourage you to download it and also share it on social media," she told the meeting attendees. "We'll come talk to community groups, and you can also email me with questions, and I'll be happy to answer them." She's at 
courtney.arroyo@fairfaxcounty.gov
.