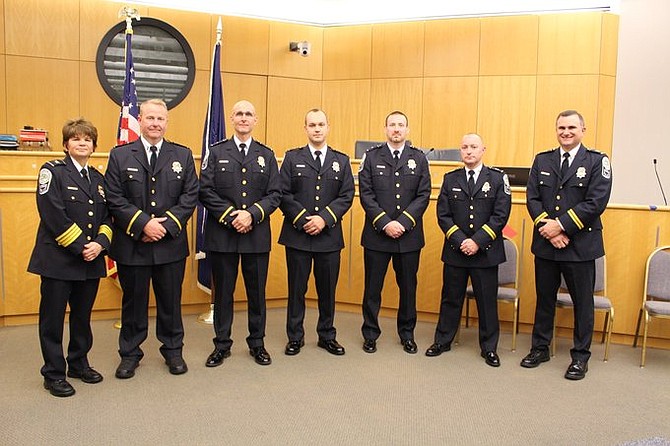 The Herndon Police Department held a promotion ceremony on Thursday, Oct. 21, for 18 of its officers and three civilians. The agency also welcomed K-9 Bragg, a member of the force since March 2021. 
"Our HPD family has changed and grown so much over the past two years. Tonight was the first time since the pandemic that we were able to come together as an agency to celebrate those who have been promoted to greater levels of responsibilities within our agency," said Maggie A. DeBoard, chief of police for the Herndon Police Department. 
Families, supervisors, and colleagues celebrated the major career milestones of the promoted law enforcement officers — two to the rank of captain, four to lieutenant, five to sergeant, and seven to corporal.
"Equally important was having many of their families and loved ones there to be a part of it," said Chief DeBoard. "It is the families behind these law enforcement officers that provide the support and stability needed for our officers to serve. We love our HPD families for sharing their loved ones with us and our community."  
"One of the promotions was Sergeant Damien Austin," Mayor Sheila Olem said, "an officer who was also a football coach to my youngest son twenty years ago. As a widow with two sons, I have always been thankful to the officers who are also part of our community fabric. It really does take a village to raise a child," she said.
Promoted
Captain Justin Dyer
Captain Steven Pihonak
Lieutenant Jeffrey Lange 
Lieutenant Charles Findley 
Lieutenant Jaysyn Carson 
Lieutenant Mark Dale 
Sergeant Joe Furman
Sergeant Damien Austin
Sergeant David Forbach
Sergeant Mark Fraser
Sergeant Jonathan Sorg
Corporal Eliezer Calo Espinet
Corporal Derek Harrison
Corporal Johnathan Heavner
Corporal Steven Mather
Corporal Gabriel Miranda
Corporal Stephen Phelps
Corporal Drew Stanley
Assistant Communications Manager Sandra Harman 
Assistant Records Supervisor Tiffany Payne
Police Network Engineer Giancarlo Corsi
Welcome
K-9 Bragg