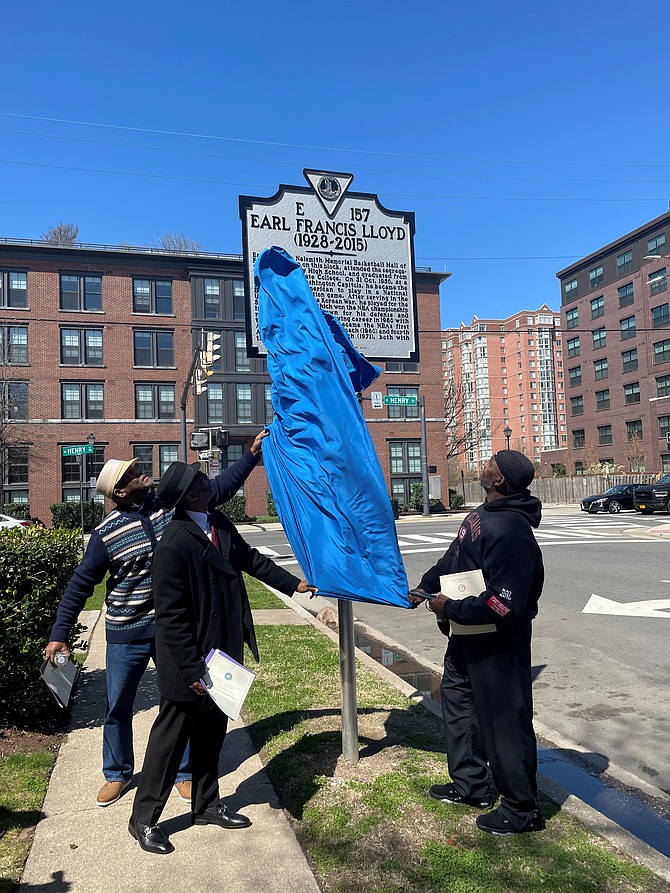 Earl Lloyd, the first African American to play in the NBA, was honored April 2 with a state historical marker dedicated at the site of his boyhood home in Alexandria.
The historical marker was unveiled at 1020 Montgomery Street, just blocks from the site of the former Parker-Gray High School where Lloyd honed his craft.
"Today is a recognition of what Earl contributed to our society and to our world," said Dr. Frank Enty, a teammate of Lloyd's at West Virginia State University. "He made such significant contributions and few of us are able to do that. He made a mark."
In addition to Enty, speakers at the dedication included Mayor Justin Wilson, Alexandria Black History Museum Director Audrey Davis, Alexandria African American Hall of Fame Chairman Julian Haley and Lloyd's nephews Kevin Lloyd and Reginald Lloyd.
"Today is a big stepping stone for the younger generation," said Reginald Lloyd. "Young people today do not have the community leaders that we had growing up. The example my uncle set gives them something to look forward to and shows them that the future looks brighter."
Lloyd was born in Alexandria in 1928 and attended the segregated Parker-Gray High School, now the site of the Charles Houston Recreation Center and home to the Alexandria African American Hall of Fame. At Parker-Gray, Lloyd played basketball and earned All-South Atlantic Conference honors three times and All-State Virginia Interscholastic Conference honors two times.
"My uncle was more than a great athlete, he was a great man."
— Earl Lloyd nephew Reginald Lloyd
After graduating from Parker-Gray in 1946, he earned a scholarship to West Virginia State, where he led the team to the Central Intercollegiate Athletic Association championships and made the Pittsburgh Courier's All-American team in 1949 and 1950.
After his graduation in 1950, Earl was drafted by the Washington Capitols, becoming one of four black players drafted to the NBA that year. He became the first African American player in an NBA game on Oct. 31, 1950. That milestone came days before other African American players made their debuts — "Chuck" Cooper on the Boston Celtics and Nat Clifton on the New York Knicks.
Lloyd's NBA career was interrupted by a two-year stint in the Army during the Korean War. He returned to the NBA in 1952 with the Syracuse Nationals, winning the NBA title game in 1955. With that victory, Lloyd and Jim Tucker were the first African Americans to win an NBA championship.
Lloyd retired as a player in 1960 and went on to become the first Black coach in the NBA. He was inducted into the Naismith Memorial Basketball Hall of Fame in 2003. He died in 2015.
A statue of Lloyd is on display at the Charles Houston Recreation Center. Enty was a featured speaker when the statue was unveiled in April of 2021, saying "This statue shows that someone coming from humble beginnings, from a segregated school in Alexandria, could rise and become a notable figure in the history of athletics. It means that any youngster who has the ambition, the determination, the stick-to-itiveness can also rise to great heights. That is what the statue really represents."
Added Reginald Lloyd, who participated in the unveiling of the historical marker, "My uncle was the humblest human being I have ever met. He was more than a great athlete, he was a great man."