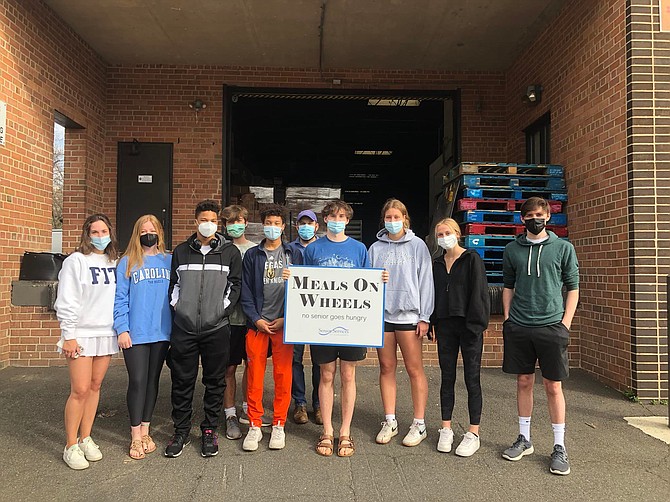 During March, Senior Services of Alexandria (SSA) joined forces with Meals on Wheels programs across the country to raise awareness around the importance of senior nutrition programs in the fight against food insecurity and malnutrition. The month-long campaign, March for Meals, commemorated the 50
th
 anniversary of President Richard Nixon's signing of the Older American Act's Nutrition Program, the federal legislation that made Meals on Wheels possible.  
March was packed with events celebrating Meals on Wheels in our community. In a joint resolution, sponsored by Sen. Adam Ebbin and Delegates Bennett-Parker, Herring and Plum, the Senate of Virginia issued a commendation of SSA's Meals on Wheels for the way it has "enriched communities by addressing food insecurity and isolation among seniors." 
The Alexandria City Council proclaimed March "March for Meals" month, and March 21-25 was Champions week, where community champions were invited to deliver Meals on Wheels for one day to show support for senior nutrition programs. Community champions throughout the month included Congressman Don Beyer, State Senator Adam Ebbin, Virginia Delegates Charniele Herring and Elizabeth Bennett-Parker, Mayor Justin Wilson, City Council Members Canek Aguirre, Sara Bagley, John Chapman, Alyia Gaskins, Amy Jackson, and Kirk McPike, Sheriff Sean Casey, MOWA President Ellie Hollander, Acting Police Chief Don Hayes, Clerk of Circuit Court Gregg Parks, City Manager Jim Parajon, Fire Chief Corey Smedley, members of the Commission on Aging, and SSA board members. 
In interviews shared on SSA's Facebook page, Community champions reflected on the impact of Meals on Wheels in Alexandria. 
"We all know that nutritious food is critical to our physical health, mental health, social health, and overall wellbeing," said Alyia Gaskins, Alexandria City Councilmember. "I love Meals on Wheels because they provide a critical lifeline to our community."
March for Meals was a celebration of the vitality of senior nutrition programs, but also a celebration of the people that make Meals on Wheels possible. Meals on Wheels couldn't happen without the help of SSA's dedicated volunteers. Chris Moore, Director of the Division of Aging and Adult Services, shared that "it is wonderful to be able to take part in [Meals on Wheels] for one day, knowing that this happens 365 days a year." 
In partnership with the City's Division of Aging and Adult Services, SSA has worked tirelessly to ensure that homebound older adults receive Meals on Wheels seven days a week, 365 days a year. Each week, SSA volunteers deliver over 2,300 meals to older Alexandrians.
Meals on Wheels programs require sustained and expanded funding and more volunteers to address senior hunger and isolation in our communities, and need has continued to grow throughout the COVID-19 pandemic. Ellie Hollander, President of Meals on Wheels America, says that "if we couldn't rely on volunteers and individual donors, we would not be able to deliver to the millions of seniors that depend on this service as a vital lifeline, day in and day out." 
If you know someone who would be interested in volunteering or receiving Meals on Wheels, go to SSA's website at www.seniorservicesalex.org/programs/meals-on-wheels/ or call 703-836-4414 ext. 112. 
To see our Champions week interviews and stay up to date with Senior Services of Alexandria, visit our 
Facebook page
 https://www.facebook.com/SeniorServicesofAlexandria/. To learn more about the Older Americans Act, senior nutrition, and Meals on Wheels America go to 
www.mealsonwheelsamerica.org