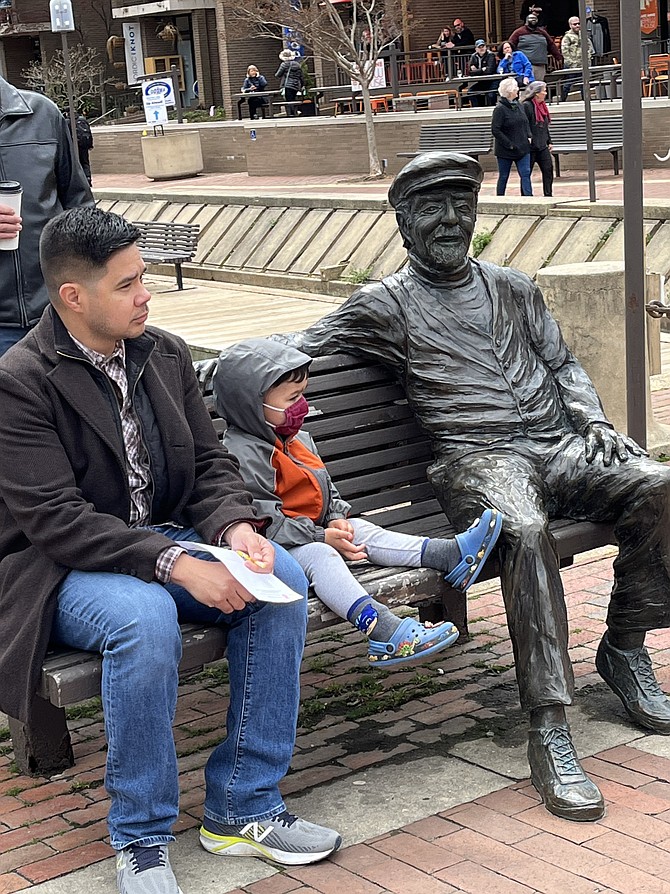 On Saturday, April 9, as part of Founder's Day 2022, the Reston Museum and Reston Community Center commemorated the 108
th
 anniversary of April 10, 1914, birthday of Reston's founder, Robert Edward Simon Jr. (1914–2015). 
Sponsored by Public Art Reston and hosted by Lake Anne Plaza, the event also served to commemorate the upcoming birth year anniversary of Reston's first public artist, Uruguayan sculptor-painter Gonzalo Fonseca (1922–1997), who was born on July 2, 1922.
During the event's opening remarks, Del. Ken Plum (D-36) said the idea that someone would build a new community in 1964 and advertise that Black people could come out and live in the suburbs was radical. "It was also a radical idea that you'd have public art that did not include a Confederate soldier," Plum said.
Robert Goudie is the executive director of the Reston Town Center Association. He said no less than two of Simon's founding principles gestured to the arts as important to creating a "complete community." Goudie described how Simon "famously" stated in one of those principles that "art is a necessity of the good."
Beyond celebrating Founder's Day 2022 by honoring the legacy of Robert E. Simon on his birthday, the second reason for the celebration was to commemorate the centennial birth year of sculptor Fonseca. Goudie said it was "a brilliant choice" of Reston to deliberately select Fonseca to create the significant artwork at Lake Anne. He thanked Carolyn Flitcroft, chair of the Reston Historic Trust & Museum board, for putting the two themes together.
Founder's Day also marked the launch of one of Reston's latest books, "Community is what it is all about an ode to lake anne," by author Cheryl Terio-Simon and contributor Eric Mac Dicken. Terio-Simon is the widow of Reston's founder, Robert E. Simon Jr. "Buy a copy of the book," said event moderator Chuck Veatch.
The book is sold at the Reston Museum. "Proceeds from sales of this book will go towards the repair and maintenance of the Gonzalo Fonseca sculptures on the plaza and in the Fonseca Underpass.
Fonseca's 1965 concrete sculpture, "Sun Boat," is strategically located beside Lake Anne. It serves as a sculpture for adults and a fun playground for children — two of the site's primary objectives for planners and architects. According to Public Art Reston.org (Sun Boat | Public Art Reston), "This (Sun Boat), along with the "Lookout Tower" and the lake beyond, provides the recreational opportunities so important to Robert E. Simon Jr. in his plans for Reston. 
Fonseca's sculptures on Lake Anne are threatened. The "red brick sea" of his concrete sculptures is being lifted by the roots of adjacent towering sycamore trees. Cracks are appearing.
During the program remarks, Amir Abu-El-Hawa, aide to Chairman Jeffrey McKay, read a proclamation on behalf of county residents issued by the Fairfax County Board of Supervisors. Reston was Virginia's first open community, and it thrives today with a diverse range of housing, business, cultural, religious, educational, and recreational opportunities. 
Reston's birthplace, Lake Anne Plaza, is on the National Register of Historic Places. 
Beverly Cosham, chairperson of the Reston Community Center, said that Simon's vision for Reston was underscored by his belief in the value of each human being. "We gather to remember the past and Reston's founding values, as well as recommit to those values well into the future," Cosham said. In 1964, there was no integrated housing in Virginia, except in Reston. "(It) should remain central to all that we do to make a future that embraces diversity and sustains our capacity to make room. We're here for people at all stages of their lives," Cosham said.
Plum closed by saying, "I remember the first time I came to Reston; I didn't think I was ever going to get here. It seemed like it was so far away. But with a vision and with a purpose and an understanding of our past, we can take what we've accomplished here to new heights, into new areas.  We can build on what we have here.  Happy Founder's Day, everyone."
Visit www.restonmuseum.org  to reserve a copy of "Community is what it is all about an ode to lake anne."