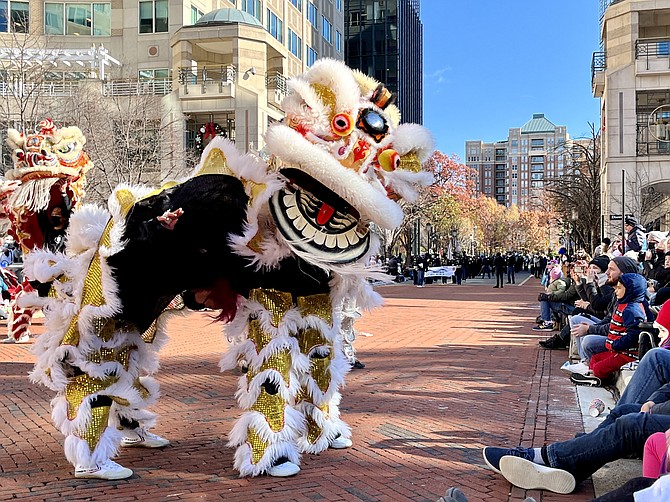 Since 1991, holiday season celebrations have begun at Reston Town Center on the Friday after Thanksgiving. The annual tradition of the Reston Holiday Parade returned on Friday, Nov. 26, hosted by Reston Town Center and Boston Properties Reston Town Center. Virtual in 2020 due to the COVID-19 pandemic, the 2021 Parade celebrated its 30th year, bringing joy to families throughout Northern Virginia and beyond. 
The annual procession showcased 29 units and over 500 participants marching, singing, dancing, and performing along Market Street and two grandstands. According to one of the emcees, Angie Goff, news anchor at FOX 5, WTTG Washington, this year's theme was Snow Much Fun.
"This being the season of hope and gratitude, it's excellent to get everyone together to celebrate the wonderful people that make our community a home," Goff said. She extended a thank you to the dedicated parade committee and more than 100 volunteers who made the event happen.
Goff offered a very special thanks to the parade sponsors, especially Community Partner Reston Community Center. "We have some huge, Macy's-style balloons in today's parade, thanks to them," Goff said. 
Strong winds, however, eventually grounded the 18-foot snowman balloon, sponsored by the Reston Town Center Association. Goff noted that Hyatt Regency Reston helped with the parade staging area and Avant and Signature apartments in Reston Town Center also lent their support.
Andy Sigle of Reston sang the national anthem and the crowds, five and six deep, lined the curbs. "Ladies and gentlemen, children of all ages," Goff said. "Get ready for the sights and sounds of the annual Reston Holiday Parade because it is here."
USA Today nominated the Reston Holiday Parade as one of the best holiday parades. This year's voting ends this Monday, December 6, and anyone can vote online at 
USA TODAY 10Best Readers' Choice 2021
 and find the list of BEST HOLIDAY PARADES 2021.
"What are you thinking about this morning as the Reston Holiday Parade is about to start?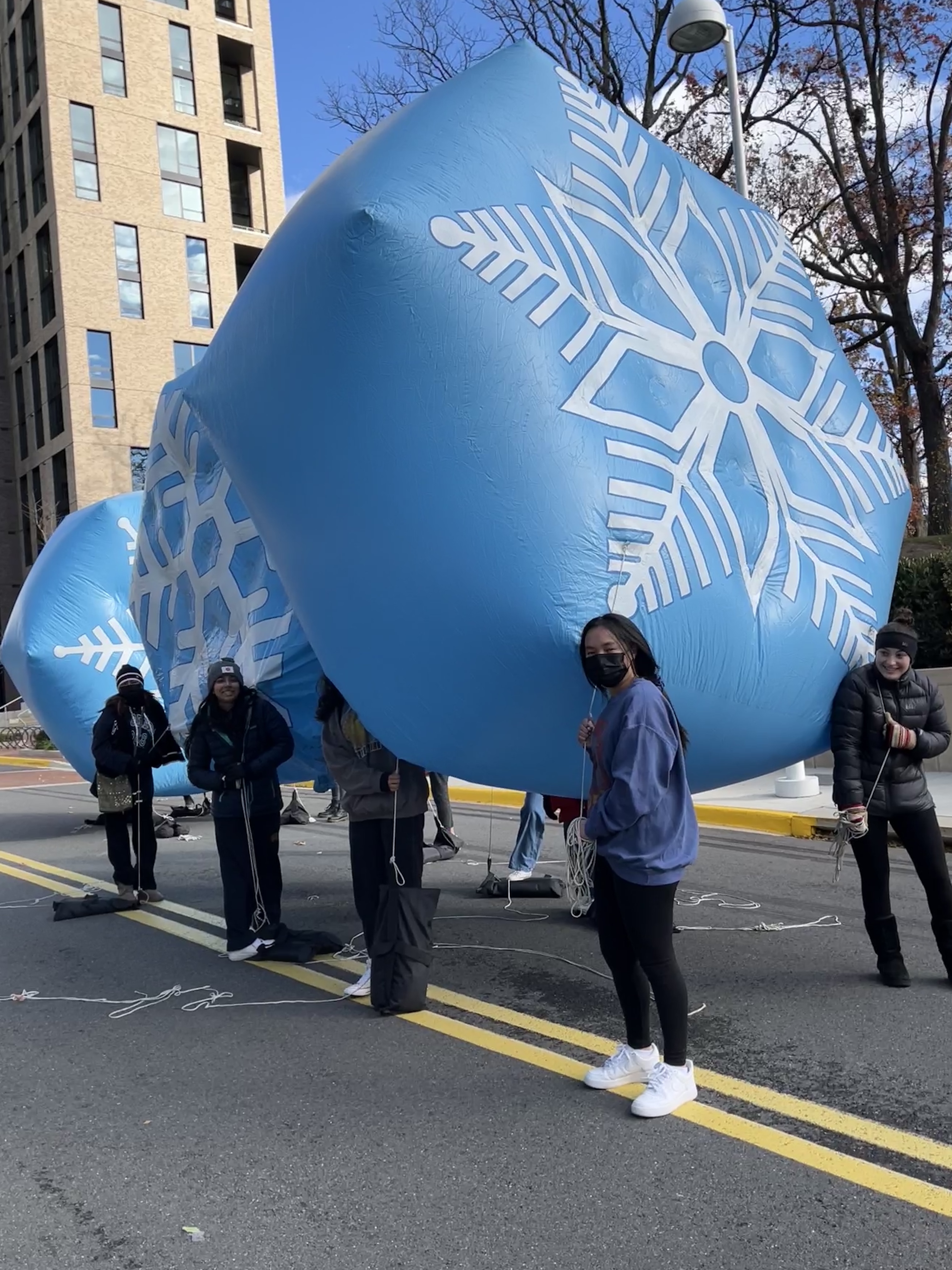 Vaneeza Shoaib, 18 of Burke, with members of the Lake Braddock Secondary School Key Club.
"Our challenge is holding down the snowflakes in the high winds and not having them blow away."
Juliet Campana-Boada, staff,  Conservatory Ballet of Reston, stumbling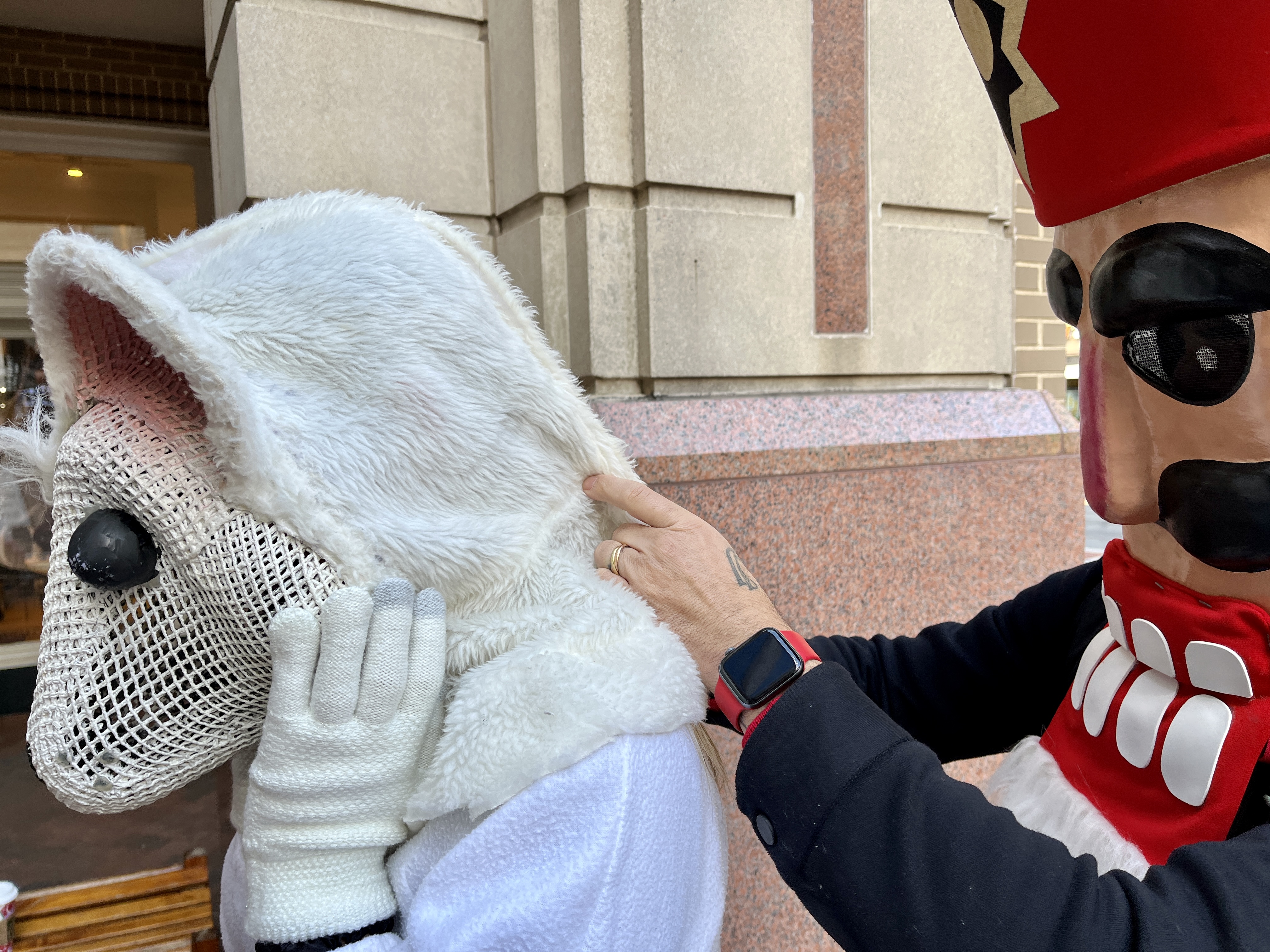 as she tried to adjust her mouse head.
"I'm thinking that clearly, I've never been a mouse before. I can't see anything. … This is so much fun."