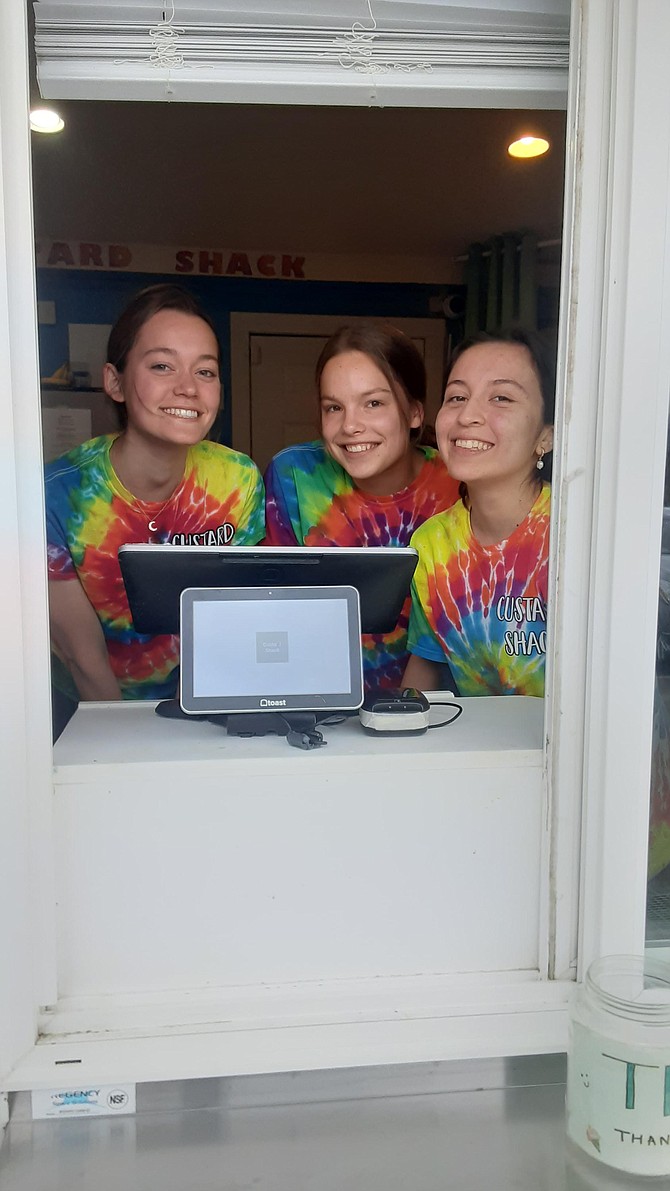 It's the first week in April with the temperatures hovering around fifty degrees, but somehow people are still standing in line at the Custard Shack in Belle Haven to get an icy treat. Starting April 1 the Custard Shack is open seven days a week, and although the line doesn't go down the street like it does in the summer, the orders for shakes and cones keep the staff busy.
"People will eat ice cream regardless, it's never too cold," said Eliana Zelay, 18. She works there all year around but it's only open on weekends in the colder months. "The only difference is the lines aren't as long," she said. They even tried a hot chocolate flavored custard this winter, and it was a hit, said manager Emily Dorn. "Really a popular flavor," she said.
The Custard Shack is part of the Belle Haven Pizzeria and both are a mainstay in the surrounding community. They are located on Belle Haven Road across from the country club and surrounded by a residential area so the two commercial businesses stick out. They've been there for years, and residents still flock to this location In the warmer months, even the bicyclists off the Mount Vernon Trail stop by from time to time.
Dog walkers too, so they have a specialty "puppy pop," made in store with Peanut Butter, Carrots, Bananas, Honey, Water and "Lots of Love," they say.
The shack first opened in 2015 and is primarily staffed by high school students. In the beginning, officials at the pizzeria wanted to offer dessert, so after considering several options, frozen custard stood out. "We decided that Frozen Custard was creamy, rich and over all tastier than all of the other frozen desserts. Since then, we have created delicious flavors all over the board from fruity pebbles to pumpkin pie to churros con leche," their information said. Cookies and cream is a big seller.
Emily Dorn, the manager, is carrying on a family tradition at the Custard Shack. Her older sister was the manager when it opened in 2015 and now Emily took over after graduating from West Potomac High School a couple of years ago.
The tie dye uniform reflects the attitude and atmosphere around the shack. There are smiles all around. "We've kind of always done tie dyes" added Natalie Coats, 17. So many people have asked about the tee shirts that they are trying to get some made so they can sell them. "We're working on it," said Dorn.
In the winter, they are only open on the weekends, but from April to after Labor Day, it's seven days a week. Zelay has been with them a year and doesn't mind dishing out a cone when it's below freezing outside. "It's always warm in here," she said.
If you go…
The Custard Shack
1401 Belle Haven Rd. Alexandria
drpcustardshack@gmail.com