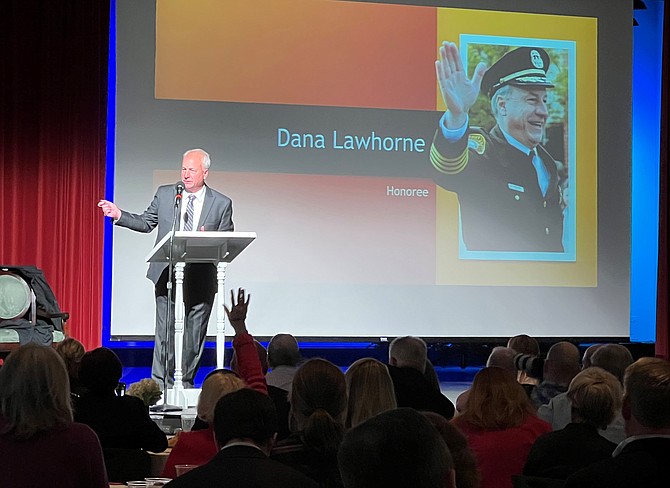 In the 1970s, the corner of Commonwealth and Luray avenues in Del Ray was the hangout of a young boy trying to escape a troubled home in a neighborhood that was decades away from revitalization. On the surface it seemed there was no hope for him, but fate had other plans for Dana Lawhorne.
Lawhorne recently retired as Sheriff following 43 years in law enforcement and was honored at a luncheon attended by more than 200 people April 5 at First Baptist Church of Alexandria.
"When you look back at every tragic event in Del Ray and Alexandria, ones that were so difficult and involved such unbearable loss, every single one of them, Dana was there for us," said Del Ray community leader Gayle Reuter. "Dana was the steady hand, the shoulder to cry on, the one who always knew what to do next."  
Reuter was one of many speakers who paid tribute to Lawhorne, including Falls Church Chief of Police Mary Gavin, Federal Circuit Court Judge Michael Nachmanoff, Sheriff Sean Casey, and Lawhorne's daughter Mallory Lawhorne. Undersheriff Tim Gleeson, a friend of Lawhorne's for 41 years, added humor to the presentation with "Five important things to know about Dana."
"Now that he is retired, Dana will be spending even more time out in the public so we felt it necessary to provide everyone with some advice," said Gleeson to humorous applause. "We are not necessarily saying he is cheap, but be prepared if you get a call to join him for lunch or coffee."
"When you look back at every tragic event in Del Ray and Alexandria, every single one of them, Dana was there for us."
— Community leader Gayle Reuter
A native Alexandrian and graduate of what is now Alexandria City High School, Lawhorne credits John Porter, his seventh-grade teacher, and Police Officers Bill Pickle and Frank Goodwin for taking him under their wings and providing much-needed guidance and mentorship.
"My mom struggled with her mental and emotional wellbeing which resulted in alcoholism," Lawhorne told the attendees. "We never knew when or how long the drinking binges would last."
Lawhorne admits that by eighth grade, he hated school and "just about everything else."
But that changed in 1972 when his eighth-grade teacher, Jack Esformes, invited the police into the classroom on a weekly basis. When a new ride-along program was announced, Esformes insisted Lawhorne go.
"So one snowy Friday night in March of 1972, I spent eight hours in a police car, and I fell in love with it," Lawhorne said. "I thought to myself, 'I can do that, there's my chance.'"
The trajectory of Lawhorne's career included 27 years with the Alexandria Police Department before being sworn in as Sheriff in 2006. He retired as Sheriff in December of 2021.
"The decision to retire was an emotional one for me and my family because public service was a part of who we are," Lawhorne said . "I squeaked out of high school and had to wait three years to become a cop. It was during this time I met Linda and now you know the rest of the story. Standing on the corner at the age of 14 led me to meeting the love of my life, a wonderful family, and all of you. There is hope even when you don't know it."
Lawhorne said that being the Sheriff of the city where he grew up was a dream he had since he was a kid. His final remarks were saved for his wife and daughters.
"Family has always been my number one priority," Lawhorne said. "Every day, in big ways and small, I had the benefit of being loved by a wonderful wife and wonderful children. I am lucky and blessed with Linda, Megan, Christine, and Mallory, two son-in-laws, Aiden and Adam, and our grandchildren Ryan and Harper."
A park bench will be dedicated to Lawhorne at the intersection of Commonwealth and Braddock, just a few blocks from where he hung out as a kid. It will include the name of his childhood friend and Del Ray community member Tommy K., who died in 2018. A scholarship is also being established in Lawhorne's name through the Alexandria Scholarship Fund.
Lawhorne closed his remarks with a reference to an episode from his favorite TV program, the Andy Griffith Show.
"I never took my oath lightly," Lawhorne said. "With the oath came a badge and a promise to protect and serve the people and I often find myself thinking about an episode of Andy Griffith.
"Barney Fife approached two men who were breaking the law and they dared him to do something about it. He would not back down, saying, 'you are both bigger than me and can easily overpower me. But do you see this badge? This badge represents the people, who are a lot bigger than you.'"
To a standing ovation Lawhorne said, "It has been my honor to wear the badge that represents the people. It is your authority, your power, your badge, not mine. You are bigger than me and I never lost sight of that. I have had the time of my life."