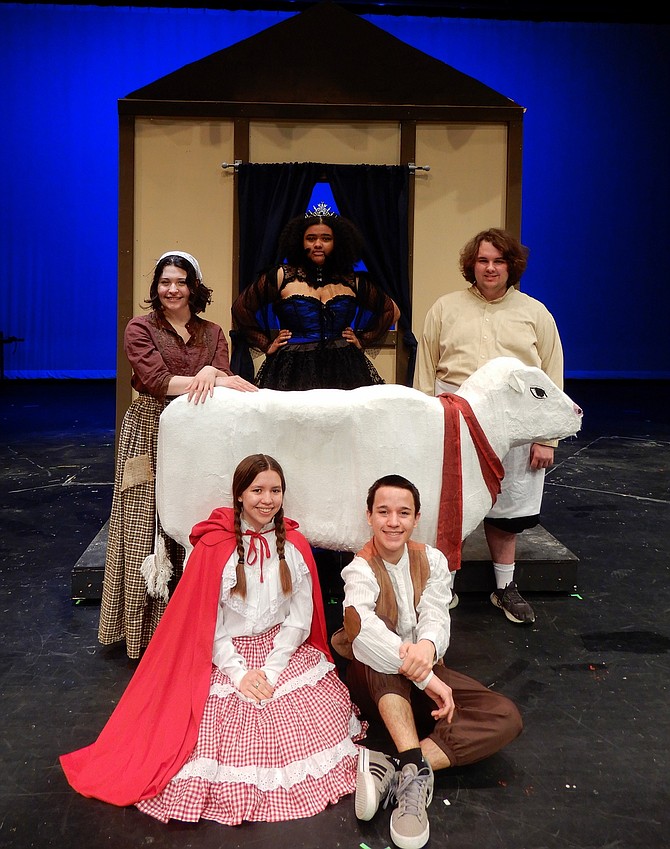 Fairfax High's spring musical is "Into the Woods," and Director Chris Whitney says it's the 
perfect time for this production. Its composer, Stephen Sondheim, died in December; so, said Whitney, "This is our tribute to him."
Show times are Thursday-Friday, April 28-29, at 7 p.m.; and Saturday, April 30, at 2 and 7 p.m. Tickets are $12, adults; $10, students and children, at the door or via www.fxplayers.org.
Nearly 70 people comprise the cast, crew and live orchestra, and Whitney said rehearsals are going wonderfully. "There are lots of really experienced actors, plus some new faces," he said. "The music is challenging, but these talented students are persevering and just blowing us away with their work ethic and musical chops. It's great to collaborate with them and with our vocal-music director, Evie Korovesis."
In the story, fairytale characters all try to make their wishes come true and learn what happens when they become selfish. They realize they have to work together to fix the problems they've created. Some scenes take place in the homes of Cinderella, the Baker and Jack (from "Jack and the Beanstalk"), but most happen in the woods.
"Besides the set, we're excited to also use a projector to show different images of the woods, sky, shadows of the Giant, etc., throughout the production," said Whitney. "And student Maeve Donohue is both making and pulling together the costumes with help from a drama mom."
Over the past few years, said Whitney, "Many people have lost their moral compass, so this is a great show to provide us with words of wisdom and guidance about how to work together and live with each other. Audiences are going to love the overall, theatrical experience of the singing, lights, sets, costumes and storytelling. I'm really excited to see it all come together on the stage."
Senior Charlotte Bronaugh, the stage manager, discussed the production aspects that make this musical take shape. "I oversee a lot of the technical elements," she said. "With the new projector, we'll be able to show, for example, the beanstalk swaying and crashing, plus the depth of the woods. And the sky's color will reflect the characters' changing emotions – happiness, fear, etc."
She said one of the special effects is a shadow screen with a scene playing behind it, and light in front of it, so the actors are sometimes seen in silhouette. And the Baker's house was built in two halves, so it can be broken apart at an especially dramatic part in the story to foreshadow what's going to happen.
"Cinderella talks to birds, so we're going to hang fake birds from the ceiling," said Bronaugh. "Her ball gown will also make its entrance to her from above. This is a tech-heavy show, so we're capitalizing on it. There'll be lots of sound effects to add to the crashing and booming sounds onstage."
In addition, she said, "We have a runway in the orchestra pit so the actors can get closer to the audience and have bigger moments to express themselves. And the walls around the stage will be covered with vines and leaves – and augmented with green lights – for an immersive experience into the forest."
Loving her job, Bronaugh called it a special and unique opportunity. "I get to help Mr. Whitney's vision come to life on the stage," she said. "And I see the actors every day and interact with so many of the show's technical aspects."
Playing the Baker's Wife is senior Evie Izdepski. "She's confident and wants a baby more than anything else," explained Izdepski. "And she's willing to make hard choices to get it – even if it's not the most traditionally moral route."
Izdepski is enjoying her role because of "the opportunity to explore her relationship with her husband and how she conducts herself. Her complex idea of morality gives me lots of different elements of her character to investigate. She's also fun to play because I get to show another side of her and how she acts when her husband's not there."
Izdepski's favorite song – sung by Hank Hawkins as Jack – is "Giants in the Sky" because of "its sense of adventure and exploration. It's also melodic and purposeful." As for the audience, she said, "People will enjoy seeing familiar characters in a different light, and the actors are all giving wonderful performances."
Junior Isabella Jackson portrays the witch close to Rapunzel's character in Disney's "Tangled" movie. "She has many layers and transforms throughout the show," said Jackson. "In act one, she's bitter and no one likes her. I think lots of her bitterness comes because she looks ugly, old and helpless. She also manipulates people, especially Rapunzel. 
"But in act two, you'll get to see her true character because – deep down – she's a caring person. She was controlling before because she loved Rapunzel so much and didn't want to lose her. And overall, she feels betrayed by the world, so that's why she takes out her anger on everyone."
Jackson said it's fun to play the witch because "She gets to be mean and randomly put spells on people. And even though she's evil, she's very comedic, so I never feel too bad about all the mean things she does."
Jackson especially likes singing "Last Midnight," her character's final number in the show. "It relates to how she views the world and her commentary on it," she said. "Right before this song, all the characters are arguing and blaming each other for all the catastrophes that have happened. And this song makes the audience think about themselves, too, because it says, 'You're so quick to point blame at others, but you should first look at yourself.'"
On the whole, said Jackson, "The audience will love the magic of it all. The way Sondheim's able to portray realistic relationships in such a fantastical way is so exciting to watch. It's a show for all ages, and anyone can learn something from it."
Playing Cinderella is senior Maddie Tyler. "She's kind and poised and not afraid to work hard," said Tyler. "She's 17 and learning about life and what she wants. And she's also a little confused about whether she wants the prince to find out her identity or keep it a secret."
Calling this her dream role, Tyler said, "Getting to play Cinderella is really special. Something about Sondheim's music really speaks to me, and all of Cinderella's songs are so elegant and beautiful. I've loved her since I was a child."
Getting to sing "No One is Alone" is one of the main reasons Tyler wanted this role. "It'll be meaningful to sing it in my senior year," she explained. "The lyrics talk about how everybody has somebody, and no one is truly by themselves. And I think that's important to remember as I move into the next chapter of my life; it's important for everybody."
She said audiences will appreciate "the unity among the ensemble members. It's a heartfelt show that I hope will touch many young people in the audience and give them an appreciation for the arts."