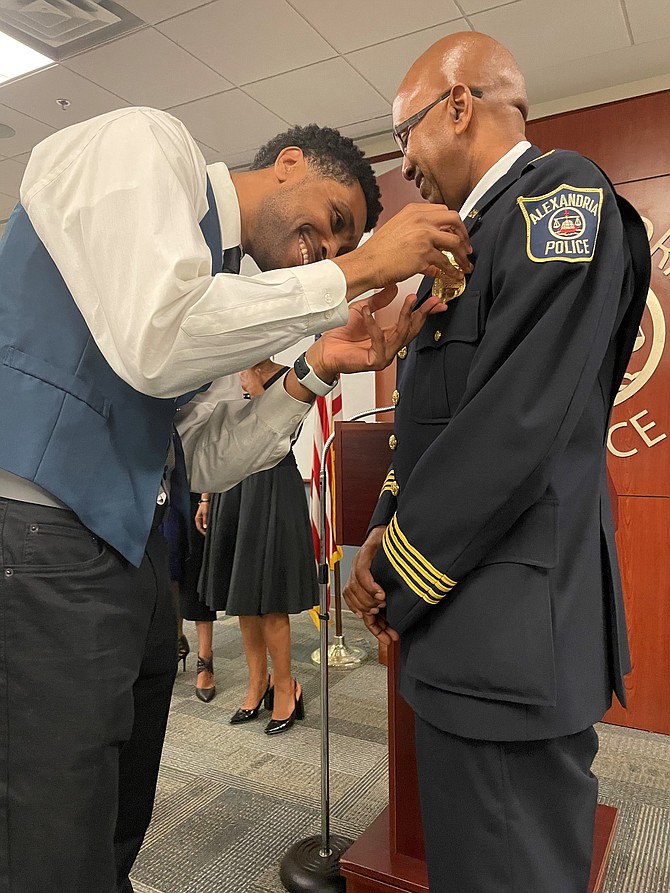 Acting Chief of Police Don Hayes was sworn in as Chief of Police April 18 at Police 
Headquarters in a ceremony attended by family, friends and city officials.
"Chief Hayes' 40 years as a leader and public servant with the Alexandria Police Department, as well as his deep commitment to our community, makes him the right choice to serve Alexandria as Chief of Police," said City Manager Jim Parajon in announcing Hayes' appointment.
Hayes joined the Alexandria Police Department in 1981 and achieved the rank of sergeant in 1996. In 1999, he was promoted to lieutenant and to captain in 2013. Hayes was promoted to assistant chief in 2019 and has been serving as Acting Chief since June of 2021. He succeeds Chief Michael L. Brown, who retired in 2021.
"This is an exciting day," Hayes said after taking the oath of office. "I am looking forward to continuing what we are doing with community policing and making this an outstanding police department and serving the citizens of Alexandria."
An Alexandria resident for nearly 30 years, Hayes holds a master's degree in organizational leadership from Johns Hopkins University, a master's degree in divinity from Liberty University Baptist Theological Seminary, and a bachelor's degree in business administration from Bowie State University.
He is a graduate of the FBI National Academy, has earned numerous certifications, and is an active member of the National Organization of Black Law Enforcement Executives; the International Association of Chiefs of Police; and the FBI National Academy Associates.
Hayes was joined at the event by his wife Gloria, son Quentin Hayes and daughter Kianna Hayes.
"We always knew he was capable of achieving this if he wanted to do it," said Quentin Hayes.  "We are so proud of him."
"I am looking forward to making this an outstanding police department and serving the citizens of Alexandria."
— Chief of Police Don Hayes