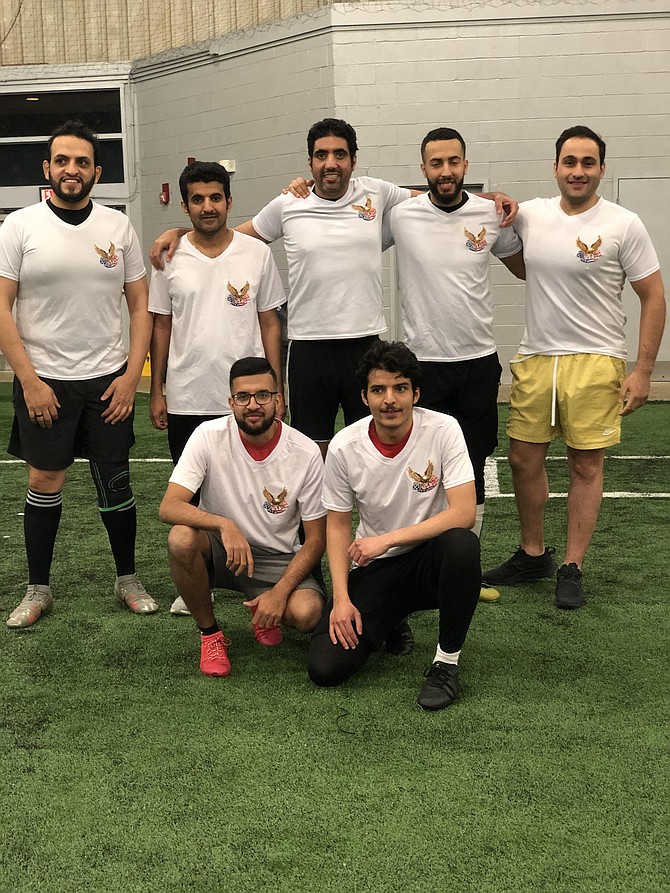 The holy month of Ramadan can be tough when you are away from home. Like any major religious event, there are special home-cooked recipes for breaking the fast, mouth-watering and calorie-rich, and it's hard, when you live across the world, to replace the most important part of Ramadan: the gathering of extended family and friends uniting over the Fitur (breakfast) table as the sun sets. But the whole idea of Ramadan is to practice self-discipline, self-control, sacrifice, and empathy for those who are less fortunate, so a few Arlingtonians have carved out their own Ramadan gathering. 
Arlington resident Dr. Zeyad al-Shammari, a Saudi who came to the U.S. in 2006 to study, started the soccer team "USA" along with his friend, Dr. Yahya al-Qatani, in order to bring people together during Ramadan. Al-Shammari teaches political science, international relations, Global Studies and Middle Eastern Studies. Dr.Yahya teaches Physics at Howard University.  Al-Shammari and Yahya paid for the "USA" jerseys, and invited some of the players they had met while playing before Ramadan began, like Murad, one of the youngest teammates, who immigrated to the U.S. on a visa lottery four years ago. A Moroccan from Rabat who grew up playing soccer, like all Moroccan boys, he is working at a Whole Foods store in Washington, D.C. and is slowly adjusting to life in the U.S., learning English on the go. He lives in Arlington. 
Al-Shammari said they deliberately chose people from different walks of life and nationalities. "The beauty of the USA team is that we unite, we offer to help any of the younger people who are still adjusting to life here, and we aren't just Muslims — our team has Latino guys, Black guys, Jewish guys, Catholic guys, and even atheists! We can accept each for who he is, and what he believes.  We shouldn't hate each other, we are all human. This is the beauty of the real USA, not just the team. Personally, I highly appreciate this country. I came when I was a student in 2006, now I am a PhD teaching new generations. I found myself. The USA made me a better person. So that's why we named our team USA: we wanted to show how America added to us as students, as employees, as people." 
The USA team was having trouble fielding an entire team on Thursday night at 10 p.m. because of a schedule change. They were playing a predominantly Iraqi team. Players came into the South Run indoor pitch in Fairfax carrying their cleats and changing on the sidelines. The two teams played hard, with the Iraqis pulling even with the USA team twice. In the last five minutes of the game the USA Team scored to win. This win was due in large part to the goalie, Mario Shuja, who, gloveless in the first quarter, was "The Terminator" when it came to stopping the fast, hard, and high balls being drilled at his goal. Although the USA team had not played much together before Ramadan, they came together as the game progressed. Their collegial attitude and high energy level was a large part of their success.  
"We play for points: each win gets a point, and the teams with the most points go to the finals,'' said al-Shammari. "We are number two, so we think we will make it to the finals, but nothing is for sure yet. There are other strong teams on the field, and our team has new players; we had never played together." Al-Shammari took great pride in the fact that his team USA had not gotten any yellow or red cards (penalties) since the match started. "We think that shows how peaceful we are." 
"But perhaps the most important part of the team effort is that we gather together. We fast all day (for Muslims during Ramadan, this means no water, tea, smoking, eating, or gum, are allowed among other things.) Then we break our fast, lightly, with just a date, some soup, and water or milk, at sunset (7:53 p.m. on April 2022) and at 10 p.m. we go down to South Run to play with the league teams. After the match, we gather at the Middle Eastern restaurants that are open until two in the morning during Ramadan. We drink coffee, eat shawarma, and talk. I don't stay out too late because I have to get to work the next day, but it's typical for some to stay out until 3 a.m."
Is it hard to fast in a culture that seems obsessed with food and drinking?  
"I don't find it hard here in Arlington: they know Ramadan, the people here are well-traveled and educated, they actively wrote welcoming messages when the month started.  I love my neighbors." 
Al-Shammari's friend, Dr. Majid, a geneticist researching liver cancer at Virginia Commonwealth University came up to Arlington for the month of Ramadan. As he watched the game, he said that after living in the U.S. for as long as he had, it is really home now, and he has adapted to Ramadan outside Saudi Arabia. He acknowledged that fasting can be hard when all the restaurants are open and people walk around with drinks and ice cream. In Saudi Arabia the restaurants close during fasting hours. But it's no big deal because the hours of fasting are relatively short here, he said.
"My favorite thing about Ramadan is that I lose a little weight, feel healthier, and I am more in touch with myself mentally, spiritually, and less concerned with eating, especially junk food."  Al-Shammari added, "The gatherings that take place during Ramadan are definitely my favorite part. Another thing I love about Ramadan is the spiritual aspect: people become more tolerant, more generous, more peaceful. The beauty of Ramadan is to open your door to people, try to understand their religion, and show compassion."