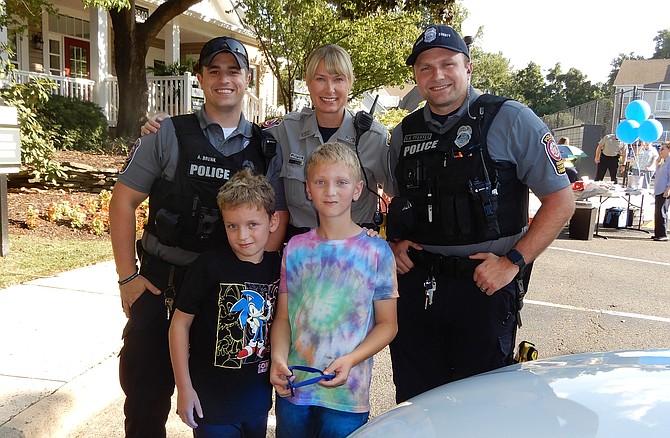 In neighborhoods throughout the U.S., friends and families are holding summertime cookouts, pool parties and ice cream socials. But when they did it last Tuesday, Aug. 2, they also invited their local police officers and firefighters so they could honor them on National Night Out. Here's what happened at just some of the celebrations in Centreville:
The Elms
At The Elms, children eagerly gathered near a police cruiser and chatted with officers from the Sully District Station. Resident Brian Condon brought sons Wyatt, 8-1/2, and Nolan, 10. "We wanted to get outside and thought it would be a good idea to meet some new people," said Condon. "And it's a great opportunity to ask a few questions of our police officers that we wouldn't get to otherwise." 
Handing out snacks were Elms' service manager Donna Smith and leasing consultant Shamla Wardak. "There are 268 apartments here, and we love the sense of community and bringing our residents together," said Smith. "Anything for our law-enforcement officers and Fire Department – we support them 100 percent."
Nikki Greenberg has lived there since November and is delighted with her home. "Everyone's so friendly, and I like the location, my loft apartment and my wonderful neighbors," she said. "It's clean and efficient, and there's great communication between the residents and maintenance people."
Her friend, Regina Peterson, has lived at The Elms two years. "I like that they put on events and get the neighbors together," she said. "This one is good because it's nice to get to know your local law enforcement and put faces to the names."
And, added Greenberg, "The police officers fixed my baby seat for me tonight, on the spot."
Among the officers there was Sgt. Scott Reynolds with Sully's Bike Team. He called National Night Out "a great way to engage with the community and enhance our partnerships with the local residents. A lot of people bring their kids out, and they look up to us. And it's fun to hand out swag to them, like police-badge stickers, slap bracelets, sunglasses and even free Slurpee coupons from 7-Eleven. The kids love that."
Sully Station I
Sully Station I had a huge turn out for its cookout and pool party. Some people swam in the pool, children jumped in the moonbounce, and friends and neighbors visited leisurely with each other and the police. One of the officers was PFC Valerie Richards, who's been at the Sully District Station for a year.
"I really enjoy National Night Out and being with the community," she said. "It allows police officers to come together with the community members as one. They get to see who we are and that we're all normal people like they are. Sometimes, the uniform puts a barrier between us, but serving them is our job."
Also there was her station's assistant commander, Lt. Matt Dehler. "I've been coming to these events for 25 years, and I'll run into people later that I met at National Night Out and they'll remember me," he said. "It's a chance to have a good, positive interaction with both the adults and kids – and we need kids to be the police officers of the future."
Dehler said being a police officer is a tough job. "But everywhere I go in the county, people come up and offer to buy me a cup of coffee or say hello to me," he said. "We have really good relationships in this county."
Attendees at this celebration were treated to hamburgers, hot dogs and chips. Manning the grill were members of the Sully Station I Swim Grill Team, Jim Scheurer, Neil Kronimus, Joe O'Neil and Joe O'Bryan. The swim team has 128 members and, said Scheurer, "During the swim season, we cook specialty items like Philly cheesesteaks, pulled pork barbecue and quesadillas to raise money for the team."
Happy to participate in National Night Out, O'Bryan said, "It's great because it gets the community out here. And they get to see the police as someone other than the officer who gives them a ticket – they see them as community members."
He and his wife Laurie have lived here since 1992 and, she said, "There's a lot of community involvement. People are friendly and willing to help out wherever needed."
Police PFC Dave Moore said he likes coming to National Night Out and "seeing the people we get to represent and the cooperation between police and citizens. They get to see that we're just people who happen to be police officers. We're trying to do the right things and helping people when we can." 
"This is still a good job to have if you want to give back and serve the community," he continued. "People can even arrange for ride-alongs to get an idea of what we do, and our responsibilities, and can see our interactions with the public. And events like tonight let kids see police in a good light, not like on TV."
Sully Station II
Outside the Sully Station II community center, a deejay played pop music while children checked out the fire engines from their local station and families relaxed while chowing down on pizza, hot dogs, sub sandwiches, cookies, watermelon, Popsicles, ice cream and cotton candy. 
Shift Capt. Karl Roche, of West Centreville Fire Station 38, said National Night Out "lets us get out and see the community. And it also lets people see us and what we offer – especially the children, so they're not afraid of us when we run emergency calls. Tonight, we're giving kids fire helmets and a show-and-tell experience with the fire engine and its equipment."
Brothers Dominic and Alexander N. were delighted with their new fire hats. "We thought it would be nice to come out and support law enforcement and firefighters and see some of our neighbors," said their mom, Emily. "We ate hot dogs, chips and cotton candy, and the kids played games and got prizes."
Sitting peacefully on a grassy hill, Ildonio Romero and daughter Leslie, a rising freshman at Westfield High, ate pizza and chocolate-chip cookies together. "It's a really nice event," said Leslie. "The food was free, firetrucks are here and the music's good." Her dad said he likes living in Sully II and enjoys its pool and the area where he walks their dog.
This was one of four National Night Out celebrations that Capt. Rachel Levy, commander of the Sully District Police Station, visited that night. It was gratifying, she said, because "We're out here supporting the community that supports us."
Karen Hogan, president of the Sully Station II Board of Trustees, said 300-400 people attended. "We had a great turnout, with lots of help from our activities committee, which sponsored this event. And 7-Eleven gave us gift certificates and candies. This is a nice neighborhood to walk around in, with friendly people, and it's convenient to shopping."
Jo Lynne Vincent, of the activities committee, said, "It's important to show appreciation to our first responders. I don't think they get the recognition they deserve, and it's nice to meet some of them face-to-face. I've lived here 20 years and have always participated in this event and watched it evolve."
Also there was Fire Capt. Kim Hood, the area medical supervisor, who's been with Fairfax County 28 years. "These events are very important because they give kids a chance to come out and touch the firetruck so they're not so nervous when they see it," she said. "We work 24-hour shifts, so we're away from our families then. So to know we're appreciated is very rewarding."