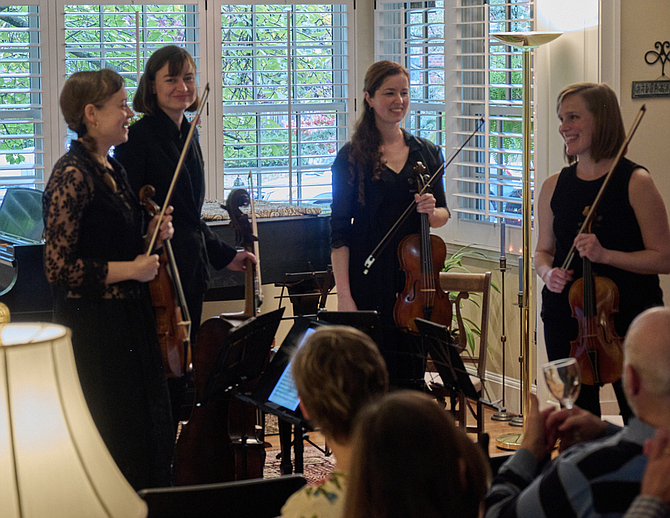 Salons, the kind 18th century French ladies hosted, are a thing of the past. Or are they? Who in this day and age invites people to sit in their living room, enjoy music and conversation over a glass of wine and a plate of french hors d'oeuvres? Who does it for the love of good music, good conversation, and good food? Beth Lewis does. She renovated her husband's childhood home in 2006, designing it to serve his profession in myriad ways. For 10 years her husband, Reilly Lewis, a prominent musician, would utilize the space for rehearsals, concerts and special events for his organizations. Beth put his piano in the bay window, pushed out the rear of the room to a beautiful garden, and bought some folding chairs. 
On Oct. 22 the "salon" held about 28 guests who came to hear the Quartet Salonnières, a New York City based group which plays period instruments, now on tour to raise money for its upcoming international trip to Tanzania. It was one of many concerts she has hosted over the past 5 years. 
Lewis envisioned just this kind of event when she rebuilt the Arlington house; she just didn't expect her husband, Reilly Lewis, not to be there. In 2016 he died suddenly, at 71. He had been an organist at Clarendon United Methodist Church, and conductor of the Cathedral Choral Society and the Washington Bach Consort. He was a beloved figure in Washington's classical music circles. And the house Beth Lewis renovated played an important role in his musical life, even back in the 1970s. Lewis and several friends from the National Symphony began meeting at his mother's house in Arlington to play the music of Bach. That group became the Washington Bach Consort in 1977, and is now recognized as one of the country's premier baroque-music ensembles, with an emphasis on historically authentic performances on instruments from Bach's era. So Reilly Lewis would have loved hearing the Salonnières, particularly when the quartet's special guest, Dominic Giardino, played Mozart's Clarinet Quartet in A Major on a historical clarinet from that era … in his living room. 
Beth Lewis has been doing these concerts at the rate of about one every other month for the past five years. She felt the house needed to reverberate with music to preserve her husband's memory. His piano, his harpsichord, his organ all sat in the house in need of playing. And so, through word of mouth, Lewis opened up her home to musicians. For what is now known as Concerts at Norwood she invites neighbors, friends, and acquaintances, cooks up an amazing array of hors d'oeuvres and occasionally dinners. She glows with the sense that her house is doing what it was meant to do: give musicians a place to be heard. It doesn't hurt that she attended French culinary school and loves to use those skills.
The Salonnières formed their quartet about four years ago. Aniela Eddy, Natalie Kress, Rebecca Nelson, and Cullen O'Neil met during their studies in the Historical Performance program at The Juilliard School. Their quartet's name comes from the fact that women were often denied the opportunity to play in public during the male dominated Baroque era, and the only way they could be heard was in small salons not unlike Beth Lewis's. The Quartet Salonnières has toured nationally and internationally, performing on stages across New Zealand, and with Les Arts Florissants in Paris, Philharmonia Baroque in San Francisco, Apollo's Fire in Cleveland, Handel and Haydn Society in Boston, and Pacific Baroque Orchestra in Vancouver, Canada. 
Playing with the old instruments is harder, they noted, munching on the macarons. The cello O'Neil plays has no pin, so it is harder to control, and the gut strings on the violins and violas have a completely different sound. The clarinetist required great skill to play notes which sought the right pitch, but were more haunting and emotional than a newer instrument would produce. 
Lewis said she feels good about her "Concerts at Norwood" because, for instance, during the pandemic, when most performing venues were shut down, she was able to help a young man, who could not perform publicly, by allowing him to use her home to video record his performance, which he could then share digitally. 
Lewis, who has had some very interesting roles in life herself, including becoming one of the first professional women firefighters in the country, is now using her skills as a rare book conservator at the Bishop Payne Library at Virginia Theological Seminary.
The Quartet Salonnières is looking for donations to help defray the costs of their upcoming tour to Tanzania. The trip was organized in 2020 but postponed twice due to COVID. The month-long trip was made possible by funding from the U.S. Embassy in Tanzania which awarded the group its prestigious Artist Grant. They will be collaborating with local artists, workshops, performances, schools, and universities, and holding free public concerts. The Quartet still has to raise funds for airfare and equipment. To make a tax-deductible donation, see: 
 see: ci.ovationtix.com/35560/store/donations/35887