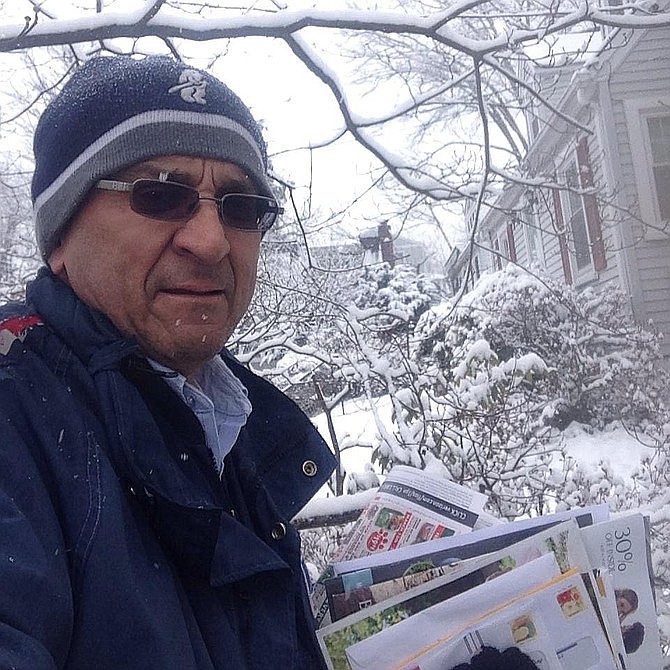 The U.S. House today passed legislation introduced by Rep. Don Beyer (D-VA) to rename the post office in Arlington on George Mason Drive (currently designated "Arlington Post Office") after local letter carrier Jesus Collazos. The bill passed without objection on a voice vote. Collazos immigrated to Northern Virginia from Colombia in 1978 and worked for 25 years as a USPS postal carrier in Arlington. He died of COVID-19 early in the pandemic.
Beyer delivered remarks from the House Floor as Collazos' family looked on from the House Gallery.
Beyer said:
"Madame Speaker, I rise today to speak in support of my bill, H.R. 7082, which would designate the post office on 2200 North George Mason Drive in Arlington as the Jesus Antonio Collazos Post Office Building.
Jesus was the epitome of the American Dream.
He was born in 1953 in Colombia and grew up in a modest, hard-working family.
Even at a young age, he was passionate about education and wanted to help his community and did so by helping teach literacy while still a high school student.
After graduating high school, Jesus attended the Universidad de San Buenaventura Cali to pursue a degree in accounting.
In 1978, Jesus immigrated to Washington, D.C. to reunite with his mother and sisters in hopes of seeking a better future.
In 1980, Jesus married the love of his life, Luz Miriam, who is here today with their children, Vanessa and Michael.
After working in accounting positions at various hotels, he applied to the United States Postal Service as a letter carrier, where he would embark on a 25-year career.
He made an impression early on and was given a temporary assignment in leadership which turned into a permanent offer.
He ultimately turned it down to remain a mail carrier.
This turned out to be the right decision as Jesus preferred to spend his days outdoors, building relationships on his route, and connecting with the neighborhood.
He fell in love with that neighborhood so much that he waited patiently for the right opportunity to buy his own family home there.
When the day came, his affable personality gave him an advantage over other buyers. So much so, that the seller accepted his offer despite it being the lowest of all the bids.
In 1999, Jesus and Luz moved their family from an apartment into a new single-family home on his mail route, becoming his own mailman.
Motivated by a desire to spend more time with his family and in particular his grandchildren, Jesus retired in February 2019. 
At the start of the pandemic, Jesus discovered a lump on the side of his neck that turned out to be an aggressive cancer.
On a Monday in May of 2020, during his first oncology appointment, he was sent to the emergency room for COVID.
He spent the next two weeks in the ICU, suffered a stroke, and on June 6 at 3:45 p.m., took his last breath.
Jesus was one of millions of Americans taken from us by COVID-19, but he was also a treasure to our local community.
He will be remembered by his infectious personality, outstanding work ethic and loyalty to his loved ones.
After his death, the Collazos family immediately began to receive an outpouring of love via messages, calls, cards, and meals from countless family members and friends.
An outdoor memorial service for Jesus was held June 26, 2020 where many came together to honor his memory.
His U.S. Postal Service coworkers opened his outdoor memorial service with a mail truck parade.
We were lucky to have Jesus Collazos in our community."
Read the Arlington Connection story about Jesus Collazos from June, 2020, "Jesus Collazos Was More Than Our Mailman." http://www.connectionnewspapers.com/news/2020/jun/24/jesus-collazos-was-more-our-mailman/