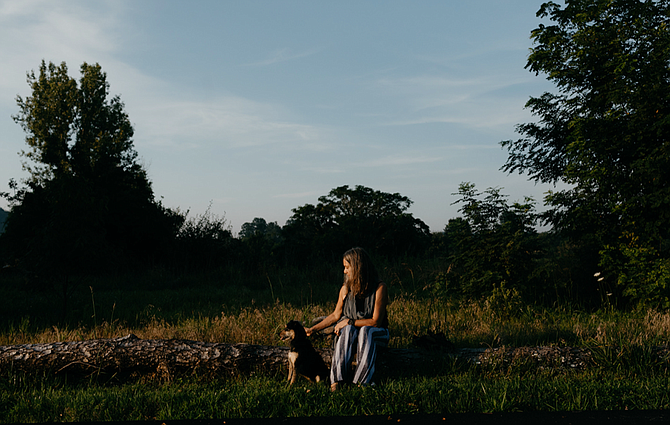 "Higher, higher," commanded a 1o-year-old boy as Ann Burke pushed him in a tree swing in the backyard of his new home in Vienna. He's the oldest son and third child of a single mother and until earlier this month, he lived in a low-income apartment in a neighborhood marred by gun violence, a lack of access to quality education and the safety of afterschool programs. Now the family will have a new home for the holidays.
With leaves crunching under foot, Burke walked through her own backyard in Alexandria blinking back tears as she recounted the family's rise from a life of poverty and instability to one of safety and possibility. She gave the family money for a down payment and cosigned a loan so that the family could purchase a home in Vienna, Virginia. This display of generosity underscores Burke's commitment to slavery reparations which she says are critical to healing this country's racial divide. 
"Am I responsible for slavery and the impact that it continues to have on the African American community? No, I'm not" she said. "No but we all have a joint responsibility to help right the wrongs that have led to the country's racial inequality."
Burke has spent more than a decade on the frontlines of the effort to fight systemic injustice and provide economic development opportunities for African Americans. Her approach is two-pronged. Burke, who is white, supports organizations that work to dismantle the pattern of more than 400 years of inequality in the United States. She also works to help other white Americans understand the impact that past discriminatory practices have on the current quality of life people of color.
"I think that there are a lot of white people who just don't get it," she said. "The knee jerk reaction of some is to say, 'We've had a black president and there are many blacks in positions of power. Why do we need reparations?"
Part of her work is hosting open dialogue sessions in her home that are designed specifically for people who are white, a dynamic that she feels is vital to having the honest conversations necessary to create effective change. Having begun her work years before the racial protests after the murder of George Floyd by a police officer, she says her ideas were seen as controversial. "I think that people saw me as the Marcus Garvey of the 21st Century." 
Since that time, the ideas that Burke touted have become mainstream. Last year the Episcopal Diocese of Virginia voted to create a fund for reparations and is crafting a plan to put it into action. 
"The most important work I've been involved in is really changing how white people think about race," said Rev. Elizabeth Rees, an Episcopal priest and the Upper School Chaplain of St. Stephen's & St. Agnes' School in Alexandria. "It's happening in small groups all over the county. We just elected a new bishop [Rt. Reverend E. Mark Stevenson] for whom that is a priority as well. The church is really sinking into this kind of work right now."
Grassroots organizations can become agents of change, says Burke. "Working together as individuals and as a part of a group we can tap into our collective wisdom to find solutions." 
One such group is ACT for Alexandria, a community foundation that serves the city in part by mobilizing the residents around issues like racial equity and economic opportunity. One of the group's current initiatives is working as a collaborating partner on ARISE, a guaranteed income pilot program by the City of Alexandria. 
"It will help low-income families receive $500 per month for two years," said Kyle Reardon, Marketing & Communications Manager, ACT for Alexandria. "These are critical resources that will help families move up the economic ladder. One hundred seventy households will be randomly selected to participate and will begin receiving payments in February 2023."
Burke will begin a new project in the new year in which she plans to teach others how to use meditation as a means of increasing awareness of one's thoughts and the role that they play in our personal biases. "Recognition and acknowledgement are the first steps in the process," she said. "As long as we keep moving forward, we can make change one person at a time."