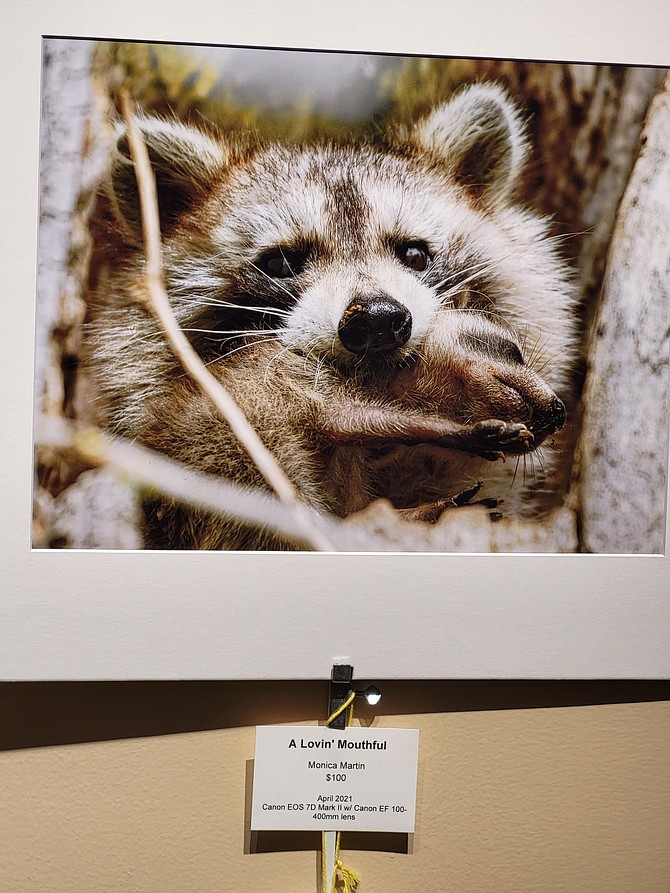 Who knew there was such a variety of plants, birds, reptiles and amphibians alive and well in Huntley Meadows Park? The photographers knew and were proud to display their works at the recent Huntley Meadows Photo Show on Sunday, Dec. 11.
"You wonder, do frogs think?" said Muala Hastings, looking at one of the four top winners of a tree frog on a leaf looking for a place to jump. "It's a story," she said.
The first place ribbon was on a picture of a green heron fishing off a log, with the water reflection, and a yellow leaf, giving it another dimension. "This is kind of luck," said photographer Eric Steiner. The photo was taken on June 30 at 6:23 a.m. He had two pictures in the top four and one honorable mention.
"The frog is my favorite one," said his wife Jennifer. "He takes our family picture once in a while," she joked.
This year, there were 60 photo submissions hung in the Huntley Meadows Center, submitted by 25 different photographers. There were three overall winners and one in the youth category, and seven "honorable mentions."
Each year, there are three judges for the competition, and the previous year's winner is automatically a judge for the next year. "It's a tradition, we ask our past winner to judge," said Katie Baker, part of the Friends of Huntley Meadows.
During the judging, there was a lot of camera and f-stop jargon going around the room, but Baker admitted that equipment of the top level is not needed, especially in a time where whipping out the cell phone camera is almost a natural reaction. "We do have some cell phone camera entries," she said, but added "the top photos tend to be taken with a professional camera."
James Fatemi is a McLean High School sophomore that took the award-winning shot last year of a toad he called "King of His Domain." He was one of the judges this year. "He was brought here to Huntley Meadows for the first time when he was still in the stroller," said his father Fredrick Fatemi.
Tyler Reber was another past winner that was judging this year. "I look for sharpness, clarity, color composition – all the qualities of a nice image," he said.
One of the top four was a raccoon staring at the camera while holding a baby raccoon in its mouth. Monica Martin took the picture when she was at the boardwalk in the park that goes over the wetland. "I saw this cute little face pop up," she said.