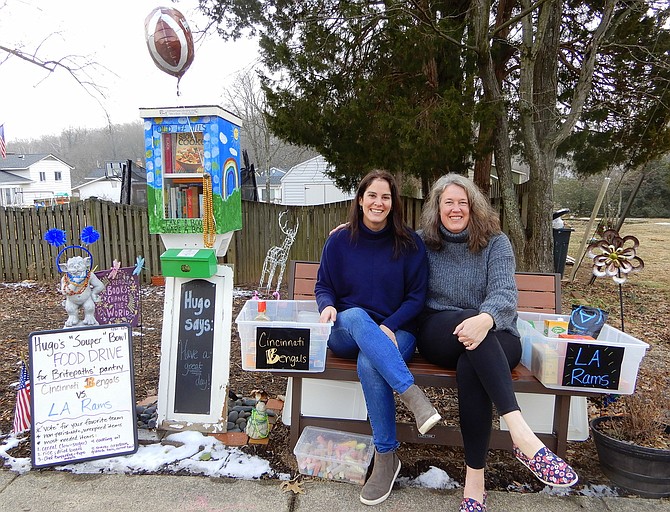 No matter who people are rooting for in the Super Bowl, they can make Britepaths the winner. That's because two women and a gargoyle are holding a Super Bowl-themed food drive to replenish the Fairfax-based nonprofit's pantry, and it runs through Feb. 21.
Dubbed "Souper Bowl," the collection is on Colony Road, between Heritage Lane and Old Post Road in Fairfax City's Old Lee Hills neighborhood. Plastic bins – one labeled Cincinnati Bengals and the other, L.A. Rams – are on a bench next to the Hugo the Gargoyle Little Free Library there. And by donating nonperishable food items into the bin of their choice, people may vote for their favorite team.
Hosting the food drive are Old Lee Hills residents, Janet Jaworski and Stephanie McCarthy. Last summer, the pair did a Christmas in July food collection for Britepaths, as well, because with so much ongoing demand, they knew it needed help to restock its pantry.
"We also did a Souper Bowl last year for [Fairfax's daytime, drop-in, homeless shelter] The Lamb Center," said McCarthy. "So this one is our second annual."
"We wanted to keep it to help people within the City," added Jaworski. "In January 2021, I'd seen something on a General Federation of Women's Clubs' Facebook page about a Souper Bowl, and I thought it was a cute idea. We were planning to do a food drive, anyway, and decided it would be fun to hold it here. And it would also get more people involved with the Little Free Library and make it more of a destination."
The library went up in April 2020, at the start of the pandemic, when many people were out walking to pass the time and enjoy being outdoors. McCarthy brought back the bench beside it from a visit to Maryland. "There are elderly people who walk in the neighborhood and use it as a stop," said Jaworski. She and McCarthy also put out sidewalk chalk so children could draw pictures and write cheerful messages.
As for the small, but eye-catching, statue named Hugo, who stands next to the Little Free Library, he was named after the gargoyle in Victor Hugo's famed novel, "The Hunchback of Notre Dame." The two women discovered him while looking for garden statues on the Wayfair Website, and he arrived in Old Lee Hills on Dec. 31, 2020.
 "He appealed to us because he looked playful," explained Jaworski. "And he also appeared contemplative, with his hand under his chin, like he was always thinking about what mischievous thing he was going to think up next. We named him through a naming contest via the Old Lee Hills Civic Assn.'s Facebook page. We created a poll with 10 choices and people voted; Hugo was the overwhelming winner."
They also created a Facebook page for him called, "Hugo the Gargoyle - Keeper of Books and Maker of Mischief." According to his description there, Hugo "lifts the spirits of all who pass by. He stands guard over the books in our little library and likes to celebrate holidays, travel around the neighborhood and get into mischief." And now, he's on Instagram, too.
Jaworski also has fun with Hugo, decorating him for every holiday, large and small. For example, she said, "We celebrated National Limerick Day, and I wrote a limerick and put it outside, next to him." Currently, he's sporting jaunty beads and pom poms in the Super Bowl teams' colors.
Jaworski said having the Little Free Library, bench, food bins and Hugo all on display together creates attention for the Souper Bowl food drive. "This gives us a visual area to hold it," she said.
"And Britepaths really needs the food," said McCarthy. "In an instant, it's gone, because so much food is needed. It's a constant – there's a ton of people in our community who are hungry and need help. However, it's not our food drive, but Hugo's."
"We always knew Britepaths is a good organization that helps people," said Jaworski. "And this effort shows that you don't have to be a big company or organization to sponsor a food drive – Hugo can do it. And with the football theme, we tap into people's competitive spirit and get more food donations that way. For example, one lady put lots of items into the Rams bin because a player on their team graduated from Fairfax High."
* Still, it doesn't hurt to have some extra help; so in addition, two Fairfax City businesses have agreed to do a Souper Bowl food drive for Britepaths. Both Twins Ace Hardware, at 10310-B Main St., and Chubby Squirrel Brewing Co., at 10382 Willard Way, also have Bengals and Rams bins where people may donate food.
* Most-needed items are low-sugar cereal, rice, dried beans, canned meat-and-pasta meals, cooking oil and snacks (crackers, granola bars and cereal bars). Do not donate dented cans or food past its expiration date.
"Britepaths' emergency pantry assists approximately 300 Fairfax County families per year with food when their cupboards are bare," said Britepaths Executive Director Lisa Whetzel. "Many of the families we serve are working hard but struggling to make ends meet in our expensive area. Some have never before needed to ask for assistance but have turned to us for help due to the pandemic."
"We're so grateful to Janet and Stephanie for organizing this creative and fun food drive, and to all who are voting for their favorite teams by donating food and supplies to stock our pantry," she added. "Our friends in Fairfax City have long been enthusiastic supporters of Britepaths' work, and we're thankful for their generosity. We hope people will continue to give generously to help us feed our neighbors in crisis this winter."