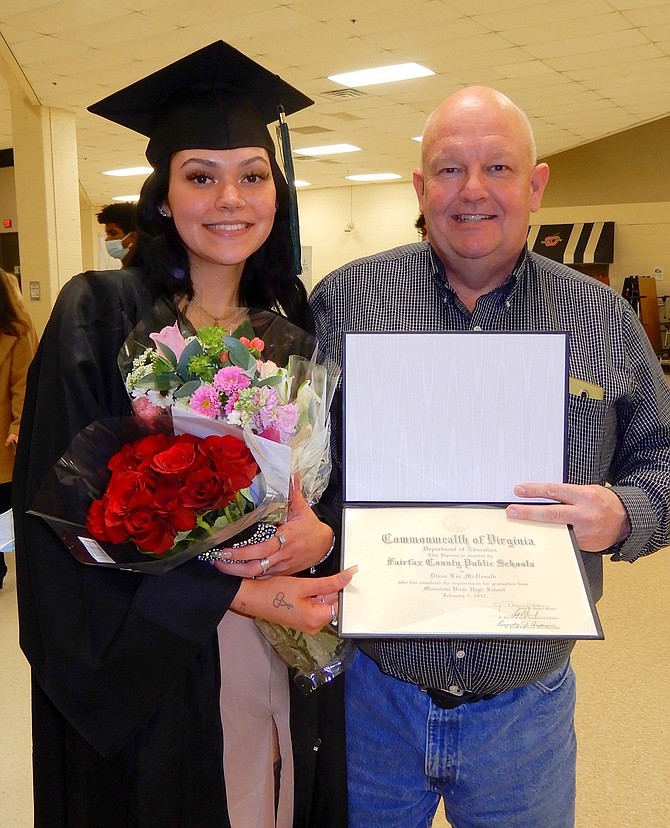 Mountain View High's graduation, last Wednesday, Feb. 2, at Centreville High was small, but meaningful. That's because its students have to overcome obstacles never dreamed of by those in larger, mainstream schools. 
The majority have risked everything to come to the U.S. for a better life, and often arrive not speaking English. Some have young children to care for, and many work full time to survive. Yet they persevere so they can get an education – and Mountain View's administration and staff support them in every way possible.
As the ceremony began, Assistant Principal Catherine Stone noted it was the school's 51st commencement since 1996. And at each one, in the past 26 years, she said, "Mountain View grads have felt emotions including pride, excitement, relief and even sadness. But they all shared the common bond of being part of the Mountain View family – and having the characteristics of perseverance, grit, intelligence and drive."
She then told the graduating seniors, "You're strong and resilient. While at this school, you were supported by your families, guardians, teachers, counselors and friends. And your extraordinary efforts helped you reach this day."
Principal Joe Thompson welcomed everyone to the winter graduation, telling the students to never forget their worth and congratulating them on all their accomplishments. (See sidebar).
Eltaf Samim was the student speaker, and he shared his personal story. "I was born and raised in Afghanistan and dreamed of having a higher education and living in the United States of America," he said. "My parents are my heroes; they loved and guided my sister and I through difficult times and shared their experiences with us."
Calling his parents responsible and caring, he said his mother was always there for them and his father sacrificed and worked hard to make the family happy. "My parents supported our dreams and desires and inspired us to study," said Samim. "My father said, 'For a bright future, you need a good education. Knowledge is the power that no one can take away from you.'"
But eventually, they had to leave Afghanistan and start over in Germany. "There was a different culture and language, and I struggled making friends in class and speaking the language," said Samim. "But my teachers helped me understand that, the more you struggle, the stronger you become."
Then in March 2021, the family immigrated to the U.S. "We had to start a new life again – which wasn't easy," said Samim. But he enrolled in Mountain View, where he found a welcoming, caring and supportive environment and learned firsthand about the school's motto of "Family, love and respect."
"Each counselor treated you as their own child," he said. "I worked hard and tried my best, and I am grateful to be one of the lucky students at Mountain View. I have many dreams and opportunities to pursue, and I hope to serve my community and country and make my teachers and family proud of me. I know that, if you pursue your dreams, you can make them come true."
Then, mentioning his counselor and teachers by name, he praised each one and explained how each had specifically helped and inspired him. 'Mountain View is full of wonderful, amazing and awesome teachers," said Samim. "Thank you for every opportunity you've given to me."
Stone told the audience, "His story explains why the Mountain View staff comes to work each day with such enthusiasm and dedication." 
Next, three students received special awards chosen by the teachers. 
* The Citizenship Award is given to a student who's helped build a positive school community. Presenting it to Samim, ESOL teacher Lora Bates said, "Eltaf has been a model student and the epitome of 'Family, love and respect.'"
* The Personal Achievement Award goes to a student who succeeded academically and personally, despite having adult responsibilities, such as a job or a child. As art teacher Theresa Dijoseph gave it to Diana McDonald, she said, "Diana defines resilience."
* The Faculty Award is given to the student achieving the greatest academic and personal success, despite significant obstacles. Social studies teacher Mike Hardy presented it to Mandip Chhetri. 
"Mandip came from Nepal and then moved to Brunei in Southeast Asia," said Hardy. "Then at age 17, he came to the U.S." Hardy then read several comments Chhetri's teachers wrote about him when nominating him for this award. 
"In journalism class, Mandip wrote of the difficult decision to leave his friends and loved ones behind for a better future," said Hardy. "We know life can be hard, but we also know that's when the growth occurs. He said yes to the opportunity and put his whole self into it."
Another teacher told how Chhetri researched climate change, advocated for the poor in Southeast Asia during the pandemic, and connected with the teachings of Nelson Mandela and his fight for social justice – all while earning no grade below an A-.
Still another noted that Chhetri oversaw his brother's virtual academic learning and hopes to someday become an engineer. "Mandip has a great attitude and is an excellent student," wrote a teacher. "He tries his best at everything and won't settle for less. He leads his classmates by example."
Then, handing Chhetri the award, Hardy said, "Mandip, it's with great pride and appreciation that we honor you today and wish you great success in every endeavor."
Afterward, the scholarship winners and donors were recognized and applauded, Thompson presented the diplomas, and the winter Class of 2022 officially graduated.