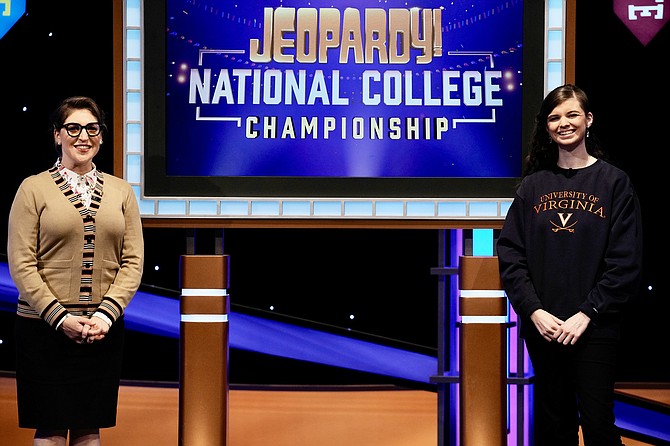 Megan Sullivan, of Burke, a Junior at the University of Virginia, will compete in the Jeopardy! National College Championship against some of the nation's brightest undergraduates. Sullivan, a 2019 graduate of Robinson Secondary School, will appear in the last quarter-final episode airing on Feb. 16. She and her competitors, who know the outcome from filming last November in Los Angeles have been sworn to secrecy, but the outcome soon will be known to all.
Television audiences will watch Sullivan, a classics major, vie for the title and $250,000 grand prize, as one of 36 college competitors from colleges located throughout the United States. Many are pursuing degrees in science or engineering; a few, like Sullivan, are studying Classics, English, or public policy. Past 2020 and 2018 winners Nibir Sarma, University of Minnesota, and Dhruv Gaur, Brown University, were chemical engineering and economics, and public health majors, respectively.
Did Classics give Sullivan an edge over those studying the sciences? She says it helped her to know, going in, that she had a broad discipline and she was proud of the showing of her fellow contestants with that major. An avid quiz fan, Sullivan first started trying out for Jeopardy! when she was 12 years old, and tried many times after; also competing on Robinson's quiz bowl team.
What mental training regiment did she adopt to prepare for Jeopardy this time? Sullivan was able to smile as she told of dropping her social life, and some grades, with a few late papers, and apologies to her professors. She spent one or two hours per day reviewing areas of information where she thought she needed improvement, memorizing states and their capital cities, and presidents, for example. She also spent time practicing how to manage the unique elements of Jeopardy!, including the buzzer equipment; how best to stand and hold it to increase her chance to ring in on questions asked by the host. Admitting she wasn't strong in mental math, she also studied the art of wagering for instances when she would have to bet an amount before answering a question during play or for the final question. 
Sullivan tells us to expect an impressive stage set, with encouraging pennants and college names; she will appropriately be standing in front of one for Virginia. She looks forward to the airing as well, saying she can not remember much of what happened during her contest. She will watch with many friends and well-wishers at a theater reserved for the evening on the University of Virginia campus. She pledges to count every question she answers correctly and make a three dollar donation for each to Wikipedia in recognition of its role in her preparation.
No matter the ultimate outcome of the contests, Sullivan has already received $10,000 for making the quarter finals, had an all expense paid trip to Los Angeles with limousine service to a nice hotel, sat on the "Wheel of Fortune" stage, toured the J. Paul Getty Museum, and enjoyed meeting and talking with other contestants. 
Another Virginia college contestant, Lucy Green, a senior at William & Mary College studying health analytics, will compete in a quarter-final episode on Feb. 15, the day before Sullivan. The Jeopardy! program is hosted by the award winning actress, Mayim Bialik, who played a neuroscientist, on the television show, "The Big Bang Theory" from 2010-2019; recently taking on the Jeopardy! host role after the death of long time host Alex Trebek, who hosted from 1984. 
The championship program, carried on ABC prime-time, will air on consecutive evenings from 8 - 9 p.m. beginning with the first quarter-finals on Feb. 8th; finals will air on Feb. 22.