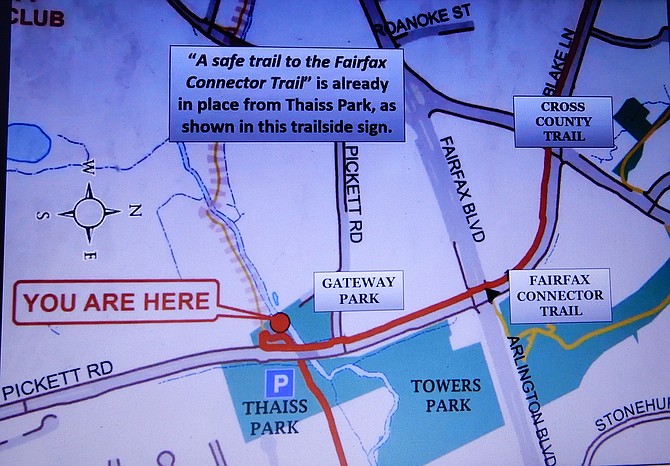 Fairfax City plans to construct the Pickett Road Connector Trail – a new north-south, off-road, shared-use path between the Wilcoxon, Cross County and City of Fairfax connector trails. This path will be approximately 1,260 feet long and is to be built on the east side of Pickett Road between Route 50/Fairfax Boulevard and Thaiss Park. 
The goal is to connect other trails; and during the Jan. 11 Fairfax City Council meeting, Parks and Recreation Director Cathy Salgado described the new path as "a missing link." She also noted that the project is completely funded by federal, SmartScale money received in October 2019.
The total price tag is $5,965,444. Construction is expected to cost $4,933,115; preliminary engineering, $797,237; and right-of-way, $235,092. When finished, the trail will be owned and maintained by the City.
Dat Ngo, project manager with Johnson, Mirmiran & Thompson Inc., the consultant for this trail, presented details of its design, plus other elements, to the Council. And he stressed that a conservation easement means that "a stormwater-management pond won't wipe out trees in the middle of the site." 
He said the objectives are expansion and continuity of the City's parks and trails network. "This path will provide a new connection between the Wilcoxon and Cross County trails to the south, and the City of Fairfax Connector Trail to the north," said Ngo. "And it will give greater access to the surrounding retail shopping centers, office complexes, I-66 trail facilities, Thaiss and Gateway parks, and the Vienna/Fairfax Metro stop."
He said it will offer accessibility for residents living off Old Pickett Road, while providing trail bump outs and a 14-foot-wide boardwalk, with scenic overlooks on both. The path will be designed to VDOT and ADA standards, where feasible, and will be 10 feet wide with 2-foot-wide shoulders.
There'll be a connecting staircase and ADA-compliant ramp at the Old Pickett Road/Foxcroft intersection, plus an additional staircase connection on the south end to the Cross County Trail. Also planned are two pedestrian bridges. 
The bridge on the shared-use path will have a truss design and a concrete deck and will cross the Accotink Creek and its tributary. The concrete-plank boardwalk will be 375 feet long, and Ngo said this structure will mitigate steep slopes, as well as impacts to trees and utilities.
Stormwater-management and drainage improvements include side ditches, plus a proposed inlet at the project's south end to alleviate standing water on the Cross County Trail near Thaiss Park. Permeable pavement is planned for the north end, and Ngo said a proposed conservation easement would eliminate the need for a stormwater-management pond.
As for trees, he said 170 were identified within the project area, and 28 within three feet of the trail will be removed. The fate of another 49 has yet to be determined. 
The project includes safety signs, plus shared-use-path warning signs in advance and pavement markings on that path. There'll also be guiding/educational signs, as well as pedestrian and bike counters.
Salgado said the plans were almost 60-percent complete, and she expects to submit final plans in June and advertise for a contractor this fall. If all goes well, she hopes this project can begin construction in winter 2023, with substantial completion achieved by spring 2024.
"We designed this trail to minimize the impact on trees and the environment, with the elevated boardwalk," said Salgado. "Part of it will be cantilevered over a huge ravine, so there'll be beautiful views from there during all seasons." 
However, not everyone is as excited about this trail. In a Jan. 9 letter to Fairfax's Mayor and City Council, the Friends of Accotink Creek asked the City to forego its proposed route through the floodplain. It advocated, instead, for making the trail a "Neighborway" providing "safe and convenient, non-motorized transportation, without further sacrifice of our fragmented remaining inventory of natural habitats."
"The spur connection to Foxcroft via Pickett Road is ironic. Why not then route the entire trail along Pickett Road, where there's sufficient room for a shared-use trail at far lower cost in both dollars and natural habitat? The City of Fairfax Bicycle Plan indicates an on-street route already in the future of Pickett Road, just yards away from the proposed connector route. Pickett offers a high and dry route out of the floodplains along Accotink Creek and Hatmark Branch.
Decrying the loss of "our dwindling and irreplaceable natural heritage areas," the letter stressed that, whenever possible, "the City must adopt a course of prevention of deforestation, large and small." 
In addition, the Friends of Accotink Creek shared its letter and the project's details in a Jan. 21 Facebook post, including maps showing the desired connections between the three other trails that are already available in Thaiss Park. In the comments, Marianne Floyd wrote, "I agree, too much concrete proposed for our city. Leave the paths as paths." 
Avril Garland added, "This would be a most pointless bike path. It's a case of follow the money. Just because it's funded doesn't mean we should build it."
There's also a larger post there titled, "Pickett Road Connector Trail - On the Wrong Path?" It calls it redundant and "a sad choice to put a trail in the worst possible location, through the floodplains, just because we can." 
The post states that, contrary to the City's justification for the trail – providing greater access to shopping, offices and Thaiss and Gateway parks – in reality, it would "lead users away from retail and work areas and bypass the Fairfax Circle Activity Center and Gateway Park. How ironic that the Pickett Road Connector Trail would take the name of the very road it proposes to bypass – [and] that already provides the connections this trail professes to provide."
It further notes that "other City plans need to be fulfilled, too, such as the Comprehensive Plan's Environment and Sustainability Chapter, the Chesapeake Bay Preservation Plan, and the Northfax Small Area Plan. All these plans sanguinely assure the preservation of trees and streams while other City, Commonwealth and private interests continue to clear them away. 
"Why should the environmental preservation mandates of these other plans not take priority? Improved opportunities for bicycle and pedestrian travel are welcome, but this trail's route would come at the expense of forests and streams."