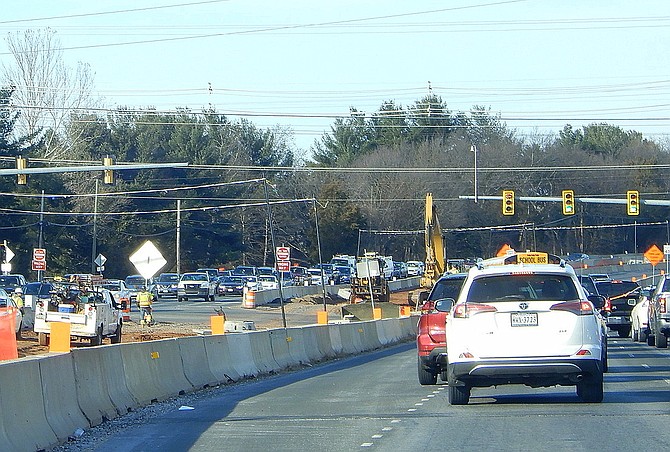 When ground was broken in September 2021 for the Route 28 widening project in Centreville, Phyllis Randall called this heavily traveled highway a "transportation corridor of regional significance." The Northern Virginia Transportation Authority (NVTA) chair also said it's one that transcends jurisdictional boundaries. 
"Most people don't know where the Prince William, Fairfax and Loudoun counties' lines are," she explained. "All they know is they want to get to work fast and get home fast. Currently, at 2:30 p.m., from Westfields to Manassas Park, traffic is backed up – so what we're actually doing is improving people's lives."
The road will be increased from four to six lanes between the bridge over Bull Run (south of Compton Road), at the Prince William County line, and the Route 29 Interchange in Centreville. Besides widening Route 28, the fully funded, nearly $80 million project will also yield additional lanes on the side streets to ease traffic flow. 
It will improve intersection operations, as well, by upgrading five, existing traffic signals and improving bicycle and pedestrian crossings. Furthermore, new, 10-foot-wide, shared-use paths will be created on both sides of Route 28 and stormwater-management facilities will be installed.
The groundbreaking waved the checkered flag for the start of construction by Fairfax County's Department of Transportation (FCDOT). This county project is being done in cooperation with VDOT and the NVTA. 
To get it accomplished as quickly as possible, it's being performed via a design-build process. This method allows for more-rapid progress by combining and overlapping the design, right-of-way, utility and construction phases. As a result, many of the tasks are carried out concurrently, rather than one after another.
Money for this project came from a variety of sources. The NVTA invested $26 million, and VDOT ponied up $23.4 million via Virginia Smart Scale funds. Local government funds accounted for $10.4 million; VDOT Revenue Sharing funds, $10 million; and federal Demonstration funds, more than $9.6 million.
The roadwork is being done as follows:
* In the southern portion of the project, between the bridge over Bull Run and the intersection of Route 28 and Old Mill Road/Green Trails Boulevard, construction will be completed along the outside (right) shoulder going southbound, and along the median (left) shoulder, heading north.
* In the northern portion of the project, between the intersection of Route 28 and Old Mill Road/Green Trails Boulevard and the interchange at Route 29, work will be completed on the outside (right) in both the southbound and northbound directions.
* On southbound Route 28, the center line will be shifted over 5 feet so a future lane could go in the middle. The curves north of Compton Road and south of New Braddock Road will be improved for better sight distance, and Bradenton Drive will remain unsignalized, Furthermore, the median crossovers at Darkwood Drive and south of Compton Road are both being removed. 
Adding turn lanes, plus extra lanes on some side streets, comprise a key part of this project. Planned are:
* Dual left-turn lanes on northbound Route 28 at New Braddock Road; 
* Dual left-turn lanes on northbound Route 28 at Machen Road;
* Triple left turns from westbound New Braddock to southbound Route 28; and
* The addition of one lane on both westbound and eastbound Compton Road, eastbound Old Mill Road and westbound Old Centreville Road (at the north end of the project).
While Route 28 only has enough funding to be widened to six lanes now, it's being designed for eight lanes in the future. Noise and environmental-impact analyses are both based on eight lanes existing in 2040 at the loudest hour of the day. And the land acquisition is being done for a road with all eight lanes, so it won't have to be done again later.
Since this project contains federal money, a proposal for noise mitigation was required for neighborhoods where the projected noise levels will exceed established criteria. And thanks to community input, noise-barrier walls will be erected at four points along the project corridor:
* On the east side of Route 28, just south of New Braddock Road, adjacent to St. Timothy's Lane;
* On the west side of Route 28, between New Braddock Road and Old Mill Road, adjacent to Harvest Mill Court and Grainery Court;
* On the west side of Route 28, north of Compton Road, adjacent to Cottingham Lane, Skipton Court and Castleford Court; and
* On the east side of Route 28, north of Compton Road, adjacent to Pittman Court.
During a recent online meeting, Tripper Henson with Shirley Contracting Co., the project's design/build contractor, updated the public on the progress of the road widening. "We got the contract in spring 2020 and have been doing design work, getting permits and doing preliminary engineering," he said. Henson also noted that the required right-of-way acquisitions were already underway but stressed that there'll be "no demolition or removal of residential or commercial buildings."
He said the advanced, temporary, shoulder work has been completed. And, he added, "Road widening on the southern end has started and will go into 2023. This project has a tight footprint; so during construction, lane closures are necessary on the southern end – but they'll happen primarily during off-peak hours and nights. Weekend work is anticipated; however, we're doing the best we can to minimize nightwork and noise-creating activities."
Then Jim Beall, section chief of FCDOT's Transportation Design Division, went through the project's timeline. He said the actual road widening began last summer and is expected to reach "substantial completion of construction" in fall 2023. Noise-walls will be built from this summer through the end of this year. Final construction of the road project is anticipated to be finished by late 2023/early 2024.