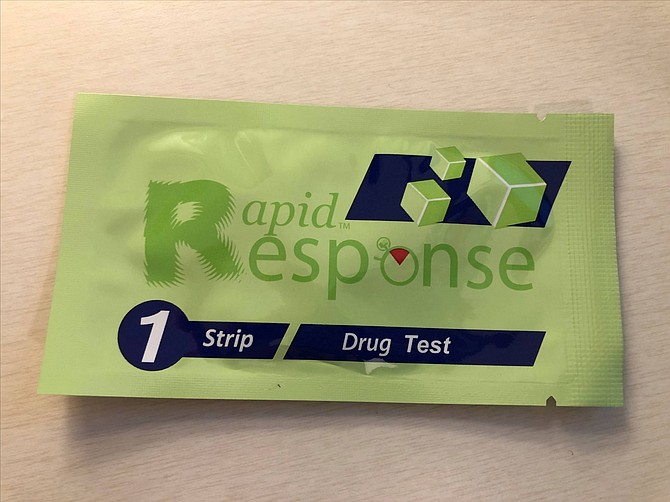 Two Splash Girls were treading water in the Yorktown High pool; Ruth Neikirk, 81, shouted over to another swimmer about Arlington's program of handing out Fentanyl test strips so opioid users could avoid a fatal overdose. "Someone needs to let people know about this program," Neikirk said. "It's important to save the lives of these people."
"Good," said Emily Siqveland, opioids program manager, Arlington County Department of Human Services, "because normalizing these conversations about addiction, making sure these conversations do take place at the pool and over the dinner table, is important. Addiction is affecting all of us. It's a disease, like cancer, or hepatitis, and we need to talk about it, not sweep it under the rug."
Arlington's Department of Human Services started the program on Aug.  12. "We had been thinking about this on and off for some time and decided the time was right," said Siqveland. Reports were coming out of CDC saying the majority of overdose deaths were Fentanyl related. So we ordered 100 test strips as a pilot program. By Aug. 20 we were out of strips."
Siqveland and her team got the word out. "We put out a press release on test strips; we put out information on social media, and we pretty much made it clear, however we can get strips to you, we will get them to you."
"As of Aug. 31, we started handing them out at the county jail. Even if someone was incarcerated for a short time, even just the weekend, if they were identified as using opioids, we gave them test strips. We even put up a sign in the magistrate's office. All of our staff in Behavioral Health were aware of the program and if their clients were using, we handed out strips." Siqveland has now handed out over 748 test strip packets since August.
"We make a real effort to keep people safe if they are using drugs. We offer NARCAN when we offer test strips, and we tell people not to use alone, and to make sure they have someone with them, and have Narcan out on the counter where it can be seen."
What result is Siqveland seeing? 
"We don't necessarily know if it's fentanyl strip related, but since we started dispensing the test strips, from Aug. 16 thru Dec. 20 there have been five fatal overdoses; prior to that, from January 2021 to Aug. 12 there were 21 fatal overdoses."
"We get anecdotal evidence that Narcan is being used, but we try not to be
too inquisitive because that creates a barrier. Police data tells us there have been 64 applications of Narcan this calendar year. "
People are dying in Arlington because they buy an opioid pill from a buddy who bought it from a friend, they may not know it's counterfeit or contaminated. 
"But if it's purchased from anyone but a pharmacy," says Siqveland, "it could be laced or contaminated with fentanyl."
You only need a tiny bit to overdose. Cocaine and other drugs can also be contaminated. 
"Anecdotally, we have had someone tell us she bought four bags of cocaine. She used our test strips and two of the bags came back positive for fentanyl," said Siqveland. "She threw out the two bags that were contaminated. And that also proves the point that people who are suffering from addiction don't have a death wish. They are suffering from a disease. They want to be alive. This young woman could have died from an overdose if she hadn't tested first."
The response in Arlington to the test strip program has been very positive. "Arlington is a community which understands this is an addiction: these aren't bad people, they are sick people. We emphasize the hope of recovery. You can't recover if you aren't alive." 
Money for the program comes from the Virginia Opioid Response Grant and a CareFirst grant.
Siqveland feels strongly about what she does. "I have wanted to be a therapist since I was a kid: peer support was my first training in middle school. This particular role in terms of helping people with opioid addiction is great, because while I still have clients I provide therapy to, I can help people on a macro level too." 
Siqveland is guided by her sense that these are people who are hurting a lot and who are misunderstood by society. They are lonely. Helping people who are hurting is why she is engaged in her career as a therapist in the first place. 
"Our behavioral healthcare counselors remind addicts, 'I was once an addict, and I made it through to recovery. There is a better life waiting for you when you get past this." Helping them survive to the point where they can recover is key. 
For more information: see: 
This is a public group open to anyone in the community. 
Frequently Asked Questions Fentanyl Test Strip Program  
What are fentanyl test strips?  
Fentanyl test strips let active users test for the presence  of fentanyl and fentanyl analogs in their drugs, which can reduce harm from using dangerous  substances. 
How effective are fentanyl test strips? 
Initial findings from a recent study conducted by researchers at the Johns Hopkins Bloomberg School of  Public Health and Rhode Island Hospital/Brown University with support from the Bloomberg American  Health Initiative indicates that this kind of drug checking presents an important opportunity for a public  health approach to the fentanyl overdose crisis. A survey conducted during the study found that 84% of  
respondents were concerned that the drugs they use contain fentanyl, and only about 1:4 stated a  preference for drugs laced with fentanyl. Drug checking was viewed as an important means of  overdose prevention, with 89% agreeing that it would make them feel better about protecting  themselves from overdose. Importantly, 70 % of respondents reported that knowing that their drugs  contained fentanyl would lead them to modify their behavior by not using the drugs at all, using the  drugs more slowly, using the drugs with others who have Naloxone (i.e. Narcan) or changing their  purchasing behaviors. 
How is fentanyl affecting the national and local landscapes? 
In 2015, more people in the U.S. died from drug overdoses than from firearm homicides, melanoma,  auto accidents or HIV-related causes--and those numbers have only climbed since. The recent, national increase in overdoses has been traced to fentanyl and other incredibly strong synthetic opioids that are  increasingly mixed into heroin and other street drugs, making them even more deadly. Over the past  three years, fentanyl-related deaths are up 540% nationally. 
Wouldn't this program just promote continued drug use? 
No. This program is one of many harm-reduction tools we can offer our community members to  decrease the risk of fatal overdoses in Arlington. It is the cornerstone of the therapeutic approach of  "meeting a person where they are."  
It is important to 1) note that this tool would be used as part of a larger overdose prevention campaign  with strong messaging around overdose prevention education and treatment resources and 2)  underscore that the strips cannot prevent overdoes or make drugs safe for use. This program would  allow those using drugs to gain more information about their substances in order to make informed  decisions around using. 
Are other jurisdictions utilizing Fentanyl Test Strip Programs?  
Yes. Cities around the country have implemented Fentanyl Test Strip Programs. Nationally, there are  large programs in Columbus, Ohio; Philadelphia, Pennsylvania; and several large districts across  California, South Carolina and Washington State. Locally, the City of Alexandria has launched a program  with assistance from the Chris Atwood Foundation and Fairfax County and Loudoun County are  preparing to launch programs. There are thriving programs in both Baltimore and the District of  Columbia. Many of these programs are a hybrid initiative between the local health departments and  local governing agencies.  
Are there any legal implications for this program? 
According to the Commonwealth's Attorney's Office, the short answer is no for adults over the age of  18. Arlington County's distribution program serves only persons ages 18 and older.  
Participants also should be aware that a prosecutor from another jurisdiction might interpret the law  differently, including for adults over the age of 18.