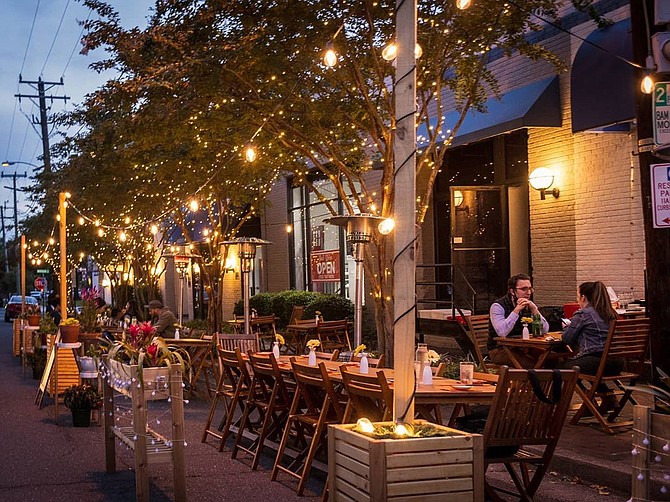 It's déjà vu, all over again: A second winter of trying to find outdoor-dining locations as covid cases spike once more. Fortunately, Alexandria's restaurants are well-prepared to answer the call. From noodles to tapas, tacos to beer, here are some of the city's best warmest spots.
Yunnan by Potomac, 814 N. Fairfax St.
Sitting streetside at Yunnan by Potomac is actually more exotic than it seems – the restaurant has worked hard to make the outdoor-dining environment a welcoming, cozy place, despite it running alongside Fairfax Street in an erstwhile parking area. Plop down at one of Yunnan's beckoning tables, order up some bao buns and the mixian noodles of your choice, and let the brothy goodness warm you up even in the cold of winter.
Barca Pier and Wine Bar, 2 Pioneer Mill Way
At first blush, a pier overlooking the Potomac River may not seem like a wintertime delight. But with Barca's plentiful heaters, plus plastic sheeting to block the river's wind, you'll find yourself toasty-warm in no time as you peruse the restaurant's extensive wine list and tapas choices. And a pro tip: Don't forget to ask for the dessert menu. The Crema Catalana is a decadent delight worthy of some room in your stomach.
The Garden, 1503 Mount Vernon Ave.
When life gives you wintry weather, find yourself an igloo and wait it out. The Garden is a great place to do just that. Light, bright and airy in the spring and summertime, it becomes a winter wonderland with the mercury drops, all lights and fire pits and, yes, igloos just waiting for you and your friends. 
Tequila and Taco, 540 John Carlyle St.
Tacos and margaritas – they fit in with any season, really. Carlyle's Tequila and Taco is ready for the cold weather with a heated patio. Order a piping-hot fajita bowl, something from the everyday brunch menu or, of course, a plate of tacos. Let the spice warm you up inside and the heaters warm you on the outside.
Hope Nelson is the author of "Classic Restaurants of Alexandria" and owns the Kitchen Recessionista blog, located at www.kitchenrecessionista.com. Email her any time at