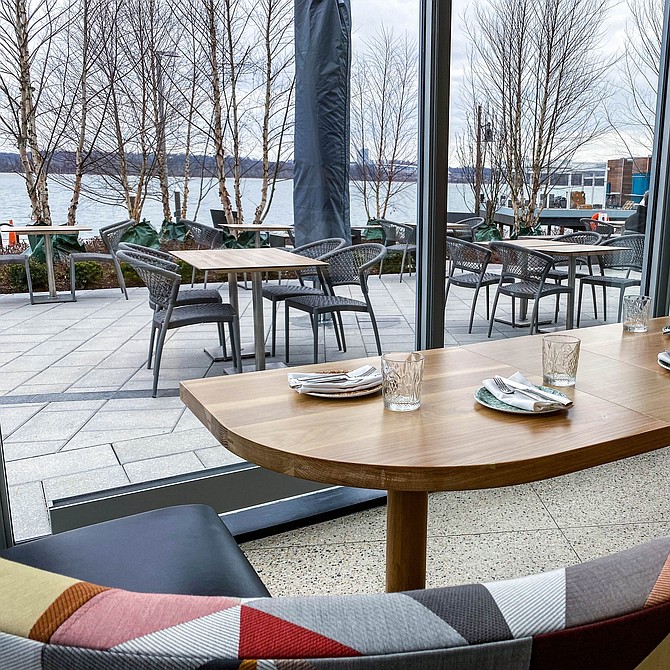 Like a beacon in the dead of January, Alexandria's Winter Restaurant Week is drawing near once more. From Jan. 21-30, restaurants citywide will concoct special menus priced at either $35 per person or per couple to tempt diners to try something new (or venture back to old favorites). As with the past several years, many eateries' deals are also good for carry-out, so be sure to call before weighing your options. 
Ada's on the River, 3 Pioneer Mill Way
Potomac views and a good meal deal, too? It's the best of both worlds. For $35 per person, Ada's on the River is offering up a choice of appetizers (yellow tuna tartare, Waldorf salad or charred mortadella) and entrée (spiced rockfish or flank steak) to warm you up during a cold month. 
City Kitchen, 330 S. Pickett St.
Out on the West End, City Kitchen is offering a $35-for-two meal featuring a choice of entrees (chicken pot pie, gnocchi or pork chops) and cheesecake or Devil's Latte Cream Cake – dark chocolate cake soaked in Irish cream and filled with cream mousse – to finish things off. 
Haute Dogs and Fries, 610 Montgomery St.
Forget the fussy prix fixe menus – Haute Dogs gets straight to the good stuff with its $35-for-two deal. The eatery's Restaurant Week menu offers two local German brats complete with sauerkraut and brown mustard with a side of chips, paired with a Hofbrau helles lager. Order for takeout or delivery, or dine at the restaurant indoors or out.
Junction Bakery and Bistro, 1508 Mount Vernon Ave.
Junction's two-person deal comes with a bountiful amount of food – one small plate, one large plate and one dessert per person. Choose between mojo mac and cheese, General Tso cauliflower and beet salad to start, then dive into the main event – pot roast, a falafel bowl or a burger. Finally, choose between coconut cake and blackberry cheesecake.
Piece Out Del Ray, 2419 Mount Vernon Ave.
Del Ray's newest pizza joint offers much more than just the signature pies, and Piece Out aims to showcase the breadth of its menu through Restaurant Week. The eatery's dinner for two offers one starter – a Greek or tomato mozzarella salad – and two entrees, ranging from baked spinach manicotti to squid ink fettuccine fra diavolo and more. Finally, sweeten the deal with three cannoli. Want a little tipple to wash down the meal? Piece Out is offering a bottle of house red or white for an additional $15. 
Thai Signature, 722 King St.
Thai Signature is offering a three-course meal for $35 per person. Start off with a choice of crab Rangoon or kratong thong (patty shells with shrimp and mixed chicken). Proceed on to a selection of lad na mee krob – shrimp and squid in a gravy sauce atop wonton noodles – or Siamese steak, and then finish things out with pumpkin sweet coconut milk for a sweet treat. 
Hope Nelson is the author of "Classic Restaurants of Alexandria" and owns the Kitchen Recessionista blog, located at www.kitchenrecessionista.com. Email her any time at
hope@kitchenrecessionista.com
.