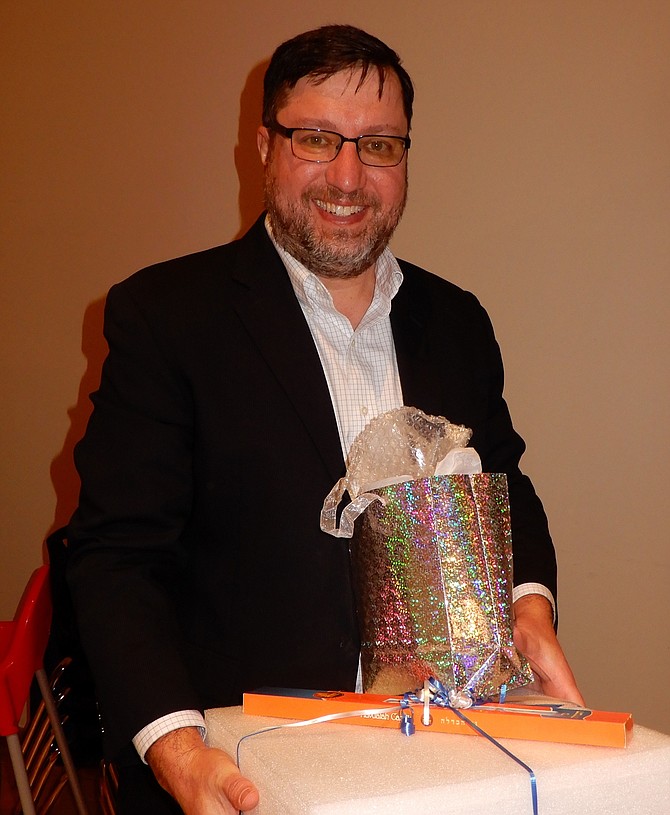 Many people in Fairfax County have never heard of an eruv, nor have any idea what it is. But to members of the Jewish faith, it's critical to their being able to live their lives more fully on the Sabbath. 
According to Jewish law, it's forbidden for observant Jews to carry things in public on Shabbat. It makes no difference whether it's a baby, a book or a casserole to a sick friend. 
However, they may do so if their area has an eruv, or symbolic boundary. That's why the new Fairfax eruv is cause for rejoicing – and on Dec. 19, its grand opening was celebrated at Congregation Olam Tikvah in Fairfax.
"It's been a pipedream of ours for so long," said Shana Simon, wife of Rabbi Sholom Simon, who headed the Fairfax Eruv Committee, whose untiring efforts made the eruv a reality. She then thanked its members for all their hard work.
"This is truly amazing," said Sholom Simon, of the Chabad Lubavitch Congregation. "We wished we had an eruv here for 20 years. It's the first eruv ever in Northern Virginia, and we're thrilled. It takes a village, and it makes a village. Everybody was so nice to us – and it still took us two years.
"Shabbat is a day of rest when we unplug, but we can't carry things in a place that's excessively public. So families with children too young to walk couldn't go anywhere on Shabbat because they weren't allowed to carry them. Some families even refused to move here because we didn't have an eruv."
But Simon and others realized they could change things if they created something similar to a fenced-in backyard with gates and doorways. And working with both Fairfax City and Fairfax County, they were able to use telephone poles with wires between them to build their eruv.
So, he said, "This is a really big deal." He thanked Fairfax Mayor David Meyer, county Sheriff Stacey Kincaid and Supervisor Dalia Palchik (D-Providence) for "renting" them the City and county land needed for the eruv. Simon then praised the Jewish Federation of Greater Washington and the congregations' other partners who also made this eruv possible.
He thanked the county Board of Supervisors, plus Fairfax's City Council and Public Works department for allowing them to make changes to the City's telephone poles, helping them go through the permit process and approving this project unanimously. "Everyone said, 'If there's anything else we can do to help, just let us know,'" said Simon. "We've had the eruv for 10 weeks now, but we also hope to include the Fairfax Hospital Center in the eruv soon so we can bring things to patients there on Shabbat."
More than 500 poles were used to create the eruv's 19-mile perimeter, so Simon also expressed gratitude to Verizon and Dominion Virginia Power. "We had to work with VDOT and the Federal Highway Administration because part of the eruv is located where Little River Turnpike meets the Beltway," he said. "And I thank the congregations of Chabad Lubavitch and Olam Tikvah for all their help, in many ways. Two, different congregations and their rabbis worked together."
Next, Rabbi David Kalender of Olam Tikvah told the audience, "Judaism is about being in a safe, welcoming place to gather, and the eruv is a boundary for those who want to be together and share what life has to offer. Thank you all for being part of this incredibly sacred endeavor."
Noting that Palchik was the first to "rent" them the space, Simon then introduced Aryeh Kalender, Palchik's community outreach director, there on her behalf. "This was an incredible learning experience where we brought both political and religious leaders together," he said. "And the establishment of this eruv is a landmark achievement for this community. Now we can visit parks and the sick at the hospital on Shabbat, and it's the beginning of the growth of the Jewish community here in Northern Virginia."
Simon then read a message from Meyer, who was unable to attend the celebration. Meyer said he hoped "this eruv will bring more people into this ever-widening and welcoming Jewish community."
Del. Eileen Filler-Corn (D-41st) – the first woman and first Jew to become Virginia's Speaker of the House – also couldn't attend, but Tyler Javonillo read her message saying. "An eruv brings families and friends together on the Sabbath." And Filler-Corn too, thanked everyone who made this one a reality. 
The Fairfax eruv is in U.S. Rep. Gerry Connolly's (D-11th) district. And in introducing him, Simon said, "He's been a great friend of the Jewish community and has always been supportive of us."
"Mantua is my neighborhood, and it's in this eruv," said Connolly. "I want an eruv in Congress – a safe zone where we could get bills passed. We live in a community that wants to be supportive – where, if it matters to you, it matters to me. And that's a model for America. 
"This eruv is a building block of community," he continued. "Most people don't understand what an eruv is, but we respect your traditions and celebrate them. The voices of intolerance and hate can't drown out what we're celebrating today – and what I hope will be a microcosm of America for tomorrow."
Introducing Gil Preuss, CEO of the Jewish Federation of Greater Washington, Simon acknowledged the $35,000 grant this organization gave toward the eruv's creation. "You received a Foundational Innovation grant, and I thank everyone here for all they've done to make this eruv possible," said Preuss. "It was a true honor to partner with you and continue to grow this Jewish community. It will grow stronger over the years, and we thank you for allowing us to be part of this."
The celebration's organizers, Shana Wallace and Beth Frame, then gave presents to the eruv committee members. They also honored Olam Tikvah's Eliot Goldberg, the eruv project director, for all his hard work. He started the effort, taught the committee members what to do, had them apply for the grant, mapped out the eruv's perimeter and worked with City and county officials. 
Reiterating that an eruv makes a public space private, Rabbi Sholom Deitsch of Chabad Lubavitch said, "Jewish people have responsibility for each other, and the government and utility partners helped us become more observant in our religion. So mazel tov [congratulations] to everybody, and we'll continue to enjoy our new eruv."