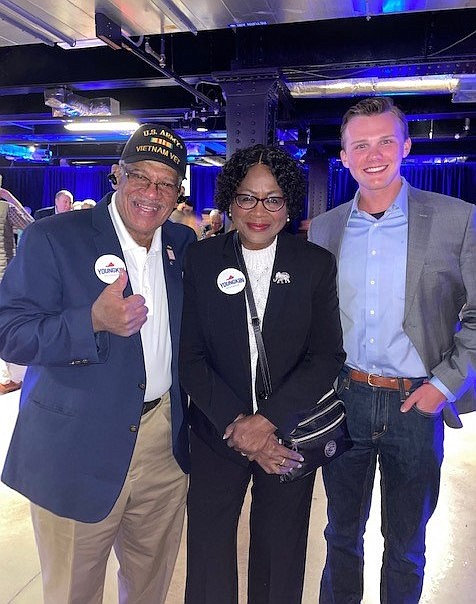 Several Alexandria residents took a road trip to Richmond Jan. 15 as Northern Virginia businessman Glenn Youngkin took the oath of office as the 74
th
 Governor of the Commonwealth of Virginia.
"What an incredible experience it was to witness the inauguration," said former Alexandria Vice Mayor Bill Cleveland. "We knocked on a lot of doors last year to help make this happen."
Youngkin, a former private equity executive, became the first Republican governor in 12 years. History was made when Lt. Gov. Winsome Sears and Attorney General Jason Miyares were inaugurated, with Sears becoming the first woman of color to serve in a statewide office, and Miyares as the first Latino to serve in his role.
"It was fantastic being there to see Winsome Sears, Jason Miyares and Glenn Youngkin make history," Cleveland said. "Voters chose the perfect combination – a diverse team of people who know what they are doing. They are the people's choice."
The inauguration took place on the steps of the State Capitol in front of crowds estimated to be 6,000 deep. Among the many in attendance was Alexandria civil rights attorney Monique Miles, who was named by Miyares as Deputy Attorney General for Government Operations and Transactions.
Youngkin's inauguration, themed "Strengthen the Spirit of Virginia Together," was attended by notable national Republican leaders including RNC Chairwoman Ronna McDaniel, former Speaker of the House Paul Ryan, former head of the Heritage Foundation Kay Coles James, former EPA administrator Andrew Wheeler and former Secretary of Transportation and wife to Senate Minority Leader Mitch McConnell, Elaine Chao.
During the campaign, the 55-year-old Youngkin ran on a "Day One" game plan, which included eliminating Virginia's grocery tax, firing the parole board and creating new charter schools among other pledges.
"It's Day One. Let's get to work," Youngkin said in his inaugural remarks. "And no matter who you voted for, I pledge to be your advocate, your voice, your governor."
Youngkin's victory in November over former Governor Terry McAuliffe marked a seismic shift for Virginia Republicans, just a year after President Joe Biden won the state by 10 points. The party now controls the governor's mansion, the lieutenant governor's office, the attorney general's office and the House of Delegates.
"It was just a wonderful experience," said Cleveland. "It was so great to be there and experience the camaraderie and the celebrations. It was stupendous."