It's been a lifetime of baseball for Springfield resident Jared Lyons, and now he finds himself waiting for the Major League draft on July 19 to see if he gets that shot to fulfill a dream of a lifetime.
He's already living dream #1 and that's playing as a pitcher for the Yarmouth-Dennis Red Sox in the Cape Cod Baseball League in Massachusetts. His dreams started in Springfield though.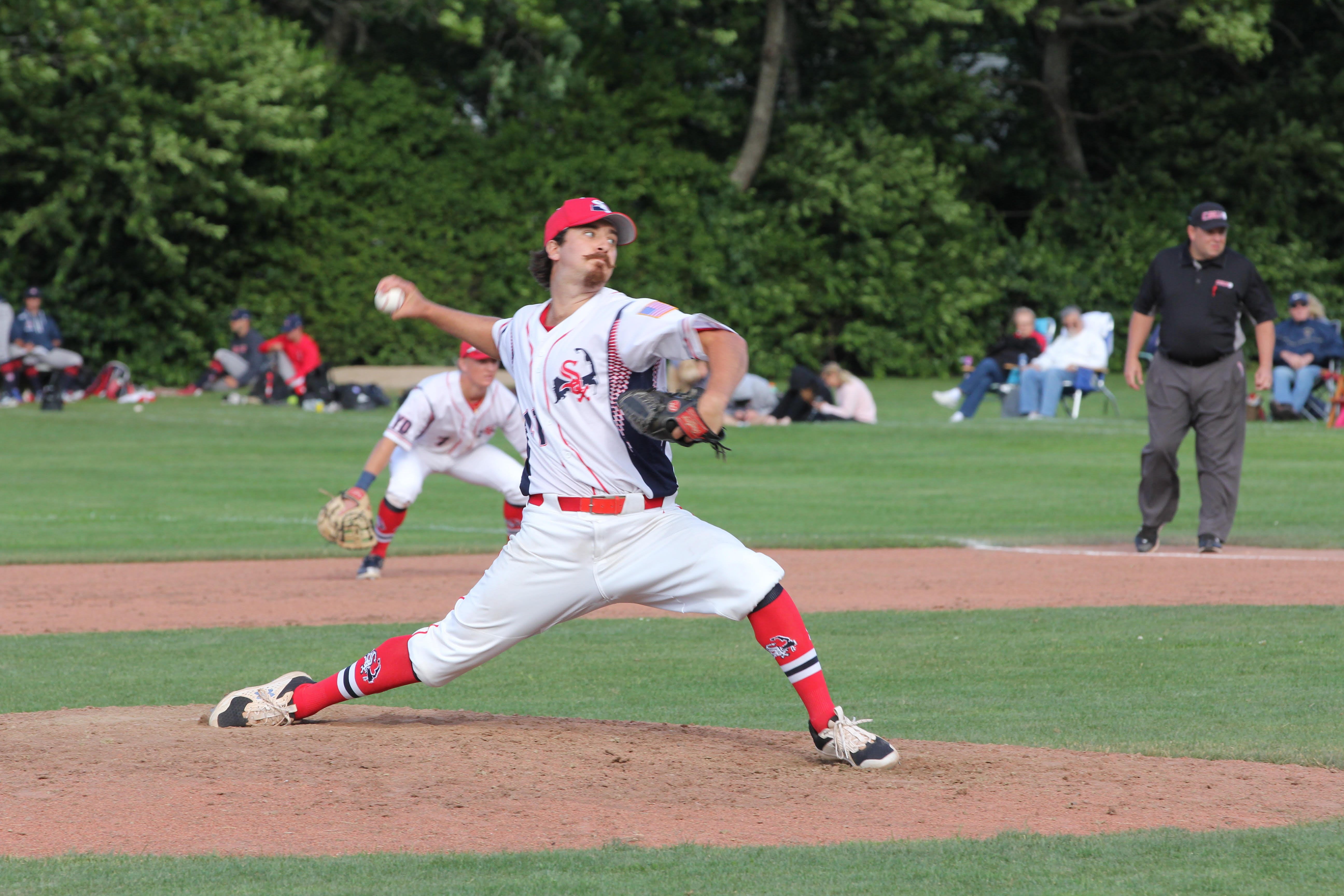 "West Springfield Little League was a blast, I attribute my success to that," Lyons said. It was a combination of little league, high school baseball at West Springfield High School and the good coaches that acted as role models that Lyons remembers. Particularly Coach Jason Olms at WSHS.
Last week, Lyons earned the title of Cape Cod Baseball League's Pitcher of the Week, an honor for him, and nearly equaled the walk-off homer he hit while playing at George Mason University when they beat St. Louis. It's quite a feat when a pitcher puts one over the outfield fence, since they aren't known for batting. "Pretty wild experience, something I'll never forget," he said.
Lyons pitches for the Yarmouth-Dennis Red Sox in the Cape Cod Baseball League, a collegiate summer baseball league founded in 1885. Players from across the United States are recruited to play in the 10-team league located solely on Cape Cod, a seaside area of Massachusetts.
Out on the Cape, the locals flock to the summer league games and treat the players like royalty. Lyons is staying in the host house of John Serijan, who's "been a very good host parent," Lyons said. "He does a great job supporting me as I pursue my passion," he said. Signing autographs over the ballfield fence is another experience he'll cherish. "Everybody wants to say they knew a big leaguer before he made it big," he added.
According to Adam Cormier, a team official, there are 2 divisions in this league of 10 teams that span from Wareham, Mass to Orleans, Mass. Cape League teams only play other Cape League teams but it is a stepping stone to the big leagues. 
"The Cape Cod Baseball League is one of the most prestigious leagues for college players. For every 6 players in the Major Baseball League, at least one played in the Cape League," Cormier said. He named a few that are out in the Major Leagues now, including Boston Red Sox players Chris Sale, Jackie Bradley Jr. and Mitch Moreland.
"I love playing up there," Lyons said.
The league got its start in 1885, and the ranks were filled by GIs returning from World War I in 1919 and WW II in the late 1940s. The league became officially sanctioned by the NCAA in 1963. They switched to wooden bats in 1985 and became even more attractive to major league scouts and college players.