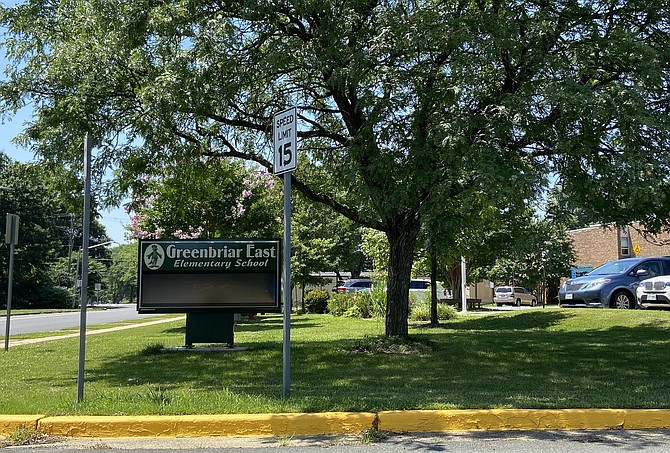 A school health aide at Chantilly's Greenbriar East Elementary (GBE) was indicted last week on 11 criminal charges. Fairfax County police say Jennifer Carpenter, 45, of Chantilly, allegedly stole students' medications for herself and swapped them for other types of pills.
Some of these medications were narcotics – including Ritalin, Adderall, and Focalin – all commonly used to treat ADHD (attention-deficit/hyperactivity disorder). As a result of these drugs being diverted, say police, the students were deprived of their medication aimed at improving their attention in class.
"As parents, we have an expectation that a person in a position of trust will care for our children," said Capt. Frederick Chambers, commander of the police department's Criminal Investigations Division. "When that trust is broken, we can feel betrayed."
During the school day, Carpenter – then employed by the county Health Department – was responsible for maintaining and administering the prescription medication kept at GBE for several students requiring it. However, on May 27, detectives from the Criminal Investigations Division began investigating after a Health Department supervisor noticed a discrepancy in the amount of medication at the school. 
"Detectives determined Carpenter was [reportedly] falsifying documentation on medication she gave students," say police. "They believe she was [allegedly] dispensing sugar placebo pills and/or over-the-counter medicine in place of the prescribed narcotics. Detectives believe Carpenter was keeping the scheduled narcotics, which included [the ADHD medications] for personal use." 
During the investigation, detectives identified seven students whose medicine was being abused. Last Monday, July 18, a detective provided testimony before a Grand Jury, which led to Carpenter's indictment.
She was indicted on seven counts of contributing to the delinquency of a minor; one count of unlawful possession of a controlled substance, Methylphenidate (Ritalin); one count of unlawful possession of a controlled substance, Amphetamine/Dextroamphetamine (Adderall); one count of obtaining drugs by fraud, deceit, misrepresentation, embezzlement or subterfuge; and one count of unlawful dispensing of a drug in place of another one, without permission of the person ordering/prescribing it. 
"Thanks to the swift notification of the health department and schools, our detectives were able to immediately begin their investigation when the discrepancy was noticed," said Chambers. "We will continue to hold anyone who abuses their position of power accountable for their actions."
Detectives are asking anyone with information about this case to please call 703-591-0966. Tips may also be submitted anonymously via Crime Solvers by phoning 1-866-411-TIPS (866-411-8477).
According to Commonwealth's Attorney Steve Descano, Carpenter allegedly took these medications prescribed to children by their doctors and used them for herself over a five-month period. If she's eventually convicted of all charges, she could receive a potential maximum sentence of more than 32 years in prison and up to $25,000 in fines.
"It is a gross breach of trust and safety when something like this happens, and we are committed to acting swiftly to ensure our children are protected," said Descano. "This situation could have easily evolved into a medical emergency for any of the children affected." 
"Parents and their children depended on and trusted this individual to provide necessary medical care," he continued. "As always, we will seek accountability and a path forward for the victims and their families to heal."