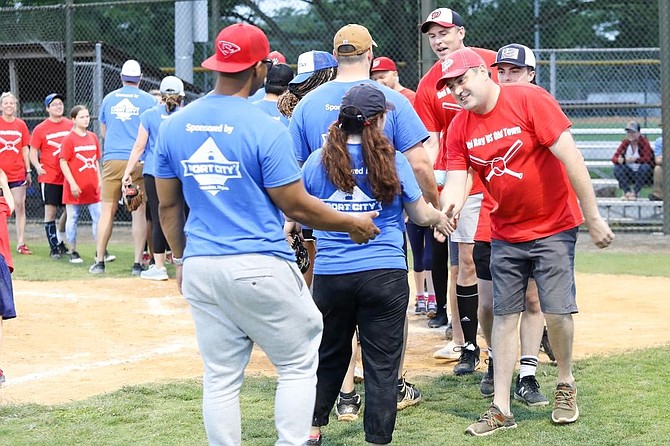 The Del Ray Business Association and the Old Town Business Association faced off for the coveted John Porter Cup in the 4th annual Del Ray vs. Old Town softball battle May 26 at Simpson Park in Del Ray.  
Led by Bill Blackburn of the HomeGrown Restaurant Group, DRBA trounced Chadwick's owner Trae Lamond's Old Town team 21-11 in the cross-town battle to even the overall record at 2-2.
"We are thrilled to bring the John Porter Cup back to Del Ray, safe from coastal flooding at Chadwick's," said Blackburn of the victory and return of the trophy named for longtime Alexandria educator and Living Legend John Porter.
Mayor Justin Wilson threw out the first pitch with Josie Lawson, granddaughter of the late Vola Lawson, at home plate. Home plate umpire was the Hon. Dana Lawhorne with Sheriff Sean Casey and City Manager Jim Parajon as on-field officials.
"Huge kudos to Michelle Millben for singing the National Anthem and then playing for Old Town," Blackburn added.
Bill Butcher of Port City Brewing Company sponsored the event with Ben Correia winning the Alexandria Little League Scholarship raffle of $1,200 with $4,000 raised overall.