At the start of Monday's annual, Memorial Day ceremony in Fairfax City, VFW Post 8469 Chaplain Marcus Keiper gave the invocation. He asked God to "hear our prayer for those who made the ultimate sacrifice." 
Held in the City's Old Town Square, the event was hosted by both VFW Post 8469 and American Legion Post 177. Since the American Legion post's commander, Jeff White, was ill, the VFW post's commander, Mac McCarl, was the sole master of ceremonies.
"Memorial Day differs from Veterans Day in that it's a time for reflection," said McCarl. "Around the world – from Arlington to the Punchbowl in Hawaii, to the bluffs above Omaha Beach in France, to the Vietnam Memorial, to small-town cemeteries – families, friends and fellow veterans will visit the graves and monuments of loved ones and friends who made the ultimate sacrifice, each in his own way."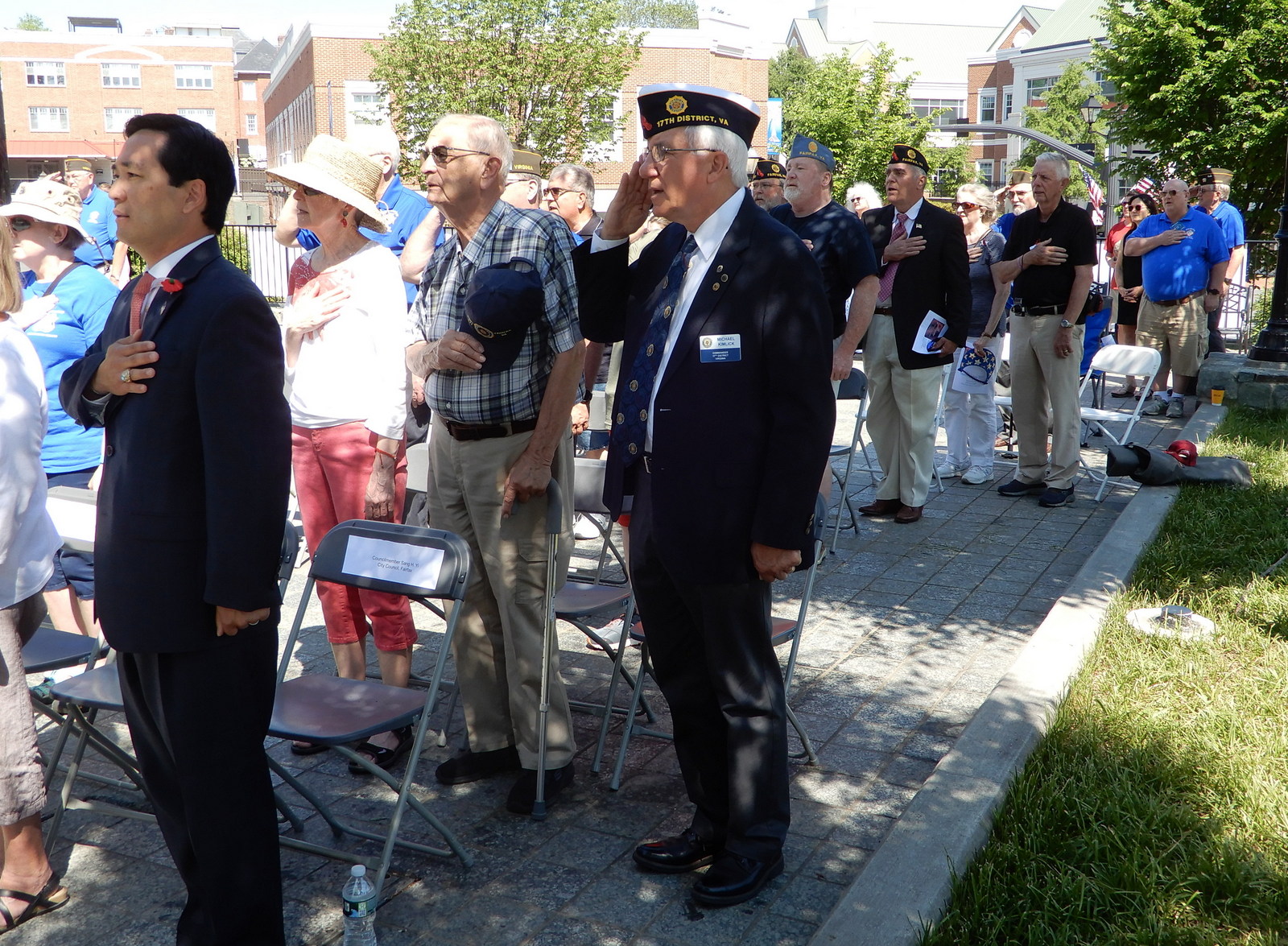 For some, he said, the names are "unknown and distant – a person of family history. For others, it remains a raw and painful experience, as it was with my friend, Dru Sumner. Her husband died of wounds during the Vietnam War. Despite reticence, she visited the [Vietnam Veterans Memorial] wall, in a catharsis deep and personal. Yet she discovered others there on similar pilgrimages and realized she was not alone."
In this way, explained McCarl, Memorial Day lets grieving families know that others have also lost loved ones. And it reminds them that "We, as a nation, collectively remember and honor that sacrifice. For the fallen, none of the 372 people whose names we are about to read suspected they would be the object of our attention today. But they are. And we would be well to remember them for what they did for our nation, and the loss to their families – and not as the promoters of a mattress sale."
Sen. Chap Petersen (D-34th) then spoke about his friend, Marine veteran Justin Constantine, who died of cancer, May 6, at age 51. "We tend to think heroes are from ancient times, but a hero and friend of mine died recently," said Petersen. "We grew up in Fairfax City together and played rugby together, and he was a graduate of Fairfax High School's Class of 1988."
After graduating from law school, Constantine served five years with the Marines and then took a reserve billet. "But when the Iraq war broke out, he re-upped," said Petersen. "And in 2006, we heard the news that Justin had been shot in the back of the head by a hostile sniper in Anbar province. The bullet exited his mouth and effectively destroyed his face."
"A Navy corpsman saved his life, and it eventually took 20 operations to put his face back together. Months later, I joined a caravan from Fairfax City to attend Justin's Purple Heart ceremony. He was a hero and became an advocate for veterans. So on Memorial Day, we can also talk about people who grew up in the '80s and attended Fairfax High."
The next speaker, Del. David Bulova (D-37th), noted that his father and grandfathers all served in the military. "I recently found my grandpa's WWII helmet – which had a gash in it from a piece of shrapnel," he said. "Only the leather liner inside it prevented the shrapnel from going into his brain."
"But he and my dad came back," continued Bulova. "We owe those who sacrificed their lives and time away with their families so we could be with our families. The sheer magnitude of the debt we owe them can be overwhelming."
He also said he'd read about the "Bedford Boys" – a group of WWII soldiers from the small town of Bedford, Va. Among the National Guard's 29th Infantry Division's regiments was the 116th Infantry, whose Company A was home to nearly three dozen men from Bedford — all of them volunteers. And on D-Day, June 6, 1944, they landed at Omaha Beach in Normandy and were part of those who perished.
"They stormed the beach at Normandy and knew they might not make it another day," said Bulova. "But they did it, anyway. And we can honor them by preserving the freedoms and democracy they fought for – and by redoubling our care for the families they left behind and making sure our veterans receive the care they need."
What gives him hope for the future, he said, are the young people of today "who defend those same ideals and freedoms that others fought and died for." So, he told the attendees, "God bless you and them on this Memorial Day."
Supervisor Pat Herrity (R-Springfield) said, "We should never forget the sacrifices of the fallen to make this a better world. We must try to repay their debt every day. So we thank them for what they've done for us so we can continue to pledge allegiance to that flag."
Stepping to the podium next was Fairfax City Mayor David Meyer. "My father-in-law, who's 94, flew C-130s in Vietnam and has cancer from transporting Agent Orange," he said. "He's still with us but won't be for much longer." 
Meyer said his own father served in the Army in WWII and is now "at rest" in the Culpeper National Cemetery. And the name of his wife's cousin is engraved on the Vietnam Memorial to honor his sacrifice.
"Memorial Day, for me, is the most sacred of our federal holidays," said Meyer. "It's a time when our nation pauses to remember those persons no longer with us who have served our nation to preserve and affirm our Constitutional democracy, the rule of law under civilian government and the civil liberties that sustain our open and just society."
While noting that "God doesn't want to see His creation at war," Meyer said humanity's imperfection "sadly and repeatedly leads to conflicts. And while our democratic system of self-governance is far from perfect, democracy brilliantly attempts to keep those imperfections at bay and calls us to a more perfect union. 
"The idea of democracy is worth defending. We're on a journey of ever-expanding freedom, married with economic and social justice for all persons. This hope has led many patriots to sacrifice so others may inherit and experience liberty and justice for everyone." 
Furthermore, said Meyer, "We have a special responsibility to nurture and strengthen this idea so it can be given to patriots not yet born to carry forward. This Memorial Day, we remember with all the gratitude we can muster those who [died for our country]. These men and women were the best examples of faithful servants to our nation."
City Councilmember Janice Miller said her father was in the Navy. "During battle, he was a medic – and I can't imagine the horrific things he saw," she said. "And I'm forever grateful to him, to you [here today] and to all others who served in the military."
Next, Councilmember Sang Yi called it a solemn day but said he felt "an immense amount of gratitude. How can you ever understand the pain families feel when their loved ones are lost in war? The sun is shining, the birds are chirping, but today's not a happy day."
Every Memorial Day, he takes his children to Arlington National Cemetery to visit the grave of his friend, Frankie Toner. Yi, Toner and Aaron Seesan all attended the U.S. Merchant Marine Academy together. "Fighting in Iraq, Aaron suffered burns over 83 percent of his body from an IED [improvised explosive device]," said Yi. "But when the medics came to him, he said, 'Take care of my men first.'"
"I've worn his name on [a bracelet on] my wrist for 11 years now," continued Yi. "He was gung-ho – but that's what America's about. Because of him, I was able to get married, graduate law school, have children and serve my city government. As a 24-year-old who died in Iraq, he'll never get to do that. So we should be grateful today for him and others who gave their lives for us. And we should be the kind of people and country worth dying for."
Then VFW member Hank Roeder played "Taps" on the bugle. After that, the names of all the Fairfax County residents who died in war – from WWI through the present – were read, with the VFW's Scott Henry ringing a bell for each one. Then Chaplain Keiper said a closing prayer.
"God, we pray that You bless them who gave their lives for us and also bless their families," he said. "Help us remember and respect their sacrifices – and bring healing to those who still hurt."