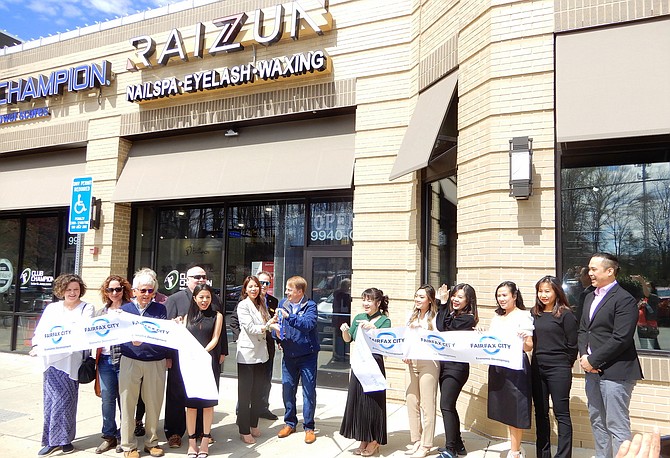 Sure, it's easy to find a nail salon in nearly every city. But one look inside Raizun Nail Spa in Fairfax City lets customers know this spacious and upscale business is different from the rest. 
"Their salon is absolutely gorgeous," said Danette Nguyen, the City's assistant economic development director. "We are so happy they chose to create their magic in Fairfax City. Raizun is a luxurious, modern, nail salon that offers an extensive selection of nail treatments and designs, along with waxing, lash extensions and eyebrow tinting."
Speaking at the salon's recent ribbon cutting and grand opening at 9940 Fairfax Blvd. (next to PJ Skidoos), Nguyen said it offers a "relaxing and therapeutic environment where you can get away from the worries of everyday life. Their team is knowledgeable and constantly keeping up with the latest trends in nail designs and methodology."
She noted, as well, that Raizun's nail technicians perform safe and sanitary disinfection routines to provide "the most hygienic manicure and pedicure experience. This includes single-use, manicure and pedicure kits that are packed individually to limit the risk of contamination."
Furthermore, said Nguyen, "It's small businesses like Raizun Nail Spa that make an impact on the local business community. They help create our city's unique character and charm, build a sense of community and provide one-of-a-kind products and services."
The co-owners are husband and wife, Scott Tran and Yen Nguyen (no relation to Danette), and her sisters, Jenna and Vy, and Fairfax Mayor David Meyer called them "right out of the book, 'Profiles in Courage.'" He said it's because they had the "courage, tenacity, focus, intense planning and attention to the bottom line needed to open a new business." "Nail spas create jobs and provide a real, tangible service to the customers," he continued. "Besides making customers feel good about themselves, how they present themselves in public says volumes about who they are professionally, to their clients. We extend to you our best wishes for success, and we're going to encourage people to become customers."
Jenna Nguyen then thanked Fairfax City officials, the Economic Development Authority and the Central Fairfax Chamber of Commerce "for helping make this day possible." 
Tran said they decided to locate their salon here because they "like the diversity, Fairfax Boulevard is a major street and it's convenient to I-495 for people to come and go." He's also pleased that, "As the weather's warmed up, business is going up because people are wanting to show off their fingernails and toenails, on vacations and at events."
The salon changes its decorations seasonally and, since it's spring, it's currently lavishly adorned with cherry-blossom decorations. When people enter, said Tran, they're surprised with how big it is inside and all the decorations. But, he added, "Our excellent nail technicians are what makes people want to come back."
Raizun opened with six technicians but has 22 manicure chairs at rows of long tables, so more techs will be hired as the business grows. And the comfortable, high-end, pedicure chairs enable customers to get arm and shoulder massages at the same time their toes are done. Walk-ins are accepted, but appointments are recommended; call 276-738-3086. Hours are Monday-Friday, 10 a.m.-8 p.m.; Saturday, 9 a.m.-7 p.m.; and Sunday, 11 a.m.-5 p.m.
The salon's interior was designed by local design star Sucha Khamsuwan of Studio Ideya in Fairfax City. He also designed the interiors of City businesses, Mode on Main by Mara, Sisters Thai, Mara Hair Studio and Fairfax's new Economic Development Office in Northfax. But Raizun's decorations also include a money bouquet.
"When we first came to America from Vietnam, in 2006, we dreamed of having a place of our own," said Jenna. "Our older sister, Vy, made a money bouquet for us to bring us lots of love, fortune and good business. 
Proud of what the salon has to offer, Jenna said, "We specialize in modern, trendy, nail designs and we focus on hygiene and sanitation. We sanitize the area and equipment after each customer."
"And we also use lots of one-time-use products, such as manicure and pedicure kits," added Tran. "People don't have to soak their hands in water. Instead, they put on warmed, one-time-use, collagen gloves with shea butter to soften and hydrate their skin and cuticles. For pedicures, we have different, individually packaged foot scrubs, masks and lotions. And people have told us they really enjoy our big, spacious, pedicure chairs."
During the grand opening, nail tech Constance Nguyen (no relation to the owners) gave customer Juhei Kim a gel x design on her nails. attaching fake nails with soft gel to extend her nails. "It's lighter and more breathable than acrylics," explained Nguyen. "I'm doing French nails and hand-painting daisies on two nails of each hand."
"I'm going to a wedding soon and needed to get my nails done," said Kim. "And my mom's getting a pedicure here, too. It's my first time here, but I knew from online photos that it was a really nice place. Where I live in Alexandria, there's no place that does my style of designs. Here, they do more complex and modern ones."
Meanwhile, in another area of the salon, Fairfax City resident Melissa Brown was getting a pedicure from tech Mia Vu. "I run half marathons, so this was desperately needed," said Brown. "I like supporting City businesses, and I love this one. The décor is very calming, and everyone's been super-nice. I'd recommend it to others – if you're looking for a nice, relaxing atmosphere, come here."