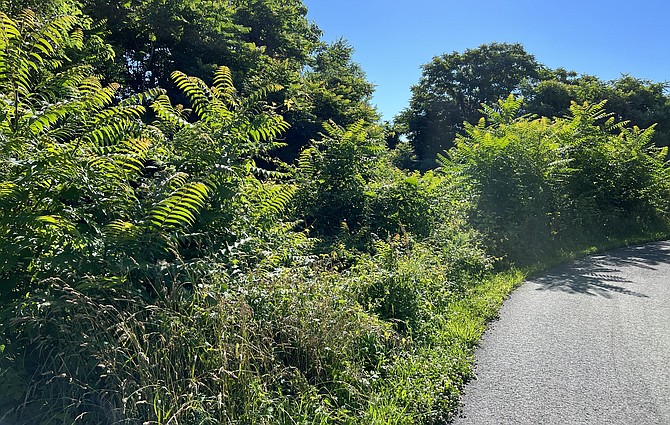 The Tree of Heaven (TOH) may appear to most as just another pretty tree. With airy frond-like leaves and large bunches of flowers visible on some in the Spring, the tree has become a common site in may areas of the county. However, area naturalists recognize Tree of Heaven as an insidious invasive tree; one that pushes out native trees and other plants, spreading rapidly, and is very difficult to control. It also hosts an insect pest dangerous to crops, the Spotted Lantern Fly. High on the Virginia Department of Forestry's list of "Least Wanted Invasive Plants," the Tree of Heaven, has long been a difficult target for control and removal. Now a study of a biologic pathogen by Virginia Tech offers hope for a new safe and effective bio-pesticide, where none was previously available.
TIM SHIVELY, a Virginia Tech graduate student working on his doctoral degree in plant and environmental sciences who is leading the project, explained the study. He is managing ten locations across the Commonwealth. The Environmental Protection Agency (EPA) approved a special exception permit to allow use of the experimental treatment. Three test patches are located in Lorton's Laurel Hill Park. In two, Trees of Heaven were inoculated with spores of the fungal pathogen; the third is a control patch. Cultured in petri dishes in the lab, Shively produced a solution with fungal spores taken from Pennsylvania trees that could be applied with a dropper.  Wounds made in the trunk, past the bark into the xylem tissue, ready each tree to receive one to three ml of the solution, based on the tree's diameter. Lorton's trees, inoculated on May 25, should see wilt impact in about 30 days. Sites will be monitored on a monthly schedule to evaluate each Tree of Heaven in the patch area on a one to six scale, healthy to dead. After one year, some sites will receive native plantings, others will be allowed free growth to see if native plants return or their own. If elimination of Tree of Heaven merely clears a spot for other invasive plants, users of the control will need a follow-up landscaping plan.  
THE FUNGUS, named Verticillium nonalfalfae , was discovered naturally killing Tree of Heaven in Pennsylvania, Ohio, and Virginia, by causing a vascular wilt disease in the tree.  Studies of the fungus to date, suggest that it could be used as a safe and effective biological control agent, where only herbicides or hand-pulling methods were previously available as control methods.  Work continues to register the pathogen, using the Pennsylvania tree variant, through the EPA as a bio-pesticide, but is still likely several years away. 
Virginia Department of Forestry describes Tree of Heaven, "Ailanthus altissima (also known as tree-of-heaven, paradise tree, Chinese sumac, stink tree or just Ailanthus) is a native of China. In North America, Ailanthus is a non-native invasive plant that is common in disturbed areas, along roadsides and forest edges. Seeds and seedlings are very tolerant of poor soils. They germinate and grow best in full sunlight. Seedlings quickly put down a large taproot and re-sprouting occurs when the main stem is cut, burned or otherwise damaged. Ailanthus can dominate an area due to vigorous re-sprouting, root-suckering, and secretion of a chemical from its root system to the surrounding soil that is toxic to some other plants."
Although young seedlings can be removed, once their strong tap root has developed, pulling is often impossible. Until discovery of the fungus, chemical removal methods were the most effective. Foliar herbicide sprays are used on large dense TOH areas where nearby vegetation can be avoided. Another "hack and squirt" method requires making a downward cut into the tree trunk then squirting herbicide into the cut. A basal bark application, perhaps the easiest, uses a handheld or backpack sprayer to apply an oil soluble herbicide in a continuous 12-inch wide band around the tree base.
A native of China, Tree of Heaven was first introduced to the United States from England to Philadelphia in 1784. In the early 1800s it was often used in town plantings, and along roads and in medians. In the 1850s, it arrived in California with Chinese immigrants. Well into the 20th century, its ease of establishment, fast growth and hearty seed production promoted its use until it became naturalized in 42 states. Based on 2019 data, Virginia's Department of Forestry says, 51 counties in Virginia have measurable quantities of Ailanthus and state-wide volumes are more than 102 million cubic feet. 
This volume amount exceeds that of many native tree species. Ailanthus is 37th in abundance out of a list of 119 tree species for the Commonwealth. In many areas, they have become so naturalized that eradication is no longer an option, as determined by the Department of Forestry. Fairfax County currently is working on a plan and funding to address Tree of Heaven infestation.
Says Tech's Shively, "We're just really excited to kill Tree of Heaven. … we've got our eyes on Spotted Lantern Fly too. Research is showing that Tree of Heaven is pretty important to Spotted Lantern Fly lifecycle. So [we're] making progress on multiple fronts."