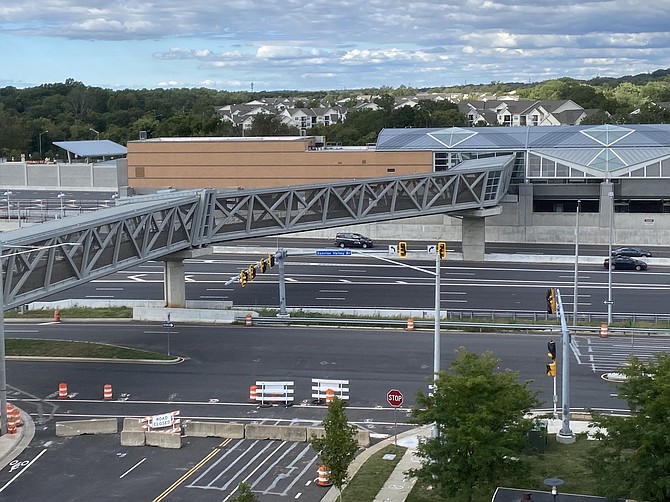 After years of delays, at 6 a.m. on June 23,

Metro formally took over control

of the Phase 2 Dulles Extension project of the Silver Line from the Metropolitan Washington Airports Authority. In a news release, Metro Board Chairman Paul C. Smedberg said, "We are one step closer to extending our service offerings to customers that have long-awaited access to Metro." 
The conditional milestone is known as the Operational Readiness Date. While there is still more work to do, achieving this milestone towards opening the Silver Line Extension will create jobs, improve economic vitality, and increase ridership for the region. We appreciate the support and understanding of our jurisdictional partners and customers as we work towards project completion," Smedberg said.
When Phase 2 opens to ridership, on a date still to be determined, the extension will provide a direct transit connection to Washington Dulles International Airport and points in Loudoun County with the terminus at Ashburn. 
The six new rail stations are Reston Town Center, Herndon, Innovation Center, Washington Dulles International Airport, Loudoun Gateway, and Ashburn. The Extension also includes a new, 90-acre rail yard with a storage capacity for 168 railcars and new maintenance facilities to service, inspect, and clean the trains, according to Metro.
"[The] announcement brings the National Capital Region a big step closer to new rail service which will connect existing Metro stations with Dulles Airport and Loudoun County," said U.S. Representatives Don Beyer (D-8th District), Gerry Connolly (D-11th District), and Jennifer Wexton (D-10th District), who represent Northern Virginia in the U.S. House in a joint release. "We are encouraged by this news, and will continue to seek safe, reliable Metro service that benefits as many of our constituents as possible."
After the most recently announced Silver Line Phase 2 delay on March 29, 2022, Wexton, Beyer, and Connolly wrote a letter to John Potter, president and chief executive officer of the Metropolitan Washington Airports Authority, and William Sudow, chairperson, Board of Directors of the Metropolitan Washington Airports Authority. In the letter, they expressed concern about the additional delay as revenue service was planned to start before June 30, 2022. 
The Members of Congress wrote, "During recent testimony before the House Committee on Oversight and Reform, Mr. Wiedefeld stated that his goal was to begin revenue service on Phase 2 before the end of Metro's fiscal year and Mr. Wiedefeld's retirement on June 30, 2022, but, with this update, that goal is unfortunately no longer attainable."
There is still important work to do before the Silver Line Extension (Phase 2) can be opened for passenger service, including readiness testing and workforce training. 
Supervisor Walter Alcorn (D-Hunter Mill) said that Phase 2 of the Silver Line "should be open and running in 2-3 months." There are no guarantees, however. The opening date for Phase 2 of the Silver Line passenger service will follow action by Metro's Board of Directors on the final acceptance of the line by MWAA.
Phase 1 of the new Silver Line opened for revenue service over eight years ago, on August 26, 2014, after a ribbon-cutting ceremony. Local, county, and state elected officials and dignitaries boarded a train that departed the Wiehle-Reston East Metro station, the present western terminus of the line.
"This is a major milestone having the Metro transferred and testing now beginning," said Sheila Olem, mayor of the Town of Herndon. "I look forward to the opportunity to ride the train as I did in Phase1, this time when the Silver Line Extension opens."