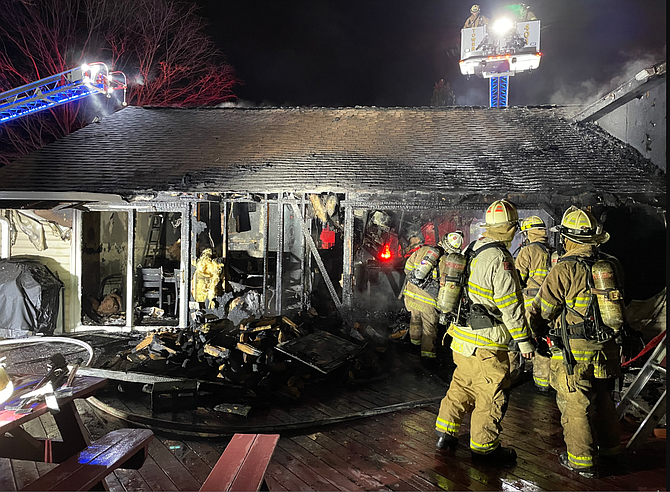 On Saturday, Feb. 26, at approximately 8:45 p.m., units were dispatched for a house fire in the 1500 block of Snughill Court in the Wolf Trap area of Fairfax County.
Units arrived on the scene of a two-story, split-level, single-family home with fire evident from the rear of the house. Crews worked quickly to bring the fire under control. There were no civilian or firefighter injuries reported.
Five occupants were home at the time of the fire. One of the occupants discovered the fire when he looked out a window and saw the back of the house on fire. He alerted the other occupants, and all self-evacuated before fire department arrival. Working smoke alarms were present and alerted after the fire was discovered.
Fire Investigators determined that the fire was accidental in nature and started on the rear deck of the house. The cause of the fire was improperly discarded ashes from an outdoor fire pit.
Five occupants were displaced because of the fire. Red Cross assistance was offered and declined. Damages as a result of the fire were approximately $187,500.
The Fairfax County Fire and Rescue Department would like to remind all residents to be cautious and keep safety in mind when handling ashes from fireplace, wood stoves or fire pits. 
Safety tips:.
* Do not discard your ashes into any combustible container such as a paper or plastic bag, a cardboard box, or a plastic trash can.
* Do not place ash containers on decks, porches, or in garages.
* Put ashes into a non-combustible metal container with a lid.
* Pour water into the container to make sure the ashes are cool.
* Keep your can OUTSIDE the home, away from your fireplace or stove and anything combustible.
* Keep the can a safe distance from the home and ideally on a non-combustible surface.
* Teach all family members to be safe with ashes from your fireplace, fire pit or wood stove.
* Ashes can stay hot for several days. Follow these steps even when you wait several days to remove the ashes from the fireplace.