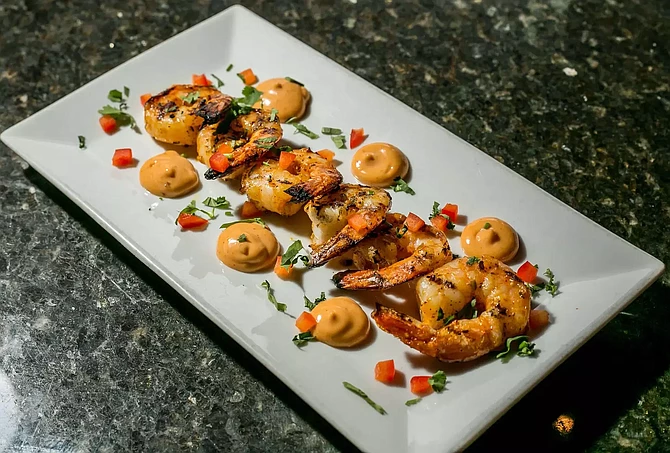 It's time to rev up those taste buds and get ready for some delicious dishes spanning the globe. Fairfax City's Restaurant Week is Monday, March 7, through Monday, March 14. And because of popular demand, this year's event will happen twice – in the coming week and again in the summer.
Participating restaurants are offering three-course, prix fixe menus of $20/person for lunch/brunch and $35/person for dinner. Couple and family-meal options are available, as well. And new this time, specialty food places will offer a two for $10 deal so establishments offering tasty food and drink, but not categorized as restaurants, could participate. They include Cameron's Coffee & Chocolates, Foundation Coffee Roasters, Baku Delicious and CupCakes & Beyond. 
Since the City's restaurants offer a wide variety of international cuisine, diners will be able to feast on everything from Indian to Italian, Mexican, Irish, Korean, Vietnamese and traditional American food offered in modern and attractive ways.
Participating restaurants include: Coyote Grille, Ornery Beer Co., Marumen Ramen Shop, The Wine House, Dolce Vita Italian Kitchen & Wine Bar, Capital Ale House, Earp's Ordinary, The Auld Shebeen, Masala Wok, Patriots Pub & Grill, High Side, The Auld Shebeen, Bellissimo Restaurant, Anita's New Mexico Style Mexican Food, Epicure Café, Hamrock's Restaurant, Kim's Kitchen & Bar, Ruffino's Spaghetti House, Bollywood Bistro; P.J. Skidoos, and Meokja Meokja.  
"In 2018, we set out to cement Fairfax City as a regional, dining destination with the launch of an all-new, Fairfax City Restaurant Week program," said Economic Development Director Chris Bruno. "Now as we enter our fifth year celebrating our city's diverse and exciting culinary community, it's time to push the program even further." 
Fairfax City Restaurant Week was founded and sponsored by Fairfax City's Economic Development Authority and the Central Fairfax Chamber of Commerce. And Bruno thanked both entities, as well as "our outstanding restaurants," for helping make Fairfax City the place to go for a large array of delicious, global cuisines.
The 2022 Restaurant Week Committee, a consortium working with consultants and the restaurant community, plans and carries out the event on behalf of the sponsors. The goals are to expose visitors and area residents to Fairfax City, increase the number of people dining at each restaurant during that week, and increase brand recognition for the participating restaurants.
"The City of Fairfax has an amazing variety of independent, locally owned restaurants," said Jennifer Rose, executive director of the Central Fairfax Chamber of Commerce." Noting how proud her organization is to once again support Fairfax City Restaurant Week, she added, "We believe we have the finest restaurants in the region that offer an amazing choice of cuisine. Fairfax City should be everyone's destination of choice for top-notch dining."
Fairfax Mayor David Meyer agrees. "Fairfax City has one of the most dynamic and diverse restaurant communities in the region," he said. "And it's exciting to have so many of the City's favorite restaurants participate in our Restaurant Week. This is a great opportunity to try new restaurants, plus tried-and-true favorites, as they all have special menus and offerings at extraordinary prices to engage both new and long-standing customers."
Diners are encouraged to follow at @FairfaxCityRestaurantWeek on Instagram and Facebook and tag #FairfaxCityEats. For more information, go to 
fairfaxcityrestaurantweek.com
.

On the Menu
Here are examples of  some of the many entrees (not the whole meal, including appetizers and desserts) that a sampling of the restaurants will be serving. fairfaxcityrestaurantweek.com
Dolce Vita
Gnocchi and Beef Tips - Seared beef tips and gnocchi, sautéed mushrooms, caramelized onions in a creamy beef demi-broth; Pollo Sorrenti - Sautéed chicken breast, prosciutto and tomato baked with provolone cheese in wine sauce over linguini; Penne Arrabiata - Homemade pasta tossed with capers, black olives and cherry peppers in homemade garlic-tomato sauce.
P.J. Skidoos
BBQ Ribs – Half rack with fries and coleslaw; Shrimp Scampi – Served with tomatoes, scallions, garlic in a lemon-butter, white-wine sauce over linguini; Chicken Scaloppini - Sautéed chicken breast with lemon butter, mushrooms and capers over linguini in light cream sauce; Broiled Atlantic Salmon – Served with honey-mustard glaze or lemon-butter sauce, spinach and rice; London Broil - Marinated flank steak sliced over mashed potatoes with mushroom-wine sauce.
Coyote Grille:
Steak Rajas Tostada - Crispy corn tortilla layered with steak, onions, peppers and garlic sautéed in Southwest cream sauce, sprinkled with parmesan cheese and served with black beans and green rice; BBQ Shrimp - Ancho barbacoa-sautéed shrimp with onions, peppers and corn, plus beans and rice; Veggie Relleno -Poblano pepper stuffed with rice, onions, corn, peas, carrots and potatoes, topped with ranchera sauce, sour cream, pico and melted cheese.
Capital Ale House
Mahi Mahi – Pan-seared and oven-roasted mahi mahi atop sautéed, garlic-butter broccolini, with mustard cream sauce; Chicken Cordon Bleu - Roulade of chicken stuffed with ham, gruyere and Dijon mustard and served over mashed potatoes and French green beans.
The Auld Shebeen
Fish and Chips – Battered, deep-fried cod fillets served with fries and coleslaw; Corned Beef and Cabbage - Served with mashed potatoes, carrots, cream sauce and Irish mustards; Guinness Beef Stew - Guinness- marinated beef, carrots and onions in brown sauce over mashed potatoes; Shepherd's Pie - Ground beef, onions, carrots and peas in brown gravy, topped with mashed potatoes and cheese; Cottage Pie – Chicken breast with onions, carrots and mushrooms in creamy herb sauce, topped with mashed potatoes and Parmesan cheese. 
Ruffino's 
Tortellini Amatriciana - Italian sausage, prosciutto, sautéed with onions and roasted garlic in plum-tomato sauce tossed with tortellini; Lobster Ravioli - Fresh lobster and ricotta cheese in creamy sauce; Pollo Marsala - Chicken breast sautéed with mushrooms, Marsala wine, over linguini; Pollo Piccata – Pan-seared chicken with lemon-butter, white wine, garlic, capers over linguini; Shrimp Scampi - Jumbo garlic shrimp red and green peppers, tomato, in creamy sauce over pasta; Spaghetti Carbonara -  Spaghetti tossed with pancetta, pecorino, caramelized onions, egg yolk and tomatoes.
The Wine House:
Braised Lamb Shank – Served with cannellini beans with chorizo, potatoes, rosemary demi-glace; Faroe Island Salmon Fillet – With leek beurre blanc, saffron risotto cake, haricot vert;

    
Jumbo Lump Crabcake – Dijon cream sauce, roasted potatoes; Pork Tenderloin – Wrapped in prosciutto and sundried tomato, honey glaze, asparagus, roasted potatoes; Steak Frites – Flat iron steak, fries, peppercorn cream sauce; Beef Burgundy – French beef stew with gnocchi, mushrooms, pearl onions, bacon; Winter Risotto -  Champagne cream, mushroom medley, truffle oil and Parmesan.