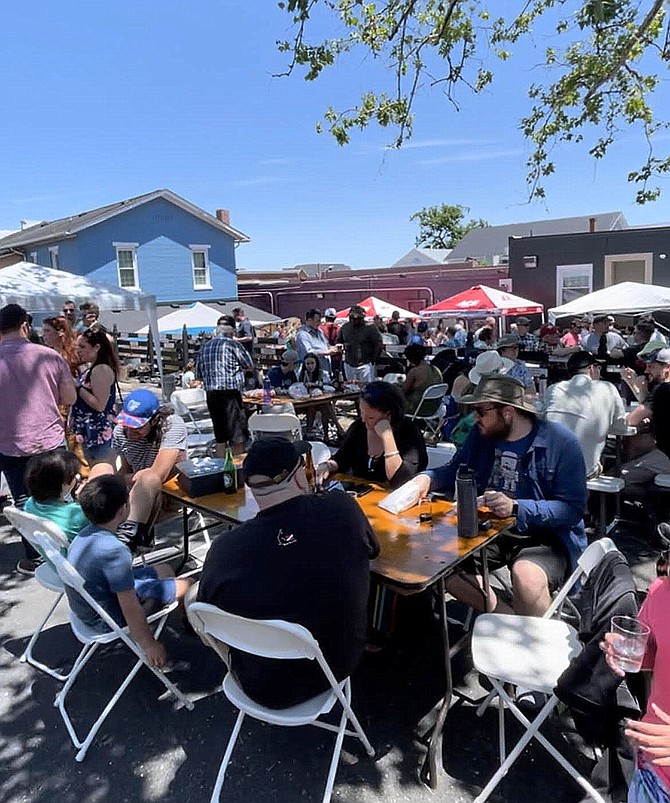 High Side's third annual Tiny Beer Fest 2023 is slated for this Sunday, June 18, from noon-5 p.m., in the restaurant's parking lot at 4009 Chain Bridge Road in Fairfax City. On tap will be craft-beer tasting, Asian street food, deejay music and a dad-joke contest. 
Besides being a fun way to relax with friends, the event will also raise money for a good cause, with 10 percent of the ticket proceeds being donated to the nonprofit Fairfax CASA (Fairfax County Court-Appointed Special Advocates). 
Fairfax Court Appointed Special Advocates (CASA) recruits and trains everyday residents to be volunteer advocates for children in the court and foster care system. These dedicated individuals advocate for vulnerable children's best interests and help them find safe, loving and permanent homes.
"In 2021, we partnered with Mara Hair Studio and together raised more than $7,000 for The Breast Cancer Foundation," said High Side co-owner Jinson Chan. "And in 2022, we donated more than $1,000 to Veterans Expeditions." (A veteran-led nonprofit, it empowers veterans to overcome challenges associated with their military service via outdoor training and leadership.)
In addition to curating the beer, mead and cider selection for Sunday's beer fest, craft-beer bar High Side will also offer its own Asian Street Food, such as Taiwanese popcorn chicken, Pork Belly Bao, pot stickers and chicken satay. Local clothing-and-accessories boutique Mode on Main by Mara will be only the vendor.
Attendees will be able to choose from more than 40 craft beers to enjoy. All ages are welcome, but a valid ID is required to provide proof of legal drinking age, 21 or older. Food is available for purchase separately from the tickets to drink alcohol.
* VIP tickets are $60 and include: 3-ounce tastings of all the beers, ciders and meads; a special or limited-edition beer/cider/mead only available to VIP ticket holders; one 5.75-ounce commemorative glass; and one-hour-early admission, with doors opening for VIPs at noon. Only 160 VIP tickets are available and may only be purchased in advance at https://www.eventbrite.com/e/tiny-beer-fest-2023-tickets-638155037897.
* General-admission tickets are $45 online pre-order, via the same Website, and include: 3-ounce tastings of the 40-plus beers, ciders and meads. The door opens for general admission at 1 p.m. General-admission tickets purchased at the door will be available until 3 p.m. and will cost $55.
* Admission tickets for designated drivers will be $5 (with 100 percent donated to CASA), and they will not be allowed to drink. Any designated driver found consuming alcohol will be removed from the event.
* Guests under age 18 years do not require a ticket to enter.
Pets are welcome but must be on a leash and under physical control at all times.
A representative from Fairfax CASA will have a resource table on site. 
The dad-joke contest will run from 2-3 p.m. Contestants must register online ahead of time at https://forms.gle/tVo3ptMb9BscLbZr5 and must have either a general-admission or VIP ticket. Participation in this contest is not limited to fathers.
In the first round, each contestant will have one minute to impress a panel of judges. Contestants aren't required to use the entire one minute and may tell as many dad jokes as they want within that time. Judges will determine if a joke qualifies as a dad joke and will score them accordingly. 
They'll also provide an overall score for the jokes delivered by each contestant. The top five highest-scoring contestants will advance to the final round. Each finalist will then tell three dad jokes, with the ultimate winner determined by the cheers of the audience. The prize will be a trophy and a $100 High Side gift card.