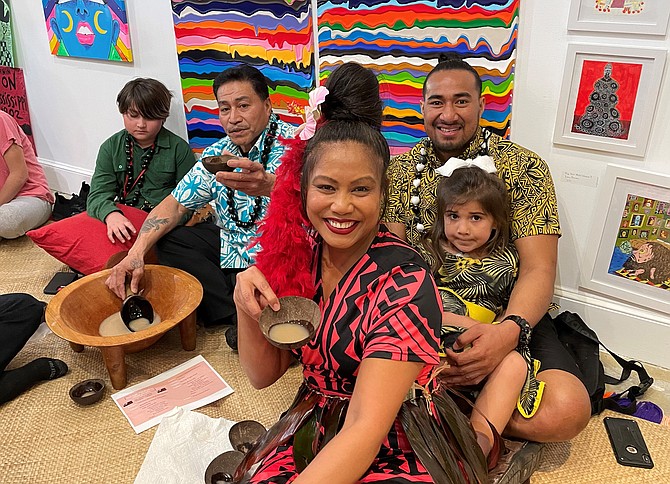 The sounds of Polynesia rang out on King Street as the Old Town shops of ESP Tea and Coffee and Galactic Panther Gallery joined together March 5 to host the Tonga Tsunami Relief Benefit.
In collaboration with the nonprofit Friends of Tonga and the Tongan Community DMV, the event celebrated the heritage and diversity of Tongan and Polynesian cultures while raising funds to rebuild schools that were destroyed on the island nation during the Jan. 15 tsunami.
"Today's event was a way to connect with the community."
— ESP Coffee and Tea owner Erik Muendel
"The Tongan communities of the DMV area have come together to raise money to rebuild some of the infrastructure that was destroyed by the volcanic eruptions and subsequent tsunami in Tonga," said Alfasene Alipia, who participated in the cultural demonstrations.
Traditional Polynesian dance forms of Haka, Hula and Mauluulu were performed along with live music and other Tongan and fire dances. The Gallery highlighted Tongan art that culminated with a live auction at the end of the evening.
Attendees were able to observe and participate in a Kava ceremony, a drink traditionally consumed for its calming effects throughout the Pacific Ocean cultures of Hawaii, Vanuatu, Melanesia and parts of Micronesia.
"Traditional Polynesian gatherings always include Kava," added Alipia. "This is an integral part of Tongan culture."
Officially known as The Kingdom of Tonga, the Polynesian nation is composed of an archipelago of 169 islands in the South Pacific Ocean. The Jan. 15 eruption of the submarine volcanic Hunga Tonga–Hunga Haʻapai in Tonga caused tsunamis that impacted nations as far away as New Zealand, Japan, the United States, the Russian Far East, Chile and Peru.
"Today's event was a way to connect with the community," said Erik Muendel, owner of ESP Tea and Coffee and The Galactic Panther Gallery.  "ESP Tea and Coffee regularly hosts Kava nights on the weekend to help educate, strengthen and form new bonds of friendship with the Tongan community."
Muendel estimates that more than $5,000 was raised during the event for the nonprofit Friends of Tonga, a charitable organization that supports educational and developmental opportunities in the Kingdom of Tonga.