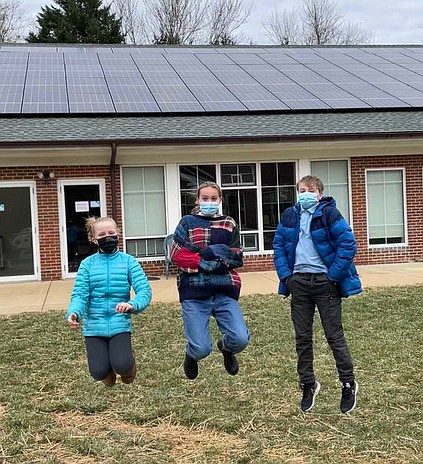 Rock Spring Congregational United Church of Christ in Arlington is officially a cool congregation. Rock Spring is one of six religious congregations around the country to win the Interfaith Power & Light 2022 Cool Congregation Challenge. 
The contest focuses on work to address global warming by reducing the carbon footprint while creating models of sustainability. Rock Spring won an Energy Saver award for their efforts to become a net zero campus through their energy saving measures and their educational outreach to their congregation as well as the wider community.
Rock Spring has been engaged in efforts to combat climate change for decades but after a recent study indicating they were wasting energy, they have taken extensive efforts to improve their campus buildings through energy saving measures that should reduce their energy costs by 80 percent. In addition, they have installed a 44.6k W solar system that went operational in February 2022 which they expect will meet half of their energy needs.
Rev. Laura Martin, Associate Minister of Rock Spring UCC, says Rock Spring has been working on energy saving efforts for a number of years. It really took off in 2015 when the church voted on the green accelerator project. "It was three parts: what we could do to reduce our energy consumption in the home and church including how to go solar, how we could work with the community and the outreach to Puerto Rico and creating the solar village in India."
Then one member of the congregation took it upon himself to replace all of the light bulbs all over the church with LED bulbs.  The church held information sessions and an intergenerational energy fair focusing on what members could do at home.
Peter Geiger, chair of the church's Property Board, said he knew the church's energy costs were skyrocketing. They were spending a lot of money on gas, electricity and water and they wanted to know why. So they hired a firm to do an energy audit and make recommendations, and they began to implement changes such as installing insulation in the attic and beginning to work on the windows.
The congregation took a big step forward in 2020 to move toward net zero with 97 percent support from the congregation. Martin says,"This Interfaith Power & Light award has been so exciting for us because it has gotten so much attention from other churches who are interested in how they can move forward. We got the message out." She continues, "Our commitment is to love our neighbors. Everything is at stake—people, places, animals—because of climate change."
Rev. Susan Hendershot, President of Interfaith Power & Light says, "Rock Spring Congregational UCC and the other five national winning congregations are casting a vision for the kind of world in which they want to live, and then carrying out that vision with practical actions that make a real difference in creating lasting solutions to climate change.