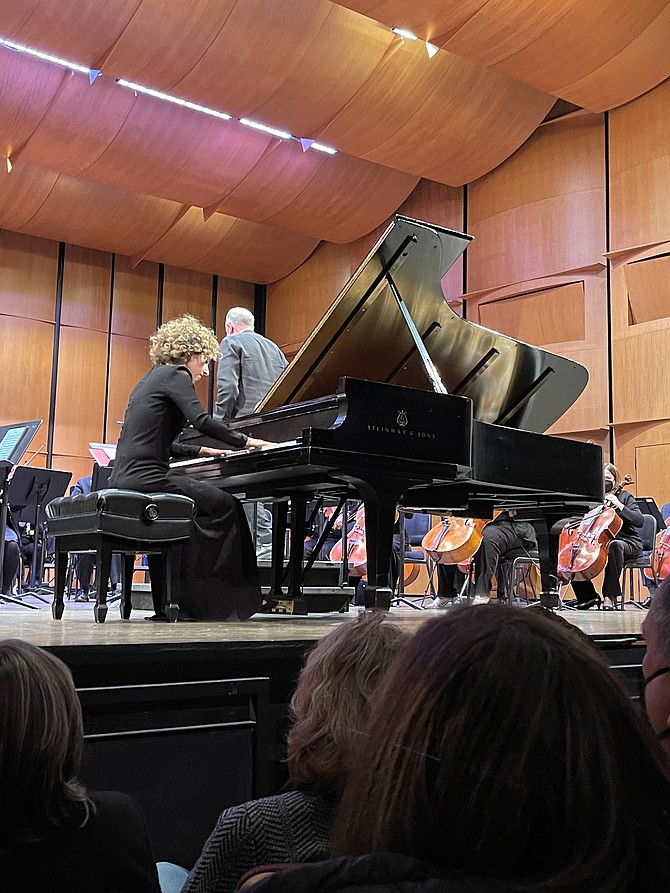 The Alexandria Symphony Orchestra (ASO) has made the

journey from closing down during COVID, to an outdoor concert with the cicadas in the summer of 2021 to half capacity at the Schlesinger Hall

in October to full capacity in November. Now they are revisiting Bach's Brandenburg Concerto in the upcoming concert March 19 at St. Paul's Episcopal Church on 228 S. Pitt Street. 
Melynda Wilcox, Chair of the ASO Board, says St. Paul's church is a perfect venue for the Brandenburg Concerto. She says it has the right feel.  George Hanson, Executive Director of ASO says, "It has the right acoustics. You will get to experience music the way Bach thought it would be."
Wilcox says, "The Brandenburg concert had been so popular in 2019 that we decided to perform it again but had to cancel it in 2020." The upcoming March program features Brandenburg, Vivaldi and Piazzolla with Summer and Spring from the Four Seasons of Buenos Aires in great tango style. "While the popular masterpieces of Bach and Vivaldi will move you, Piazzolla's tango will make you move." The program combines 18th century Italy mingling with modern Argentina.
Wilcox says ASO has resumed its regular season but the March 19 concert is separate from the season subscription. She explains when they performed  the Brandenburg concert in 2019, they found they had a fairly different audience than the subscription concert.  "They were younger, more diverse." She said maybe it was the location in Old Town, the scheduling on a Friday night or maybe the familiar Brandenburg appeals more to younger people.
Wilcox says the musicians were very happy to be playing again. "They were so excited after such a long time. Ticket sales exceeded expectations, especially the November collaboration with the Alexandria film festival." 
James Ross, ASO music director said, "We had the fear, along with other orchestras around the country, that attendance would go down when we reopened after COVID but we were positively surprised that it actually went up." Hanson adds they had expected to be 30 percent behind before the pandemic but they are approaching 100 percent. "We are reaching people we haven't seen before."
Ross says he doesn't have all of the reasons but he says they worked to rehearse safely and to  make the audiences know that they would be safe. Both performers and audience had to be vaccinated, and he thinks that has made a difference. 
Hanson attributes the success to Ross's great innovative programming "which is keeping our base and bringing in new faces. We were worried about who was coming back." But he says Ross chose terrific pieces and in one case featured an outstanding African pianist which allowed the audience to experience from a different perspective.  Hanson says he thinks they decided to see what else ASO is doing." 
ASO is in the middle of a new complete season carried over from 2020 when the entire season was canceled. Ross thinks about "who we are now, what music means when you haven't played together for so long." The way he thinks about the ASO is not just a classical concert but instead he thinks more broadly about the unique events that feature classical music to give it a bit more of a story line and make it a not to be missed event.
He says he is trying to mix and balance familiarity with adventure.  "I feel supported in my basic approach." For instance, he says he hopes the upcoming season will be a cool new way that has a mixture of culturally unexpected pieces in every program. Ross likes to feature voices not heard as much as they should be — female composers, diverse. "I'm not afraid to present composers not as well known but deserving to be heard." He said Blacks Lives Matter came along and really reinforced this message. He. says we are lucky that Alexandria appreciates this deritualization of the concert experience.
Ross has created an opportunity in the upcoming April program to combine the ASO with 60-70 youth in the Sympatico high quality music program supported by ASO at John Hayes Elementary School.  Ross says Classical Movement Business commissioned a piece by Brian Prechtl who is a percussionist in the Baltimore Symphony Orchestra and who composes captivating music for younger performers.  The eleven-minute piece will be flexible for kids and is written so it could be performed by other groups.  
Hanson says, "Our goal is to get people in the door to experience what we do, and I'm confident they will love it." He says the upcoming March 19 concert is such an unusual combination but there is no combination we feel must be avoided. "Our goal is to create a really interesting program at the highest artistic level."