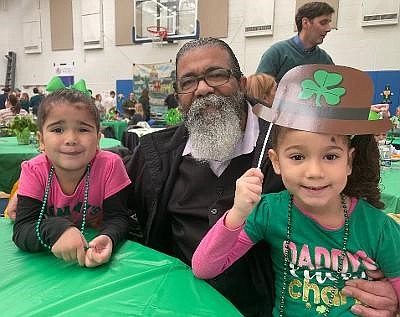 Leprechauns and shamrocks were on full display as more than 400 people turned out for the return of the Saint Patrick Irish Hooley March 13 at the Basilica School of Saint Mary.
Hosted by the Alexandria Ancient Order of the Hibernians, the event made its return after a two-year hiatus due to the COVID-19pandemic.
"Pat and Bernadette Troy came up with the idea for the first Irish Hooley in March of 2016," said Ken Wolfe, vice president of the Ancient Order of Hibernians. "We joined with Saint Mary's and have been sponsoring the event ever since."  
The sold-out event was a fundraiser for Christ House, a program of Catholic Charities in the Diocese of Arlington, which provides food to the hungry, shelter to the homeless and clothing to those in need. An $8,000 check was presented to Sister Aniliza Juan, Christ House's volunteer coordinator, on behalf of the Basilica of Saint Mary and AOH.
"The purpose of the event is to celebrate Saint Patrick, who was sent to Ireland by Pope Saint Celestine as a missionary," Wolfe said. "Saint Patrick found Ireland heathen and left it Christian, dying in 464. The Hooley offers our local community a time to get together to enjoy Irish food and drink, Irish dancing and Irish music. Most importantly during Lent, it is a time for almsgiving, when all of the proceeds from ticket sales and sponsorships go to Christ House."
The afternoon featured performances by local Irish musician, Pat Garvey; the Boyle School of Irish Dance; the O'Neill James School of Irish Dance; and the City of Alexandria Pipes and Drums. Traditional Irish fare, including shepherd's pie, fish and chips, and corned beef and cabbage was catered by Murphy's Grand Irish Pub.
Father Edward Hathaway greeted the crowd and later participated in a rousing rendition of the traditional Irish favorite "The Unicorn Song."