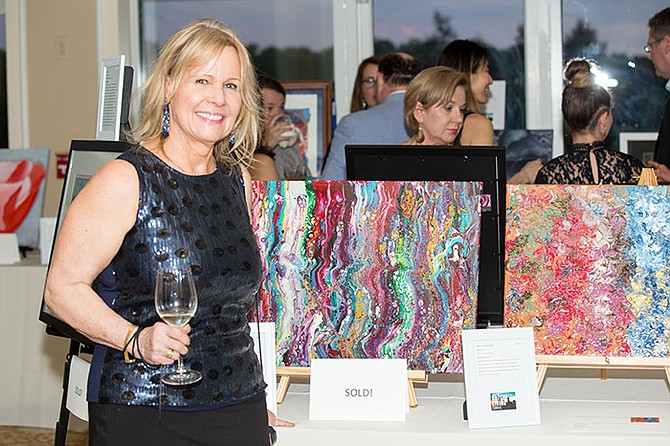 Fairfax-based nonprofit Britepaths is inviting the community to get involved in its upcoming Artful Living event. This year's theme is "Connected," and the organization is seeking artwork, sponsors, volunteers to help plan the event and donations of items for the raffle and auction.
Local artists are invited to submit works to be considered for inclusion in this juried art show. Cash prizes will be awarded, and artists will receive a portion from the sale of their work. A wide variety of media is accepted; professional, amateur and youth artists are welcome. 
Artful Living is a fundraiser that enables Britepaths to better serve area individuals and families working toward financial self-sufficiency. Proceeds go toward Britepaths' programs that help families stabilize and build resilience, as well as offer support for children.
The event is set for Thursday, May 19, from 7-10 p.m., at the Country Club of Fairfax, 5110 Ox Road in Fairfax. But artwork must be submitted before midnight on Sunday, April 24. The form for submissions is at britepaths.org.  
"We chose our theme, 'Connected,' in 2019 and had planned to hold Artful Living in April 2020," said Britepaths' Executive Director Lisa Whetzel. "As with so many events in our lives, the pandemic made us postpone the gathering twice. We are so looking forward to reuniting with our community on May 19, and the theme 'Connected' is now more relevant than ever." 
She's also proud that it has such a worthwhile purpose. "Artful Living is vital to raising funds that will help us assist more families near us who have been struggling due to the pandemic," explained Whetzel. "It is also a heartwarming celebration of art and community that helps local artists receive recognition and sell their works, while helping their neighbors. We hope community members will come together to support Artful Living, and we hope they'll join us for a delightful evening on May 19."
To volunteer to serve on the Event Planning Committee, help sponsor Artful Living, donate raffle or auction items, or for any other information, go to britepaths.org, email events@britepaths.org or call 703-273-8829.
***
Britepaths is in its 38th year of providing assistance and a way forward for struggling individuals and families in Fairfax County and Northern Virginia. During the pandemic, Britepaths has offered greatly enhanced food and financial- assistance services to Fairfax County area residents in crisis. Throughout the year, it relies on funding and volunteer support from businesses, individuals, community organizations and places of worship.