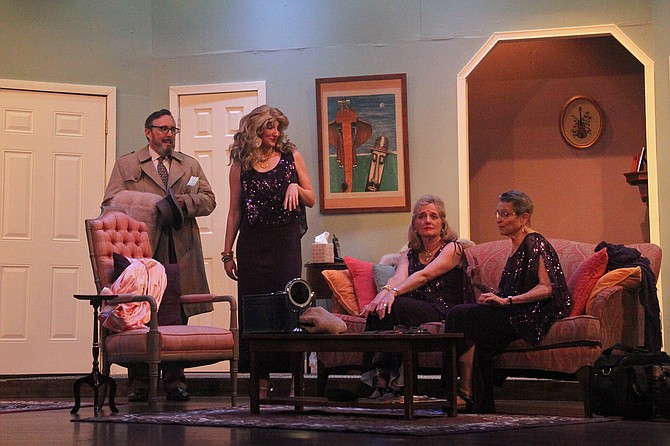 Aldersgate Church Community Theatre is back with "The Cemetery Club," a poignant comedy that follows three Jewish widows who meet once a month to visit their husbands' graves.
The Ivan Menchell play centers around Ida, Doris and Lucille. Each are navigating the different stages of grief, as is Sam, who meets the ladies while visiting his wife's grave. The 1990 Broadway production featured Eileen Herkart and was later made into a film starring Ellen Burstyn, Dianne Ladd and Olympia Dukakis.
"This show is both funny and poignant -- you can be laughing one minute and ready to cry the next," said ACCT producer Marg Soroos. "The characters are real and the script is so well written. It is just what a fun evening at the theater can be."
Patricia Nicklin plays sweet tempered Ida, who is ready to begin a new life.
"I, too, am at the next chapter of my life, the 'third act' as they say," Nicklin said. "Acting in 'The Cemetery Club' has gently forced me to ask the all-important question: Am I doing what I want to with my life, or am I living another's agenda? I hope the audience will take away that age is just a number and friendship is everything."
Joining Ida in the monthly sojourn are Lucille, a feisty embodiment of the girl who just wants to have fun; and Doris, who is priggish and judgmental, particularly when Sam enters the scene and gentle sparks fly between him and Ida.
"The show isn't really about the cemetery or the deceased husbands," said Kathy Ohlhaber, who plays Lucille. "It's about the relationship between the three women. It's so easy to focus on what you have lost or what never was. It's harder to see what is alive in front of you and that is what this relationship represents – embracing the here and now, letting go of the before and navigating forward."
Rounding out the trip of friends is Janice Zucker as Doris.
"Doris is the only one who wants to keep up this 'Cemetery Club,'" Zucker said. "Lucille has totally moved on since her husband's death and Ida is about to move on from hers but Doris is still stuck in the past with her late husband Abe. I hope that audiences will see that even though someone close to you has died, they are never gone from your mind and your heart."
Kirk Lambert is Sam, the local butcher, who meets the ladies at the cemetery and is immediately pounced upon by Lucille. But it is Ida that captures Sam's attention and their budding romance threatens the women's friendship.
"Sam is a reserved, decent, honest fellow who is dealing with the age-old challenges of trying to move on after losing a spouse," Lambert said. "He is torn between the feelings of grief, sorrow, and the guilt and fear of beginning a relationship with someone new."
"The Cemetery Club" is co-produced by Charles Dragonette and directed by Ruben Vellekoop. Meredith Garagiola plays Mildred, a wedding date for Sam.
"The Cemetery Club is an ideal production for our loyal audience looking to our tradition of entertainment, and for lovers of solid theater who are increasingly discovering that we've grown beyond neighborhood boundaries," Dragonette said.
Added Vellekoop, "Hopefully, audiences will understand that everyone moves on in their own tempo and that's okay. And don't go to bed angry: stay up and fight."
"The Cemetery Club" is playing March 25 through April 10 at Aldersgate Church Community Theatre, 1301 Collingwood Road. Performances are Fridays and Saturdays at 7:30 p.m. and Sundays at 2 p.m. For tickets or more information, visit www.acctonlin.org.