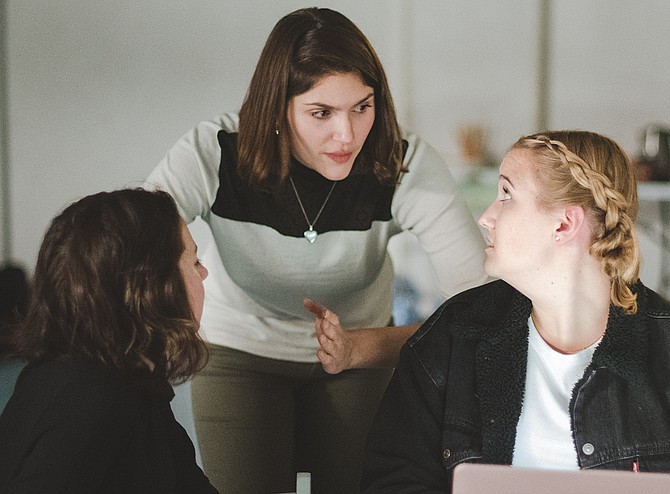 Many people are eager to see who'll win an Oscar this Sunday. But Emily Dillard's eyes are on a prize she's nominated for in the prestigious Television Academy Foundation's College Television Awards on Saturday.
The 41st annual event recognizes and rewards excellence in student-produced programs from colleges and universities nationwide. And Dillard, a 2017 Fairfax High grad, is a nominee in the Scripted Series category for producing and writing an immigration-themed film called "Our Side."
She shares the nomination with her partner, Nico Rinciari, with whom she created the film while they attended the Savannah College of Art and Design. "We co-wrote it together, Nico directed the film and I produced it," said Dillard, 23. "It's a blessing to contribute to stories being seen and carrying important messages 'round the world."
While at Savannah College of Art and Design, the pair also produced an award-winning commercial for the Coca-Cola/Regal Films' social-media campaign, as well as the film, "The Pages of Destiny," which was accepted into the July 2021 Short Film Corner at the Cannes Film Festival in France.
A total of 54 students – selected from 185 entries submitted by 58 colleges nationwide – are nominated in six categories for the 2022 College Television Awards. Designed to emulate the Emmys, student entries are judged by Television Academy members. The three projects becoming finalists in each category reflect the industry standards of excellence, imagination and innovation.
The online awards ceremony will be held in conjunction with the Foundation's College Television Summit, a two-day educational event featuring panel discussions with media-industry leaders. TV stars will announce the winners March 26 at 9 p.m. EDT. To register to watch the free program, go to https://www.emmys.com/cta/register.
Winners will receive a trophy and $3,000. They and all nominees automatically become members of the Television Academy Foundation's alumni family, gaining access to networking opportunities, events and professional-development resources. 
Dillard and Rinciari moved to Los Angeles during the pandemic, in June 2020, graduating from Savannah College of Art and Design during an online ceremony two months later. Dillard obtained a Bachelor of Fine Arts degree in Film and Television. 
"Our Side" tells the story of Adillah, a woman in her mid-20s who immigrates to Italy from Ghana in search of a better life. She gets a job caring for an elderly Italian man named Mimmo; but a new immigration law in Italy then nullifies her visa and driver's license. And when Mimmo has a heart attack, Adillah risks being discovered by the authorities when she takes him to the hospital for treatment.
"The story is loosely based on a friend of ours with a similar journey," said Dillard. "And we wanted to tell his story in a way that wouldn't expose him but could bring attention to asylum seekers' struggles." (The law passed in 2018 but has since been revoked).
"One of the reasons that law was passed was because of a huge wave of anti-immigration sentiment," she said. "We saw it in Italy and in other countries. So our story is emblematic of a larger issue – relevant not just to Sicily or Palermo, where it takes place – but to many other realities and societies around the world."
But, added Dillard, "We also wrote the script focusing on the integration process of these immigrants into their new homes – living in a country that doesn't recognize their value and contributions to that country. They're seen as extraneous elements and not part of the people that make up the country.
"And that's where the film's title, 'Our Side,' comes from – to show that, in reality, we don't live in opposing sides but are a part of a greater, human side. That's really the heart and soul of the story."
It also has extra meaning to Rinciari, who grew up in Palermo and moved to the U.S. at age 19 to attend Savannah College of Art and Design, where he and Dillard met. There, they created "Our Side" and then filmed it in Palermo over eight days in 2019. They did the final production work – editing, coloring, sound, etc. – in mid-2021. 
"We wanted to capture a story representing a way of life, seen through Adillah's life and perspective," said Rinciari. "It was challenging because both Italian and English were spoken on set, although we had translators. And the actress playing Adillah is from Florida and doesn't speak Italian.
"But I told her to embrace it when she walked around Palermo on her own, not being able to understand the Italian language that was being spoken all around her. That way, she'd really know what it was like to be a fish out of water. And she and the person the story's based on got to speak so she could better understand his journey and identify with his struggles."
When their film is eventually widely available for people to see on a streaming platform, Dillard hopes viewers will see that "there's a necessity for living as a unified community so people like Adillah will no longer be marginalized."
"She's a metaphor for everyone who doesn't belong to the majority ethnic, religious and gender group of a society," added Rinciari. "This film is a way to talk about it all. And the fact that it was nominated helps bring these problems to light – about targeting specific groups and perceiving them as enemies, which is wrong – and continues the discourse."
He and Dillard learned about their College Television Award nomination in late December. "It was such an honor to be selected amongst so many entries," said Dillard. "It was a surreal moment – Nico and I were over the moon. If we win, it'll be an honor for everyone who worked on and believed in this project – even before it was made – and for other, real-life stories like this."
As for her own, real-life story, Dillard was raised in small-town Clifton and participated in competitive, synchronized ice skating for three years. Then, when she and her parents moved to Fairfax City, Dillard attended Fairfax High, where she was a standout in several theater productions and dance programs and was a member of the marching band's color guard.
Praising Fairfax Academy dance instructor Andrea Cook, Fairfax High theater director Erich DiCenzo, and her parents, Deborah Dillard and Paul Radam, Emily Dillard said, "They all really pushed me to explore creative careers after high school." Then Savannah College of Art and Design gave both her and Rinciari the training and tools for a profession in filmmaking. 
Rinciari previously worked on Marvel features, helping translate stories into the shots used in movies, for a studio called The Third Floor. He's now a layout trainee for Disney Animation. 
Dillard is an assistant production manager for Warner Brothers Animation. "It's a really fun job," she said. "I schedule and budget artists for final visual-effects work for Warner Brothers' animated TV shows and direct-to-TV specials."
So what's next for the duo? Replied Dillard: "We optioned a book about adoption that we hope to adapt into a miniseries or film in the future." But first, they'll take some time on Saturday to see if "Our Side" wins an award.