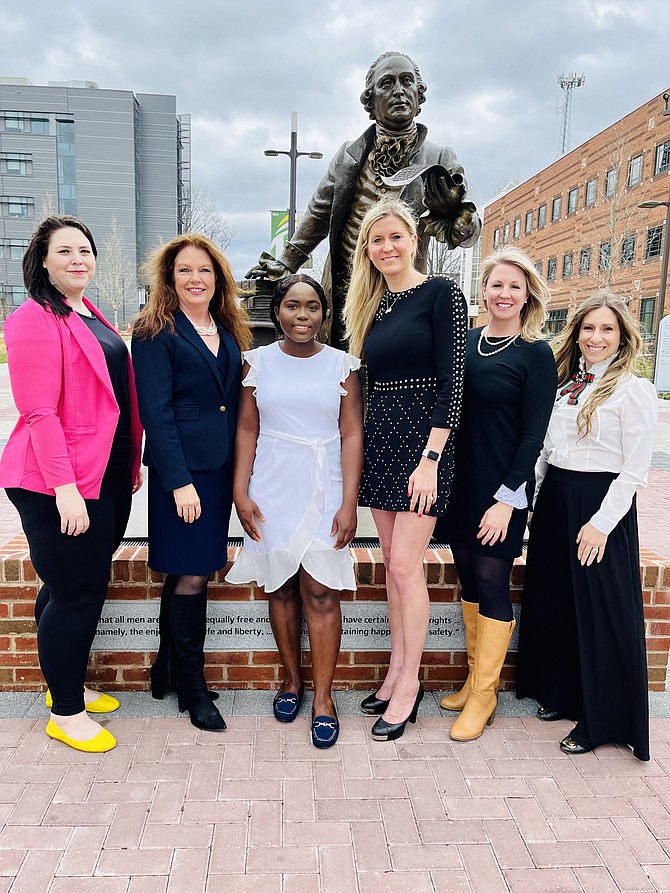 The Women's Club of Great Falls Scholarship Fund announced the establishment of the Holly Ann Kuga Endowment on March 19, 2022, at George Mason University (GMU). 
Holly's daughter, Katherine "Katie" Kuga Wenner, said, "The Women's Club of Great Falls Scholarship Fund recognizes extraordinary students and provides them with financial assistance to pursue degrees in higher education. Like many of these students, my mom had to support herself growing up, especially as it related to education."
In December 2020, Kuga died in a vehicle crash. As a longtime member of the Women's Club, Kuga was very close to many. She was also very supportive of the Fund that awards scholarships to deserving Northern Virginia students aged 25 and older who are in good academic standing and demonstrate financial necessity.
At the March 19 event, Wenner joined GMU student Mariama Swarray-Deen, the first scholarship awardee under the Holly Ann Kuga Endowment, and Mary Bramley, GMU's Director of Donor Relations and Stewardship. Scholarship Fund board members Jayana Garvey and Sally-Anne Andrew Pyne, and Christie Lavin, co-presidents, also attended.
"We are so proud and delighted to stand here today with Katie and Mariama, and to see hope and new life represented by this endowment come to fruition. Of all the hard work we have done over the years for our students, this moment is the pinnacle," Pyne and Lavin said in a joint statement. "To know that Holly's legacy will last in perpetuity for the benefit of other hard-working women like herself is at the heart of our mission."
Because of donations and the Spring Tea 2021 fundraiser, the group raised more than $34,000 for the Holly Anne Kuga Endowment. The tea was a virtual and in-person ticketed event held a few months after Kuga's death.
Wenner said her mother was "a person of extraordinary generosity, compassion, wit, and intellect." She was someone that Wenner turned to for everything. "She always thought about others and never put herself first, ever. She was my rock, my confidant, my mom, and best friend. And my love for her can never be replaced. I believe my mom truly embodies the foundation of this scholarship, and it is an honor to establish it in her name," Wenner said.
In 2016, the Scholarship Fund created two $25,000 endowments set in perpetuity, one at George Mason University and the other at Northern Virginia Community College. In the last five years, the Fund has provided scholarships to 41 students for a total of $54,400.
The Scholarship Fund is a separate nonprofit organization from the Great Falls Woman's Club.
To learn more about the Scholarship Fund or assist next year's students by attending or donating at the April 23, 2022 Spring Tea fundraiser, visit: https://www.womensclubgfsf.org.