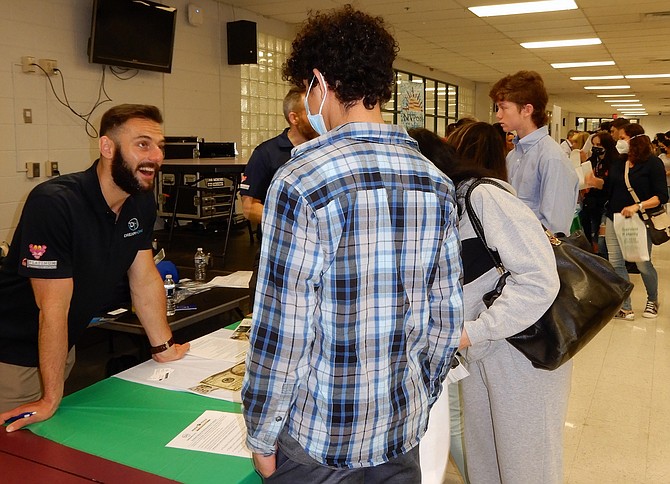 Leaving Chantilly High on a Saturday morning, freshman Anjali Addagarla said attending the job fair there was time well spent. After all, she got to see what local employers have to offer teens like her. 
The in-person event was held March 19 and sponsored by Supervisor Pat Herrity (R-Springfield), in partnership with the Connection Newspapers, Fairfax County Public Schools (FCPS) and local chambers of commerce. And the available jobs included full time, after-school, seasonal and volunteer positions, as well as opportunities for internships.
"I was browsing for a summer job to see what's out there," said Addagarla, 15. "I found three places that interested me – Rita's Italian Ice near the Dulles Expo Center; Escapology, the escape room at Fairfax Corner; and Little Kickers, where I could be a soccer coach for younger kids."
Representing Sideburn Run Pool, (from left) Nicki Miller talks to a student 
while Peter McClintock looks on.
"They all seem pretty fun," she said. "I'm going to put in my application and see what I get. This job fair is a good place to see my options, because this would be my first job. And it's neat to see what's available for 15-year-olds because, for lots of jobs, you have to be 16."
A sophomore, Sahaj Kasturi said he was searching for a job to "add more structure to my schedule and get money for college and a car." He also wanted to learn about volunteer opportunities, for either year-'round or summertime.
"I saw community-focused things like volunteering in the fire department or in county parks, and they interested me," he said. "And some other jobs, like the escape room, looked like fun. I'll probably apply for the community-volunteer ones or the escape room, so I could volunteer and also have a weekday job."
Kasturi said the job fair was a good idea because "It gives that little push you need. It's a little daunting on your own, wondering where to look for jobs. But when they're all here in one place, it's easier."
Classmate Kushan Gupta said his dad saw an ad about the event and brought him to it. "They have a list of all the businesses here, and I looked at the ones that interest me," he said. "I talked to Tech Skills Partner, a nonprofit that helps teens who can't afford four-year colleges, to learn the necessary skills to apply for jobs."
He said even Amazon was there, with some positions for those 18 and older. "I didn't know there were that many companies that wanted teenagers to work for them," said Gupta. "So it was good to see which ones I could think about."
Angela Pham, a junior, was also pleased with her experience. "It was easy to access a lot of job opportunities at one time," she said. "And they're all meant for teens to sign up, and are less intimidating, because they're entry-level. I'm interested in working at Chick-fil-A." She also enjoyed collecting all the giveaways at the job fair, such as candy, samples of Rita's Italian Ice, sunglasses, flashlights and pens.
Among the many employers there were Nicki Miller and Peter McClintock of Sideburn Run Pool, near GMU in Fairfax. McClintock stressed that it's an individual pool, not part of a chain.
"We're looking for about 20 lifeguards and a pool manager," he said. "The pool manager would supervise the lifeguards, test the water's chemicals and keep the pool area neat and clean. It's the perfect job for high-school and college students because it's during the summer, when they're off."
"They have a lot of responsibility because they have to keep people safe," continued McClintock. "And they learn how to schedule their time, supervise others and interact with a lot of people."
Daniil Gomenyuk of DreamHome was delighted to be at the job fair. "We do exterior home remodeling and have been in business more than 20 years," he said. "We work all over the DMV and Northern Virginia area. And after the pandemic, we're trying to grow again."
He was trying to recruit people "who have energy and are ambitious. People who don't just want to make money, but also develop skills that they can use on the job or in the community. They build professionalism and entrepreneurship and learn financial skills, such as money management. They also participate in team-building and mentorship activities and learn business development, plus sales and marketing skills."
Gomenyuk said students would be hanging advertising flyers and knocking on doors as a group to do face-to-face marketing – encouraging prospective customers to sign up for free home inspections. "A lot of kids gave me their names and emails and expressed interest. They liked that it's outside work; and when they hear the competitive salary of $15/hour, plus commissions and bonuses, their eyes light up. And that's the bare minimum."
Representing the Civil Air Patrol (CAP) were Airman 1st Class Kyle Morrison and Cadet 2nd Lt. Sarah Sitoula. "We're the auxiliary of the Air Force, and our cadets get to help people," said Morrison. "We're a volunteer organization, and teens can learn lots of skills they can use, such as leadership."
A nonprofit, the CAP performs 90 percent of U.S. inland search-and-rescue missions. Volunteers age 18 and above may also help provide disaster-relief efforts and mentor youth. 
"It's for people who want to serve their communities and learn about aerospace education and leadership," said Sitoula. "They'd also help the Air Force search for missing persons and planes. And we want to provide this opportunity to others. We've learned a lot from this program and want to share it with as many people as we can."
Meanwhile, James Vanhalle and Maria Boehk told students about what Wegmans could offer them. "We'd like to get as many part-time employees as possible, age 16 and up," said Boehk. "They could work as cashiers, stock shelves and do food prep."
"We offer scholarships and internship programs, and we have a lot of growth opportunities," Boehk continued. "For example, you can start as a part-time cashier and work your way up to corporate positions, like marketing."
Happy to have participated in the job fair, Boehk said the attendees expressed interest in working for Wegmans. "A lot of students are looking for summer jobs and liked the availability of our internships and scholarships," she said. "Overall, it was a success."