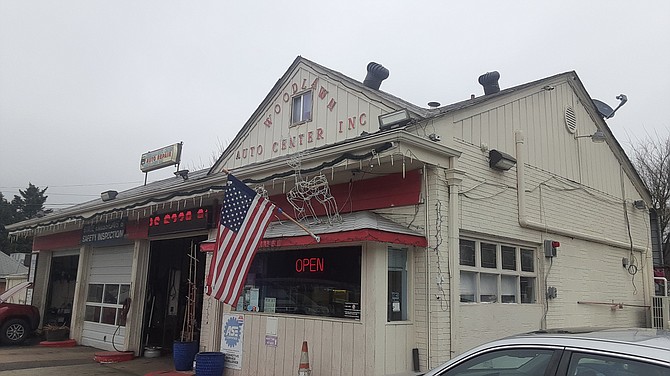 At Woodlawn Auto Center, the combination of tradition, customer service, mechanical expertise and the friendliness of owner Chris Lambrou are the right formula to keep people coming back. A few years ago, Lambrou's inclination to plant flowers everywhere didn't hurt either.
Three women saw the traffic island full of bright yellow sunflowers as a good backdrop for a picture so they dressed in yellow with floppy hats and stopped to pose in front of the flowers. "They came in for the picture," Lambrou said, and although he didn't know them, he was glad his flowers came in handy for something.
Every spring, he concentrates on a garden early on, planting the sunflowers and roses all over the place. "My regular customers appreciate it," he said. 
Former Gov. George Allen was one of those customers, and a faded snapshot of Allen's visit is mounted on the wall in the office.
Lambrou has been at the garage for 40 years and has seen them come and go on the busy road out front, and over on Richmond Highway a few doors down. The speeding cars, horns, trucks and screeching skids are all part of the daily soundtrack.
"Before they fixed the road, used to be two or three accidents a day," he said. One time there were five cars in one crash, as he remembered. When Richmond Highway was straightened and widened in front of Fort Belvoir, that changed things, and the road right out front had another lane added.
Moving On Up
A newcomer to the garage is Bill Parsley, who started out as a customer when he was still in the Army stationed at Fort Belvoir. He was looking for a hobby, and Jose, one of the mechanics, started teaching him here and there. "I started coming on the weekends," Parsley said. Eventually he got out of the Army and got his license to perform safety and emissions inspections so he does now at the station. "I didn't want to just sit at home," he said.
Now that it's late March, Lambrou is focusing on the flowers he's going to start planting for the coming season. He picks up the plants from the Home Depot up the street and other plant places in the area to add some color. "Every year," he said.
There's a cactus inside that's 35 years old, Lambrou said, and the sign out front is showing its age, but no one really knows how long it's been there. The sign does the trick and it's too expensive to replace, he added.
If you go…
Woodlawn Auto Center
5634 Mt. Vernon Memorial Highway
Alexandria
703-780-4707
www.woodlawnautocenter.com