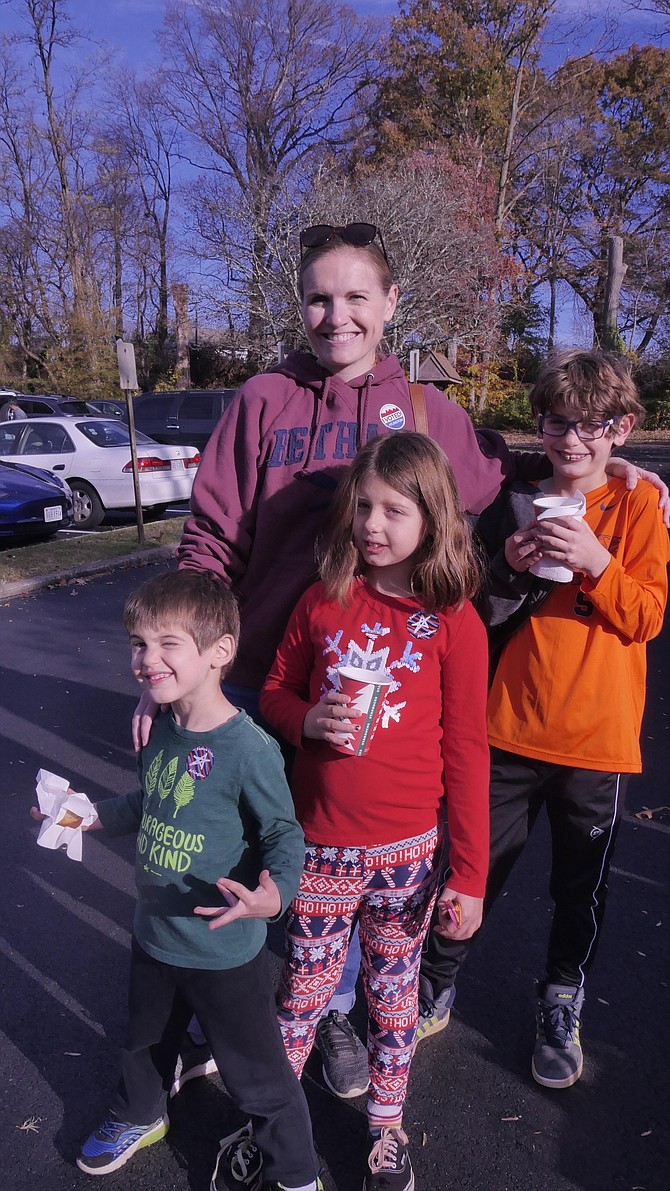 Arlington voters head for the polls the morning of November 8 to select a Representative to the U.S. House of Representatives for the 8th Congressional district, one County Board member, one School Board member and to vote on six bond issues. Madison Community Center polling place reported 300 voters by 8:30 a.m. The election official in charge of the voting site said she hadn't seen or had expressed to her any signs of disruption at the polls so far.
Voters dotted the sidewalk, one dog and several children included, headed toward the polling site with a determined step. Marjorie Signer, a long time poll worker who said she has been working at various sites around Arlington for 100 years said, "I'm surprised by how many people there are. It is very brisk this morning." She added that voters in this part of Arlington aren't motivated by saving democracy or any of these other big issues. "If there is passion here, it is because of the local missing middle proposal — because of property issues."
Kelly Bozzi was there with her three children — eight-year-old Dominic, six-year-old Emilia, and Leo who proudly announced he is 3-1/2-years old. Bozzi said she wanted to show them how to vote and "they wanted the stickers. Oh, Leo you got two!
"I wanted them to know you always vote no matter what." Bozzi hadn't seen any signs of voters concerned about security issues at the polls. "It is definitely happening in other places but we are fortunate to live here. It isn't happening in our backyard."
Four Yorktown students sat at a table arrayed with cupcakes, brownies, muffins and a large jug of apple cider. They said there is a bake sale at the polls every year to raise money for the Model General Assembly. The cinnamon muffins and "vote" cupcakes had been best sellers so far. "Someone came and bought eight of the 'vote' muffins," Izzy Levenson said. We've been here since 5:30 this morning." 
The students all said they couldn't wait to vote. Samantha Whitlock said she can vote next time. All agreed that while they are excited for their first opportunity to vote, a lot of young people they know don't think it makes much of a difference. But Whitlock continued that it is an important process. "Anything helps even if it is just you voting."
The election was shaping up to be a pretty standard mid-term event when an unexpected issue, missing middle housing, surfaced in the spring and has dominated the race for County Board. The County Board proposal to allow multi-units up to 8-plexes to be built in single family zoned areas has caused heated debate, competing yard signs and disruption at County Board meetings. 
Matt de Ferranti, the current Board member running for reelection, and Adam Theo support slightly different versions of the missing middle housing approach and Audrey Clement opposes the proposal.
After extensive community conversations, release of studies and backup documents, the next step in the consideration of the missing middle proposal is the Nov. 9 public hearing of the Long-Range Planning Committee and Zoning Committee. That will be followed by the Dec. 5 meeting of the Planning Commission. There will be a vote at the County Board meeting on Dec. 17 on whether to publicly advertise the new zoning with the final Board vote to be in January of February 2023. Due to Arlington County's form of government, there is no vote permitted by the residents of the County on the up zoning proposal.