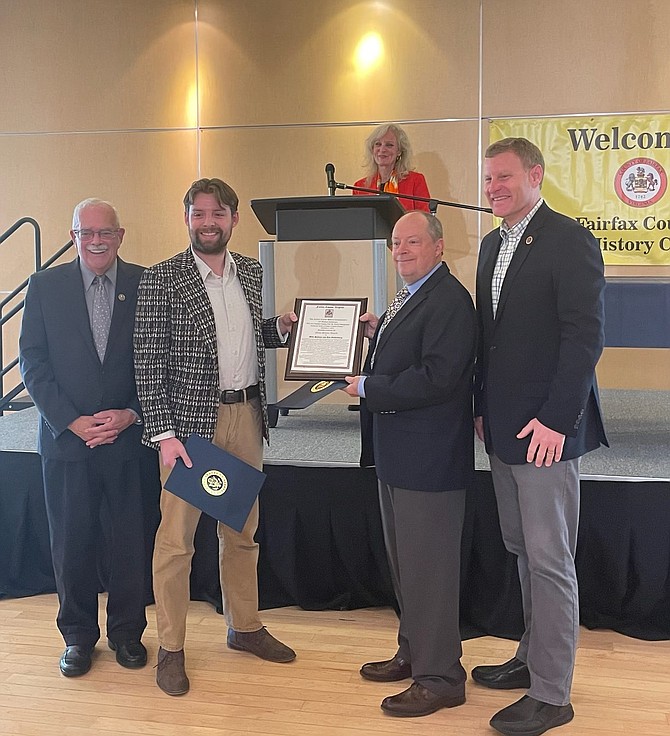 Kingstowne was once an area of scrub brush and gravel pits that was a haven to the motocross scene in the 1970's. This bit of local history was captured in a documentary last year called "The Gravel Pits: Before There Was a Kingstowne," by Mike Salmon and Ean Eschenburg who recently won the Mayo-Stuntz Documentary Award for their production.
Salmon is a Lorton resident that has worked and contributed to the Connection/Gazette Newspapers for over 20 years, and Eschenburg works in communications at Greenspring Village Retirement Community as well as singer for the rock group "The Summer of George." In addition to the award from the Fairfax County History Commission, their efforts are now part of the Congressional Record, courtesy of Rep. Gerry Connolly (D-11) "for their work to promote and preserve the history of Fairfax County through video historic documentary production," the declaration stated.
The award is named after Mayo Stuntz, a Vienna resident and World War II veteran that went on to be a local historian and past president of the Fairfax County History Commission. He also taught local history with Fairfax County Public Schools' Adult Education Program and at George Mason University before he died in 2013.
See the documentary 
here
.