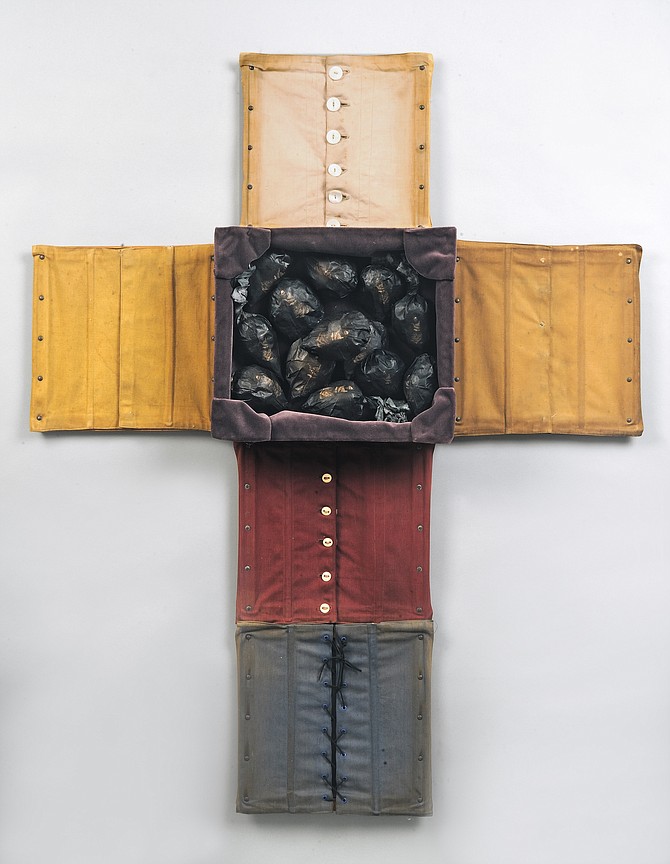 Zofie King, who works and makes her home in Arlington, Va., taps into many things when we view her work. 
Her work conjures up the sensation of memory. King is tapping some deep reservoir of our memory, not the same as her memory of course, but we feel summoned to witness a region of our mind that is partly mysterious. We recognize the images and assemblages as something from the past not just because of the somber hues and references to gothic architecture but also reliquaries and religious altars that speak to more pointed symbolism. Some aspects of her work create a slight "hair-raising" sensation. The decay and Faustian struggle come to mind as King creates an awareness of the dark side of the inner, human struggle and human flaws. Bat images and inky stains send shivers up your spine.
King's work speaks not only on an interior level, but speaks to a struggle on a more global level. Her parents were born in Poland and moved to Germany when she was a young child. She eventually settled in the U.S. in 1998. Her grandmother was caught up in the rounding up of Polish citizens for forced servitude in 1939, at barely 14. King's sculpture "On My Knees to Czestochowa" is based on taped recordings her grandmother made recounting her experiences working in servitude. The piece references a dark inside joke among Polish laborers during the beet harvest, when they were forced to work 16 hour days, mostly while crawling on their knees. Czestochowa is an important place of pilgrimage for Catholics in Poland. The 19th century seamstress samples that form the cross shape refer to her grandmother's life as a seamstress. The cyanotypes in the center part have been "drape molded" over actual beets. 
We can learn about the injustices that go on in this vulnerable part of Europe, then as now, on some small level when the intimations of them are given to us from the hands of a skilled artist.
Zofie King participated in the Arlington Studio Tours. A yearly, self-guided tour of the studios of working Arlington artists. Over this weekend of Sept. 17-18, 56 artists opened their studios for the public to see their workspaces, talk with the artists and purchase art.