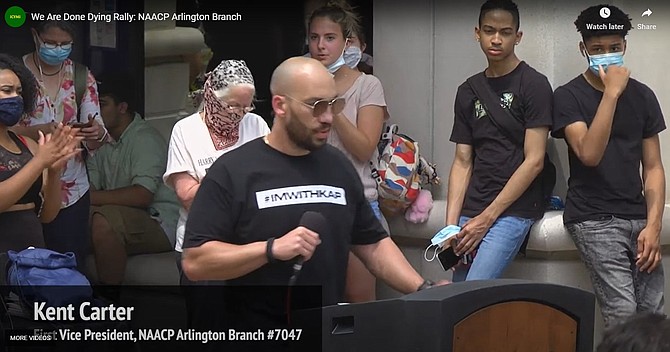 Kent Carter, vice president of the Arlington branch of the NAACP and a community organizer, was killed Oct. 2 while on vacation in the Turks and Caicos Islands in celebration of his 40th birthday.
Carter and girlfriend Alonia Williams were returning to their hotel following a jet ski excursion when the vehicle they were riding in was ambushed and riddled with gunfire. Along with Carter, a hotel employee riding in the vehicle was killed and three others, including Williams, were injured.
Local Chief of Police Trevor Botting said he believes it was a targeted attack by gang members and related to drug supply and turf wars.
Carter arrived in the country the day before the shooting and died shielding Williams from the gunfire.
Carter was born Sept. 28, 1982, in Clinton, Tenn., and graduated from Clinton High School in 2000. He joined the military that same year and served in the Army as a military police officer.
While serving on active duty, Carter earned a bachelor's and master's degree in criminal justice from the University of Phoenix. He later worked as a civilian special agent across several agencies before beginning his career as a real estate agent with Keller Williams Metro Center in Arlington.
Carter was a leader of the NAACP Arlington branch, and chairman of the criminal justice committee, where he worked on law enforcement reform. Carter pushed for implementation of body cameras on 100 percent of Arlington officers, improved training standards through analysis of incidents, protections against miscarriage of justice as well as banning chokeholds.
Julius Spain Sr., president of the NAACP's branch in Arlington, described Carter as a gentle giant who was highly regarded in the community.
"You just can't replace a person like that," Spain said. "He was collegial and cool, not the loudest in the room but the most effective and was well respected. He never raised his voice; he was always smiling."
Carter also served as a Worshipful Master of Prince Hall Free Masons-Alexandria. The Prince Hall Freemans is the oldest and largest predominantly African American fraternity in the nation.
"My heart is broken to know that my friend and Brother, Past Master Kent Carter, was senselessly murdered while on vacation in Turks and Caicos," said James Morgan III in a social media tribute. "I had the pleasure of seeing this Brother be elected to lead Universal Lodge #1, the oldest African American lodge in Virginia, which he did with honor and distinction. He did nothing to deserve this. Kent was a hardworking, friendly and loving man who loved life, his family and was an asset to Prince Hall Freemasonry."
Carter, a combat veteran, and his then-wife, Melanie Bell-Carter, came to Arlington in July of 2009 from Hawaii.
"He was a special investigator at Andrews Air Force Base and I worked at the Pentagon," Bell-Carter said. "Our daughter was 3. He was such a dedicated father, always at school volunteering and chaperoning all the school dances. He would pull up in the yard with a little corsage. And he was assistant baseball coach to my son's baseball team."
Spain added Carter was also involved with helping kids get scholarships and with those in need in Alexandria and Arlington. 
Rev. DeLishia Davis, Pastor of Calloway United Methodist Church and President of the Arlington Coalition of Black Clergy said, "Kent Carter was a dedicated community servant and strong champion for social justice. It was an honor to serve as his spiritual advisor and friend to such a hero and philanthropist. Kent will be remembered as a spokesperson for equality and antiracism."
Carter is survived by a brother, Barry Cantrell from Nashville, sister Trista, also from Tennessee, former wife Melanie Bell-Carter, girlfriend Alonia Williams of Arlington, and a teenage daughter. Following the return of his remains to the U.S. Carter will be buried with military honors in Tennessee.
A GoFundMe has been organized by Carter's colleagues at Keller Williams Metro Center to support his daughter's educational expenses and cover funeral-related expenses.
"Kent was an incredible man who made everyone feel like he was their best friend," Keller Williams Metro Center wrote on its Facebook page. "He was a leader, a friend and a loving father to his 14-year-old daughter. The purpose of the GoFundMe campaign is to live out the legacy that Kent would have wanted."